The College of Engineering Alumni Awards were created in 1994 to recognize outstanding engineering alumni from the College.
Currently, the College of Engineering recognizes select alumni who have contributed to the profession, advanced in their careers, and enhanced the lives of others both personally and professionally. These outstanding alumni are reviewed by each of the eight schools within the College and formally submitted for selection. The distinctive categories are listed below.
The measure of our success is not seen only in educating our students, but in those students' achievements and contributions after leaving campus. Those being recognized, as well as those who have been honored at past ceremonies, are stellar examples of the success and leadership the College hopes to inspire.
Image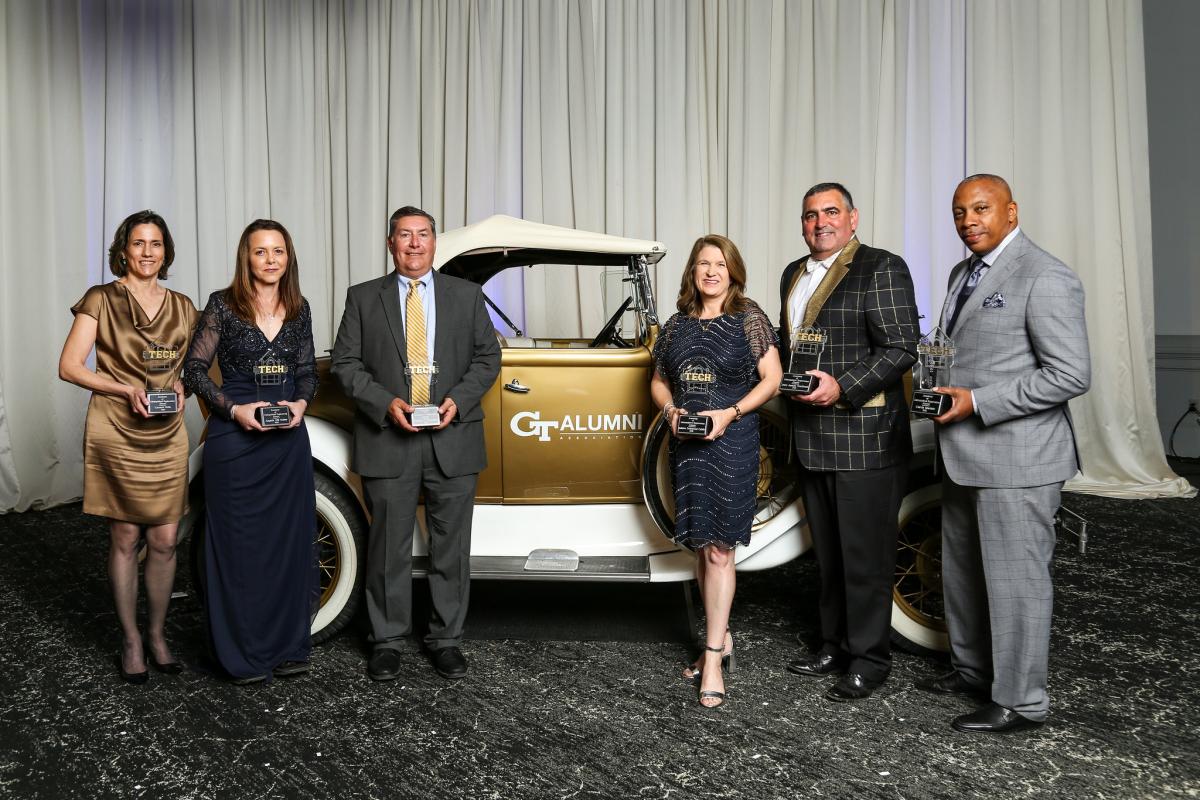 2022 Alumni Awards
The most recent College of Engineering Alumni Awards ceremony was held on April 23, 2022.
Image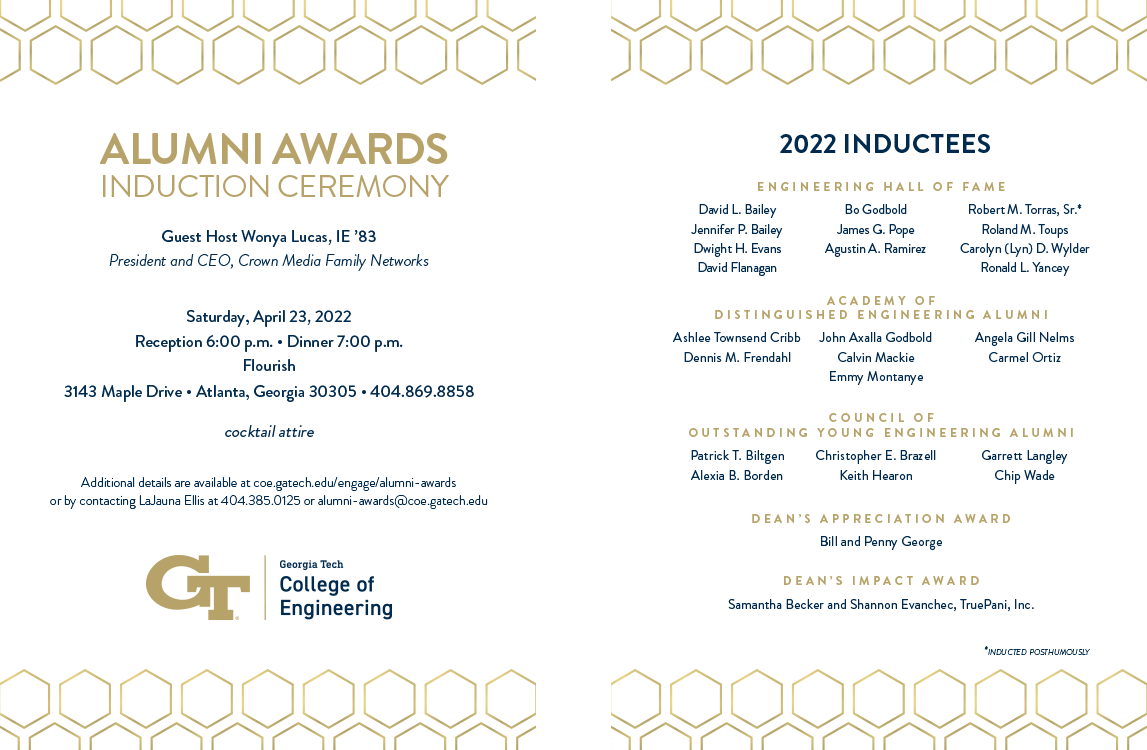 The Alumni Awards Induction Ceremony will be held Saturday, April 23, 2022 at Flourish in Atlanta, Georgia. Reception 6:00 p.m., dinner 7:00 p.m. Guest host is Wonya Lucas (IE '83) President and CEO, Crown Media Family Networks. Cocktail attire. Additional details are available by contacting LaJauna Ellis at 404.385.0125 or alumni-awards@coe.gatech.edu.
2022 inductees include the Engineering Hall of Fame: David L. Bailey, Jennifer P. Bailey, Dwight H. Evans, David Flanagan, Bo Godbold, James G. Pope, Agustin A. Ramirez, Robert M. Torras, Sr. (inducted posthumously), Roland M. Toups, Carolyn (Lyn) D. Wylder, and Ronald L. Yancey. The Academy of Distinguished Engineering Alumni: Ashlee Townsend Cribb, Dennis M. Frendahl, John Axalla Godbold, Calvin Mackie, Emmy Montanye, Angela Gill Nelms, and Carmel Ortiz. The Council of Outstanding Young Engineering Alumni: Patrick T. Biltgen, Alexia B. Borden, Christopher E. Brazell, Keith Hearon, Garrett Langley, and Chip Wade. Dean's Appreciation Award: Bill and Penny George. Dean's Impact Award: Samantha Becker and Shannon Evanchec for TruePani, Inc.
2022 Alumni Awards Recipients
Image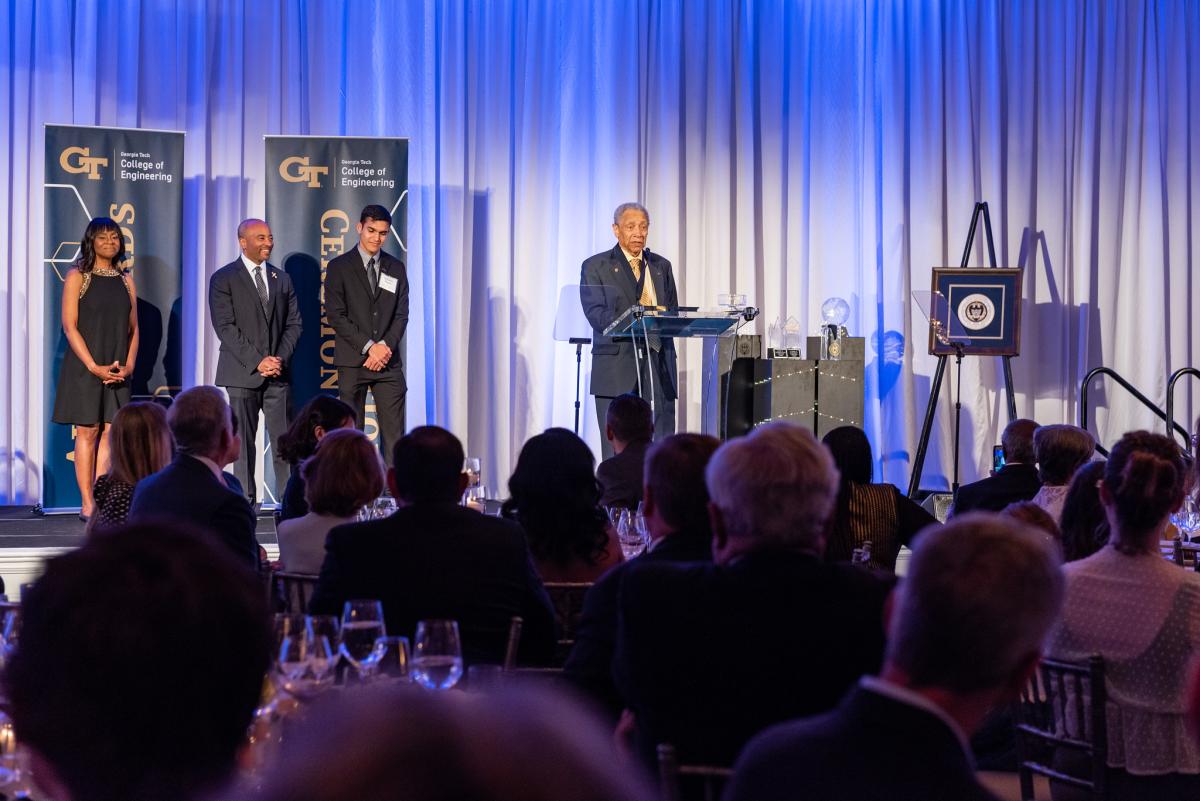 Image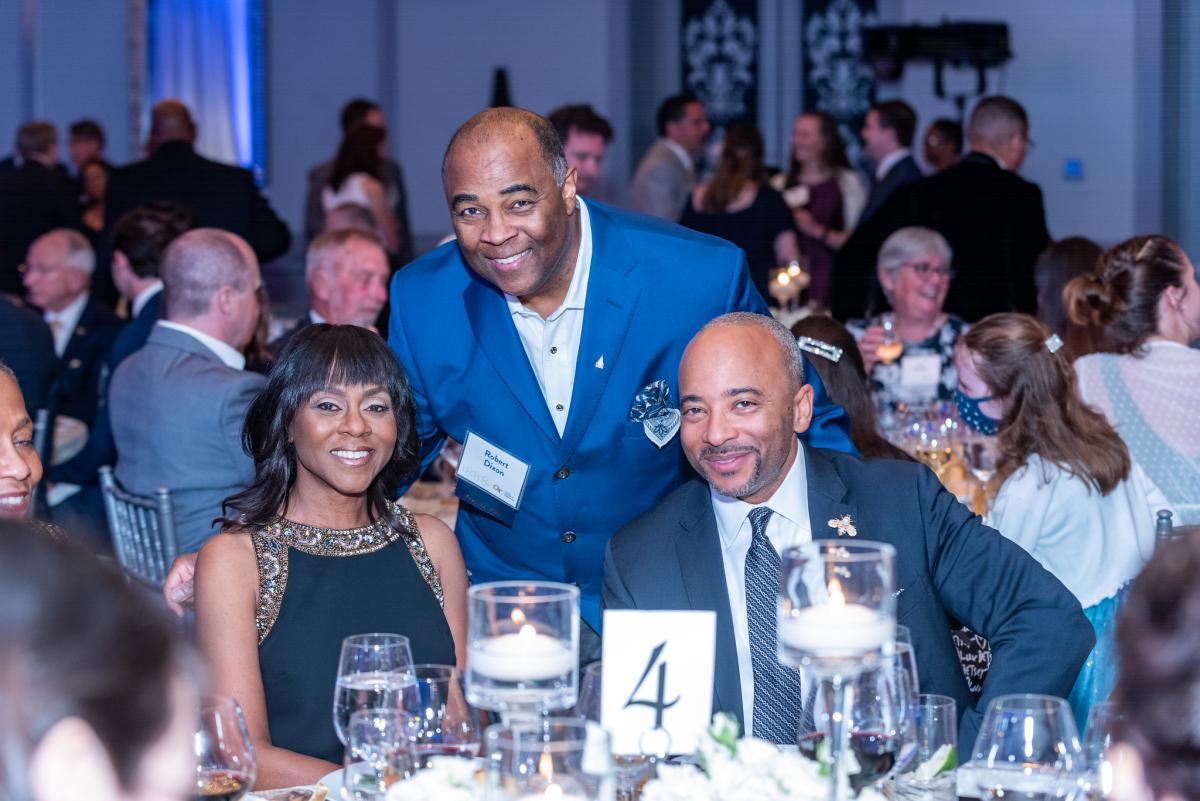 2019 Alumni Awards recipients
File downloads below contain PDF files. Please note that some more-recent browsers have the ability to download and view PDFs. To download and view PDF files, please download a PDF reader such as Adobe Acrobat Reader. 
2019 Alumni Awards Program
Image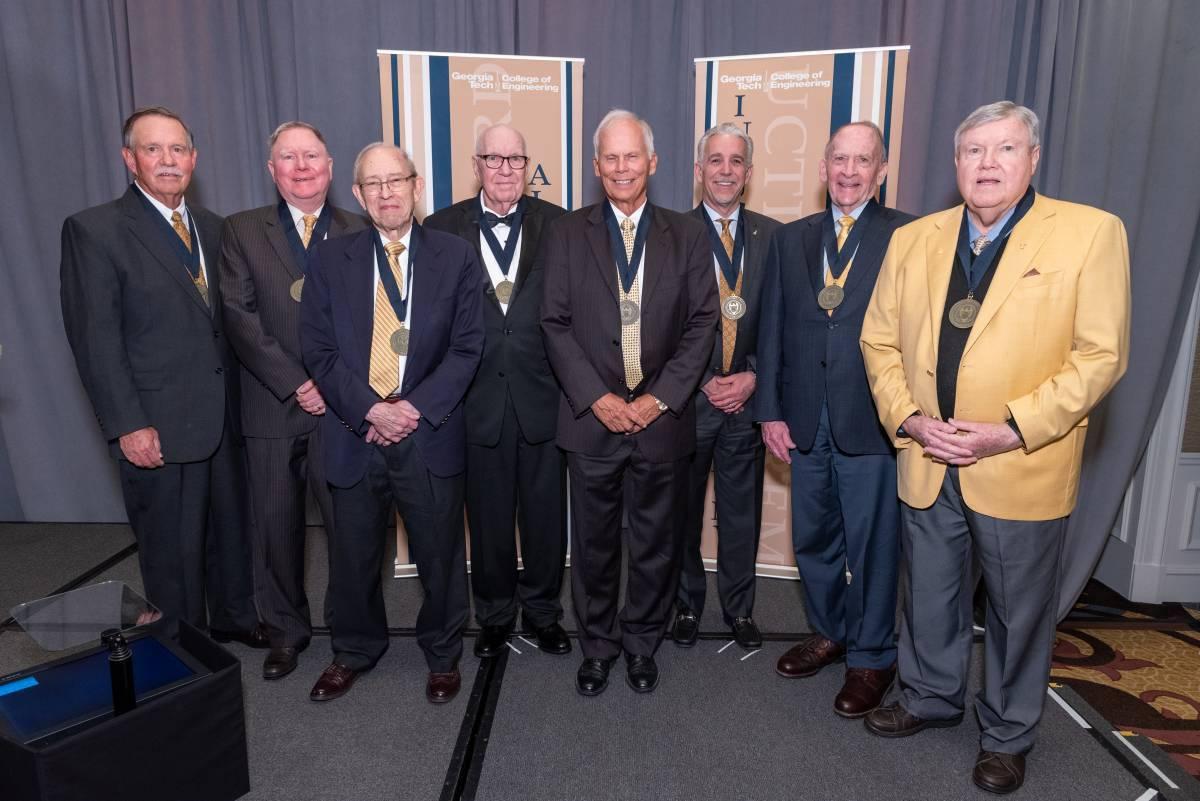 The 2019 Engineering Hall of Fame inductees. From left: Robert Shelley Blount, C. Perry Bankston, John H. Woody, Jr., Jerry S. Johnson, G. Ben Turnipseed, Joseph C. Mello, Raymond J. French, William R. Collins, Jr.