Which is better – an MBA or an M.S.? Alumni who have made the journey share their insights.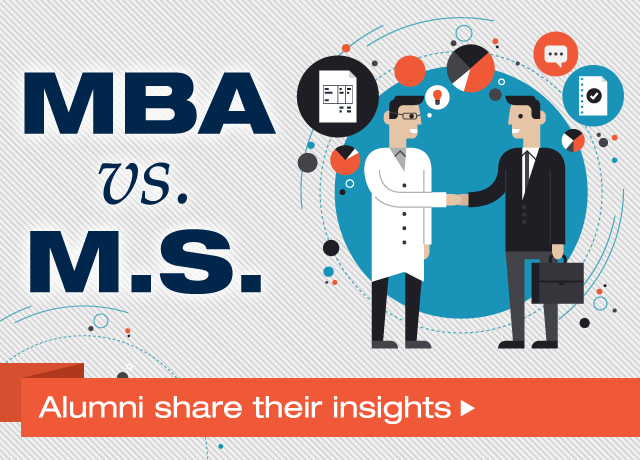 One road leads deeper into the field, the other to a less defined place. The roads may diverge or be intertwined – only time will tell.
Such is the riddle confronting newly minted engineers who are deciding whether to pursue a master of business administration or an advanced degree in engineering. On the surface, unlocking such a riddle seems simple. Should you add a skill set or further immerse yourself in a field of study? Which is the better answer – breadth or depth?
But as College of Engineering graduates find, making such a decision can be complex. It involves evaluating and capitalizing on the potential for reward, personal and financial. It's figuring out how to leverage inherent strengths while venturing outside comfort zones.
And while no decision is irreversible, the stakes can be high. We asked several engineering graduates how they went about choosing their future through either an MBA or an M.S./Ph.D. What they said may be of value for those who will decide next. If interested, check out the MBA program in Georgia Tech's Scheller College of Business. 
Jake Sisley
Lead product marketing manager at AT&T
B.S. (CEE) '02, MBA '10
I almost went back to get an M.S. in environmental engineering after finishing my undergraduate study. Thinking hard about it, I thought that if I could get a master's in engineering, I needed to be comfortable with being an environmental engineer the rest of my life. I was 23 at that point and thought I wasn't ready to make that commitment.
A professor at Tech recommended that I go out and work first, then go back to school. So I got into real estate development. I had co-oped as an undergrad with a small company, working on the audit side of real estate development. It was a great job because I wasn't behind a desk – I was out in the field 70 percent of the time doing inspections.
After my MBA, I went to work here at AT&T and am now the in the streaming-video space. I was previously in the tower real estate group – we rent space on tens of thousands of towers, and each one is part of an overarching deal with the owner of the tower. I put together some models of where we are with each lease, what we're paying, what's driving the rent up or down, all of which involved tons of analytics.
So the analytical background of my engineering education has really helped. And it didn't come naturally to me – it was beaten into me at Georgia Tech, and I wouldn't trade it for anything. The business degree is very complementary. It was a very applied education, and now when people talk business, I understand the language. I know how to write an effective business plan and understand why decisions are made – that's big.
Lindsey Thornhill
Senior director, project management at Science Applications International Corporation
B.S. (ME) '84, M.S. (ME) '86, Ph.D. (ME) '96
Unfortunately, there is no single, simple answer to the question of whether an engineer should get an MBA degree. If your career goals are in engineering management or in starting a business of your own, an MBA education is invaluable – practically essential. If, however, your career goals lean more toward fundamental research and development (R&D), limited time and resources are best spent pursuing advanced engineering degrees and, perhaps, postdoctoral research opportunities. In the latter case, MBA studies fall more into the would-be-nice category. There is, of course, an entire continuum of career possibilities between these two cases.
I have a Ph.D. in engineering and never pursued an MBA. Being primarily on a research and development career path, it never seemed to be a good investment to pause R&D career development in order to pursue an MBA. I managed to pick up the R&D management knowledge that I needed through company training courses and on-the-job experience.
My advice is to do some homework. Choose several people whose careers most resemble what you would like your career to become. Research their backgrounds – their degrees, when they got them, various jobs and positions they've held. If possible, interview them. Get their thoughts on how an MBA has benefited or would benefit their career. The insight gained from this information will greatly inform a decision on whether you should invest in an MBA.
Emily Muhlberger
Senior programming manager at The Coca-Cola Company
B.S. (ME) '04, MBA '09
I worked for a couple of years out of college and got to the point where it was either going to take quite a few years of experience with the company I was with to get ahead – or get a business degree. So I decided that engineering coupled with an MBA would enable me to change jobs, change careers and further my options.
My degree in mechanical engineering taught me how to approach a problem – to work through it by taking a lot of information and data and condensing it in a very usable and digestible format. I find a lot of engineers whom I work with approach things in the same way. So mechanical engineering gave me strong technical and analytical problem solving.
The MBA education further refined this by helping me think about things in a different way. The MBA allowed me to think through a lot of things and understand the business environment. It also gave me more of an international perspective, which is really important.
Deb Kilpatrick
Consultant and former chief commercial officer of CardioDX
B.S. (Eng Sci) '89, M.S. (ME) '93, Ph.D. (ME) '96
After nearly 20 years in Silicon Valley, I believe that what you do with what you know is what ultimately matters. After all, it's successful execution that differentiates you in a market where pretty much everyone was top in the class academically.
But you constantly have to expand what you know to stay competitive, and there are many ways to develop that. For some, that will mean getting an MBA right on the heels of their engineering degree. For others, that will mean learning on the job and developing business acumen because you have to in order to get the next job you want — that's how I have done it, and it has worked well for me.
However engineers choose to develop their business skills, I remain convinced that doing so is increasingly important to create their own future opportunities beyond R&D. So finding a way to do it that works for them, whether in a formal MBA program or in the next job assignment, is the key.
Dave Frakes
Associate professor at Arizona State University
B.S. (EE) '98, M.S. (ME) '02, M.S. (EE) '03, Ph.D. (BME) '03
I think we over-focus on what a degree is called these days. When you go out in the world and do things, what matters most is the skills you have. I've worked with engineers who are better managers than management majors, and vice versa. At the end of the day, it doesn't matter what the title is on your diploma. What matters is what you can, and will, do with your ability.
Engineering was an appealing undergraduate degree because I love math. Here's what I realized: What I loved most about engineering is using math, modeling, design and other skills to solve problems. It's invigorating.
In my career, I wanted to work on problems I was passionate about. As soon as I finished my Ph.D., I started a company called 4D Imaging that makes image processing plug-ins for medical and military applications. Then I wanted to do something different, so I went to work on Wall Street. I used my math and software skills to come up with algorithmic strategies for trading the derivatives markets.
I loved a lot of things about Wall Street, but the motivation to solve problems wasn't as compelling as it was on the biomedical side. So I was excited to come back to an environment changing people's lives, here at Arizona State. I've been working on models for surgical planning, so we can simulate medical device-based treatments before they're applied to people.
When you do what you do very well, you'll always have opportunities. 
For those still torn between an MS or an MBA there's some good news. Thanks to a new dual-degree program launched at Georgia Tech in early 2016 students have the option to pursue both simultaneously. This option is available for master's and doctoral students pursuing an advanced degree in industrial engineering, electrical or computer engineering, industrial and systems engineering, and mechanical engineering. To find out more about the newly launched program visit the Scheller College of Business dual degree program website.
Image