The answer is a resounding – maybe. Engineers are problem solvers. They are strategic and analytical, examining complex issues from all angles. The qualitative and quantitative skill sets of an engineer already differentiate them when they leave school and start a career in the business world. From the start, an engineer's academic background and technical skills allow them to easily understand product design and build, enabling them to speak with customers, consult clients, and lead teams in a business setting.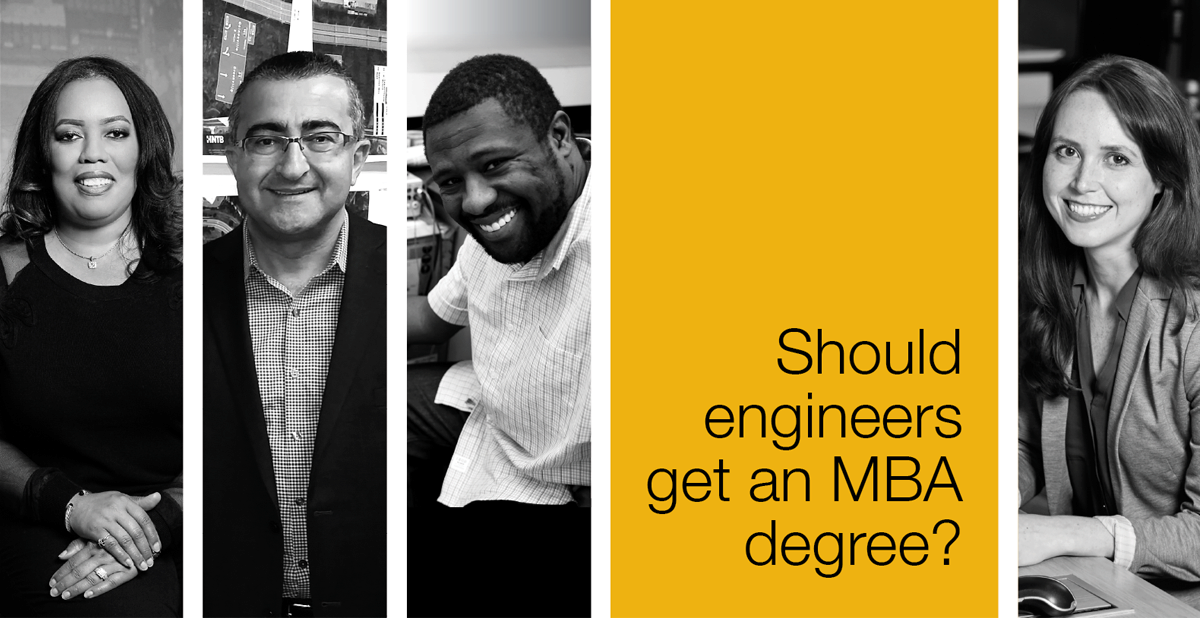 Working engineers who want to advance their education are faced with two potential options – an MBA or an advanced engineering degree. Ultimately, the choice depends on the individual and their career aspirations.
In this eBook, discover 3 factors you should consider when deciding between an MBA and an advanced engineering degree:
Gain a competitive advantage – enhance your soft skills with leadership and management training or learn the advanced skills needed for product development and research
Advance your career – move up the corporate ladder with new tools to lead and manage or position yourself as an expert in the field and company standout
Follow your passion – always pursue a path your passionate about when setting your career goals
Download the eBook to hear from more engineers who were faced with the same decision. You'll gain valuable advice on what to consider when planning your future.
Georgia Tech Engineers MBA eBook
Testimonials
Hear from more engineers deciding between an MBA and an advanced engineering degree:
"For me, the decision to pursue an MBA stemmed from a desire to tackle larger and more abstract strategic problems instead of the structured 'engineering type' problems I was accustomed to. The strong analytical capability that engineers possess is highly valued in the business world, but it is imperative that you also understand the other, more qualitative, aspects. These qualitative skills are what engineers stereotypically lack; we like black and white answers, but in the business world, it's not typically that simple."
"In a world without resource constraints, an MBA compliments most any other degree or set of degrees an individual obtains. However, the reality is most individuals feel like they are time or resource constrained and can only afford one advanced degree. In that situation, the answer to the question regarding whether engineers should obtain an MBA versus an advanced engineering degree is – it depends."
Sean McClenaghan, CHB Capital Partners
"My rationale for going back to get my MBA was based on several factors at Siemens. I've stepped farther from the technical fields and more into the business side of things. My new role has developed to incorporate things like project management, forecasting, cost estimation, and proposal development and taken a step away from the nuts and bolts. While not every company discusses blade design, flowrates, or bearing clearances, nearly everyone sets and meets budgets, has profit and sales goals and manages projects. In that sense, business is a lot like math, it's a language that is common across all industries."
"Here in Silicon Valley, MS/PhD-level engineers, with and without MBA degrees, are very common on the management teams of new technology companies. Graduate degree choices are driven, in part, by what you want your core skill set to be and how you will use it to distinguish yourself in the business world early on in your career. In my own experience, a PhD program provided me with a strong technical foundation for solving complex problems across multiple domains. This, along with a lot of 'on the job' learning, has enabled me to migrate from the R&D side into commercial management roles without an MBA. However, the reverse migration is not so prevalent."
Deborah Kilpatrick, Evidation Health
"Engineers often become the primary manager of change with an organization. What is changing today is the fact that technology is a pervasive component in most industries. The business leader now has the additional challenge of getting the most out of their proprietary technology, as well using technology adroitly to support most all of their business processes. The best way to develop an understanding of broad classes of technology is to obtain an undergraduate degree in engineering."