College of Engineering alum Jimmy Mitchell is a master at helping old materials find new life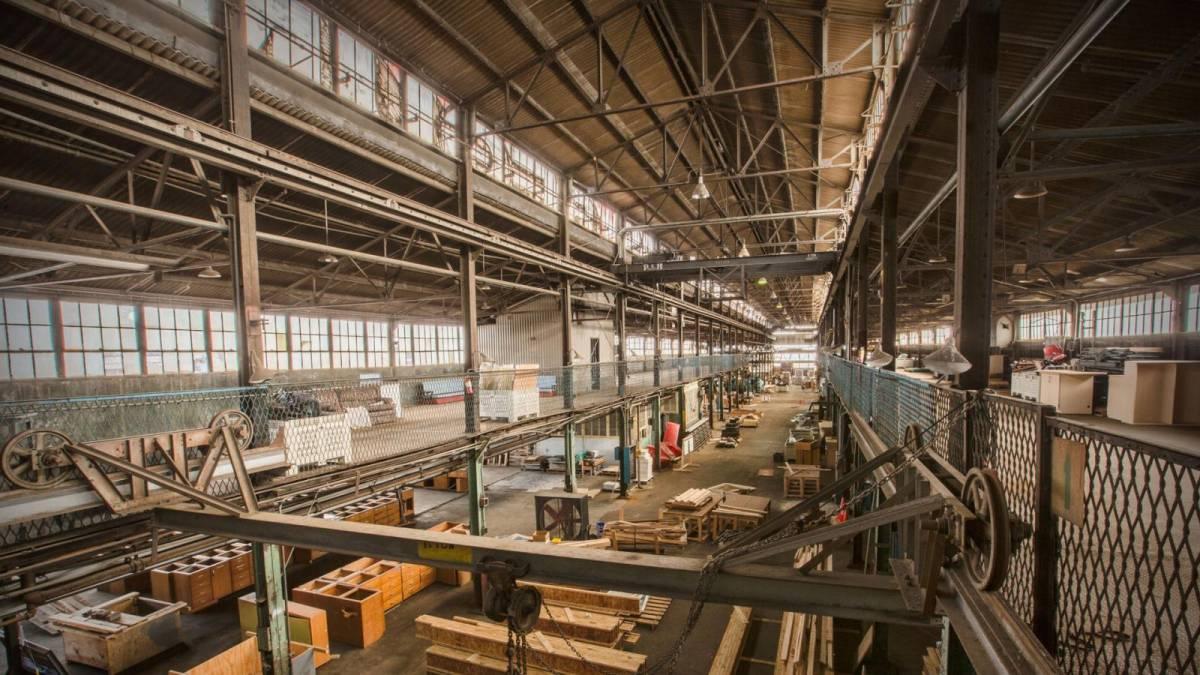 Come over here a minute," Jimmy Mitchell says, with an unmistakable 'wait-til-you-see-this' tone in his voice. He walks briskly over to a dimly lit section of the warehouse where roughhewn heart pinewood is stacked on the floor.
"These are floor joists from the original Tech tower, built in 1888," Mitchell says, leaning over to touch the coarse boards. "If you look closely, you can see the original nails in some of them — they have a flat square head, unlike the round-head nails used today."
The historic planks ended up here, inside Georgia Tech's Grinnell Warehouse, after Mitchell got a call last year from a project manager overseeing the recent renovation of Tech Tower. He asked Jimmy: "Could you use these for anything?"
A project estimator for construction powerhouse Skanska, Mitchell (CE, 2005) had been looking for some kind of material to create an artifact to be auctioned by the Georgia Tech Alumni Association, for which he served as a trustee. He could do something with a scrapped joist. "I cut four diagonal pieces out of one of them and made a picture frame out of it," he said. "It sold for $565."
But he had another realization: The reclaimed timber also could be an important addition to one of the most ambitious building projects in Georgia Tech's history: The $25 million Kendeda Building for Innovative Sustainable Design, now under construction at Ferst Drive and State Street. 
The story of the donated wood illustrates what Jimmy Mitchell does best: Create ways for old materials to enjoy a useful new life somewhere else.
The Tech Tower joists will be used as stair treads inside The Kendeda Building. Next to them in the warehouse, a pile of polished granite slabs will get their own second act, too. "These came from the outdoor plaza of the old state Archives Building before it was demolished last year," Mitchell says. "We'll use them to build a system for processing gray water in the new building."
Mitchell oversees the collection and use of recycled components inside The Kendeda Building, which goes above his usual duties of calculating costs for big projects at Skanska — but Kendeda is a crucial assignment. Using a specified amount of reclaimed materials is one of the requirements for the building to become certified through the Living Building Challenge, billed as "the world's most rigorous, proven performance standard for buildings." In achieving the goal, The Kendeda Building would join just 21 other Living Building Challengecertified structures in the U.S. that actually produce more energy than they consume.
To manage the complexity of such an effort, it's hard to imagine a better choice than Mitchell. Beyond being a skilled civil engineer and expert in green building, he's dedicated to bringing more sustainability into the world.
"Salvaging and reusing materials is my career passion," he says. "It makes the built environment more efficient and often reduces costs. It also carries on tradition and tells a story — of the effort to salvage, the historical context of where something came from and the missions of the organizations involved."
To see evidence of Mitchell's passion, look no further than Adair Park in southwest Atlanta. It's here, on Murphy Avenue, that you'll find a once mighty building that housed the Bailey-Burruss Manufacturing Company, maker of sprockets and pulleys for milling plants. The company shut down operations in the 1980s, and its football field-sized structure held other occupants before finally emptying in the early 2000s.
The façade is still weather-worn and graffiti-littered, but the building brims with new purpose as the Lifecycle Building Center (LBC), which Mitchell co-founded in 2011. The center accepts materials that are likely destined for the landfill, then sells or donates them for reuse, mostly in construction projects. By launching the nonprofit with three others, Mitchell gave Atlanta something that was missing from its sustainability scene — namely, a central repository for collecting and redistributing doors, fixtures, wood and other items and materials.
In an era of convenience and disposability, such an enterprise is sorely needed. The EPA estimates that 170 million tons of building materials end up in U.S. dumps each year, yet much of it could be reused. LBC is doing its part to reduce such waste.
"So far, we've saved 3.8 million pounds of stuff from the landfill," Mitchell says as he guides a visitor around the 70,000 square-foot facility. As an example, he points to a fenced mezzanine overhead. "Upstairs there, we're storing subflooring and other construction items from an international trade display used by Jaguar. They donated 18 truckloads of material a couple of years ago."
Who wants all of this stuff? Mitchell names con - tractors, artists, do-it-yourselfers — even TV and film companies. He shares a story about lab equipment given to LBC by a local medical research company before undergoing a renovation. "When the set designer of "The Walking Dead" visited our warehouse and saw all of this equipment, her eyes got big," he says. The show ended up buying six truckloads of items for lab scenes.
Perhaps the greatest beneficiaries of LBC's largesse are area charities. "We set up a nonprofit match program, and over 160 nonprofits have received salvaged materials from us for free," Mitchell says. The organizations use the goods not only for construction, but also to outfit or equip space with items.
While Mitchell's formal role with the Lifecycle Building Center has lessened — he once chaired the board — he remains committed and involved as a vol - unteer, advisor and broker. Because sustainability is cyclical, the work can never be finished. Fortunately, Jimmy Mitchell is in it for the long haul. 
Image