"Tech Twins" company Brain Rain Solutions specializes in software development for businesses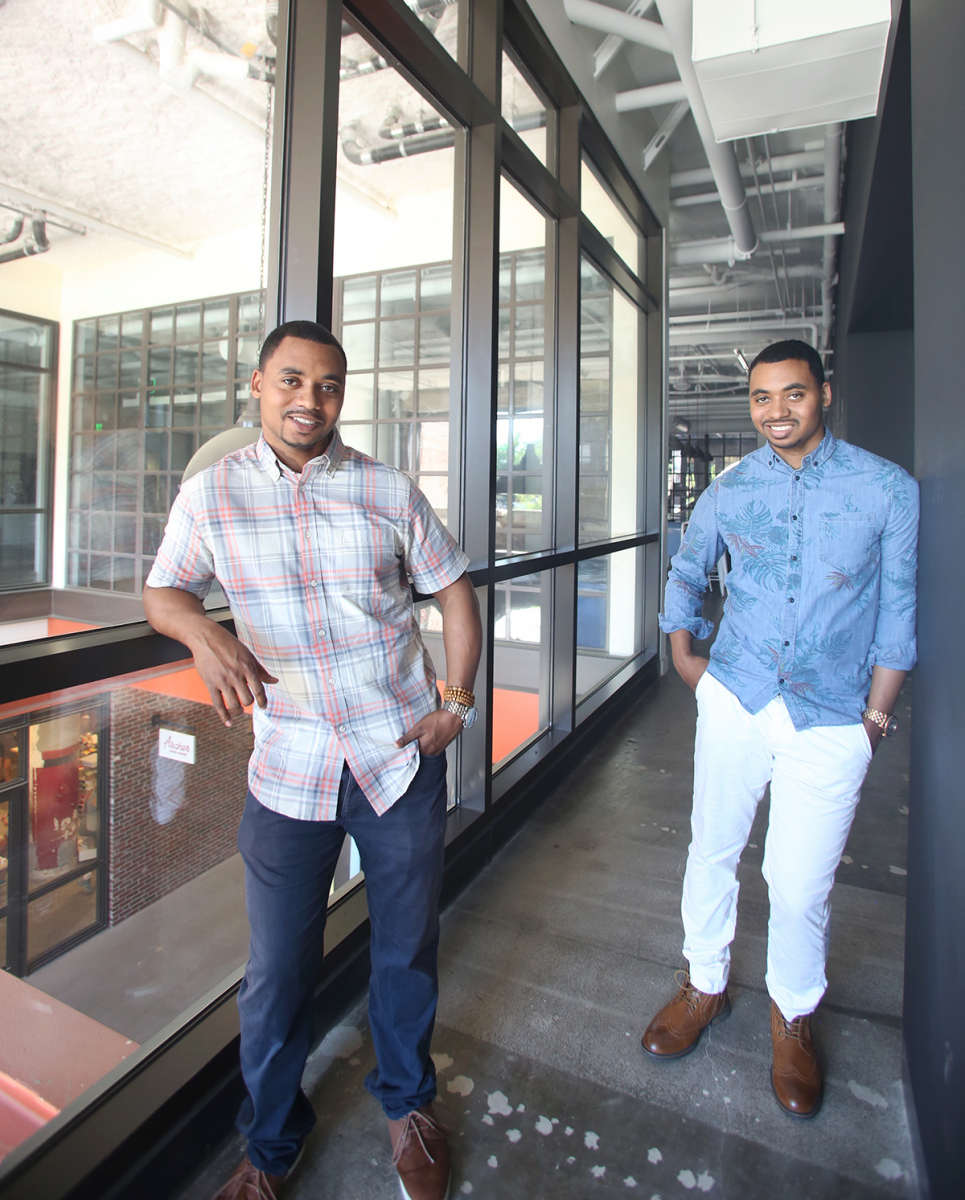 For Atlanta natives and twins Travis (Master's ME 2009) and Troy Nunnally (ECE Master's  2009 and Ph.D. 2014), it all started with a soapbox derby.
When a friend introduced them to the pastime in their youth, Travis and Troy scrounged around the neighborhood to create their derby car: rusted weights for wheels, a couple of two-by-fours for an axle, and a rope for a steering wheel. To them, the hobby was just plain fun, but it started them down the path of problem solving using engineering at a young age.
After receiving their bachelor's degrees from Tuskegee University in mechanical and electrical engineering, respectively, Travis and Troy enrolled at Georgia Institute of Technology to continue their studies.
"Georgia Tech has always been top tier for engineering," says Travis. "As locals, we visited the campus in high school and really enjoyed the experience, especially seeing the number of resources that students could take advantage of."
"We also knew that the opportunities for networking were unparalleled," Troy follows up. "Being here would allow us to excel in business."
And excel they did. Their company, Brain Rain Solutions — which specializes in combining augmented reality and Internet of Things technology to help companies design, develop and deploy mobile and web applications — sprouted from a project they began at Tech in 2008.
"I was a member of the Black Graduate Student Association at Tech, and we needed a better way to upload students' abstracts and papers to present them to employers," says Troy. "As we worked to create a solution, Travis and I decided to launch Brain Rain to help companies create better web applications."
The "Tech Twins," as they're known, formed the company around their individual talents: Troy, the 'brainiac' side of Brain Rain, is chief technology officer in charge of the technical implementations. Travis, the 'rainmaker' side, functions as CEO, closing deals and managing the business.
"The company represents the yin and yang of our relationship," says Travis. "We complement each other as brothers and as business partners."
Over the last 10 years, Brain Rain has grown a great deal, with clients ranging from small startups — such as Atlanta-based Partpic, an image recognition app that was acquired by Amazon — to the Department of Defense, for which Brain Rain created a contract management system.
Other projects include FaceMD, a mobile app in which the user takes a photo of their face and is recommended dermatological products based on the individual's visible skin concerns, such as acne or redness. Brain Rain also helped medical IT firm McKesson generate extra revenue, thanks to software that charges a nominal $0.50 fee to process frequent and time-consuming medical records requests.
The Nunnally twins credit Tech for creating a culture that allowed them to envision Brain Rain's potential and begin building its foundation in the early stages.
"At Tech, innovation is encouraged," says Troy. "From the Advanced Technology Development Center (ATDC) to the business incubators surrounding the campus, Tech continues to value entrepreneurs and give them the resources to succeed."
With more than $50 million in startup business valuations attributed to their work, Brain Rain's goal is to continue launching software products with game-changing technology that will not only disrupt the market, but also make an impact on the communities of the people they serve.
Image