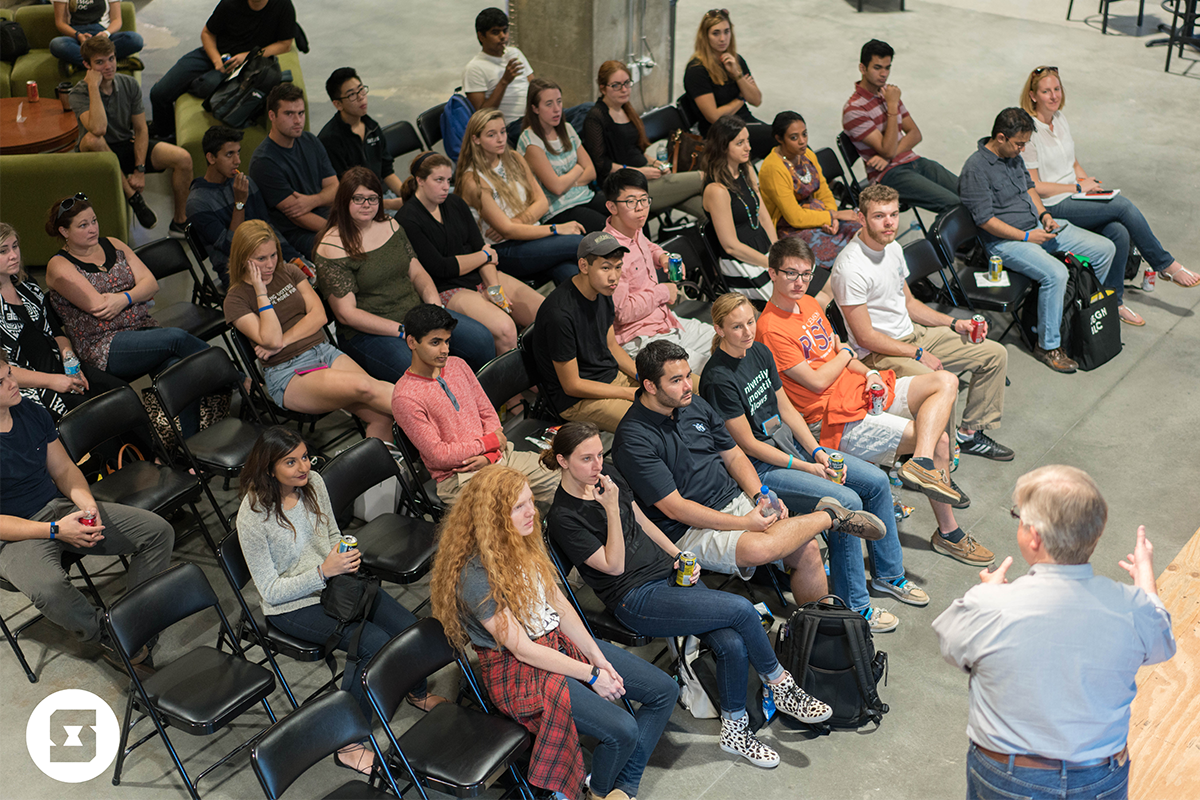 Several dozen students relax in chairs surrounding the stage, focusing their attention on three speakers, who answer questions about how to handle product management in a startup. The industrial space is nestled in the center of Tech Square, marked by two-story tall ceilings and huge, roll-up doors that give the space its name: The Garage. The students are members of Startup Exchange, a student-run organization of entrepreneurs and startup founders. They've come to network, learn, and figure out how to get their startups off the ground.
Startup Exchange aims to empower the student entrepreneur community at Georgia Tech in a variety of ways, engaging with undergraduate and graduate students, as well as with leaders in the Atlanta area and other entrepreneurship-focused groups. Instead of using a classroom setting to teach theoretical skills, students rely on a more relaxed context to facilitate an exchange of ideas. Additionally, by being student run, the group has more flexibility without faculty time or schedule constraints. Startup Exchange also helps guide students into a more structured program on campus (like CREATE-X or InVenture Prize) as they crystalize their ideas.
"Because this club is run by students, we're closer and more in touch with our audience," said Jonathan Wang, third-year undergraduate in the School of Electrical and Computer Engineering and a co-director of Startup Exchange. "We can get feedback a lot faster and change quickly if needed. People participate in Startup Exchange because it's a community of like-minded people that provides value."
The most popular events include Friday gatherings — a productive meeting of the entrepreneurship community, where speakers are often invited to share insights about their own journey. Anyone is invited, and it's not uncommon to see Tech Square employees and students from Georgia State or Emory University.
Other weeks, several seasoned Atlanta-area entrepreneurs and company founders hold a panel discussion, answering questions on a specific topic, like how to conduct customer discovery. Startup Exchange also hosts workshops facilitated by experts on topics like public speaking. Recently, the group held a mini "hackathon," where participants used artificial intelligence and computer science to solve societal challenges.
"I feel like everyone has been affected in some way by the talks," said Wang. "There's always one line that makes you think, 'Wow, I'm glad I came out this Friday to hear that because that got me thinking.'"
Since its start in 2012, Startup Exchange gatherings have developed into more than a structured session — students end up hanging out afterwards and talking to each other about their own projects. Some students need technical expertise to solve an issue, and their peers can offer that in exchange for valuable experience or some extra spending money. They get excited about what they're doing and have the opportunity to talk with other people passionate about the same topics. Wang says this mingling teaches students how to network without even realizing it.
Startup Exchange has become a place for everyone from first-year students, who are new to the startup scene, to founders who already have their company up and running. It has grown to include a group called CORE as well, made up of students who are actively working to grow their startups and need more advanced community support. Startup Exchange helps this group gain one-on-one time with potential investors and offers a platform that facilitates discussion and problem solving.  
"CORE members have more specific questions and complicated issues," said Wang. "So, they might not get as much value out of our events, which are more open to general audiences. If you have a community of entrepreneurs, they can help each other and get more value out of the community. It's been really beneficial for them to have a group chat, and we organize dinners so that they can meet up occasionally."
And for those who are somewhere in between the casual observer and the established founder, Startup Exchange established membership this year, a category of the organization that runs workshops and connects students to the existing resources on campus. Wang says that one of the most powerful things about Startup Exchange is that it gives students enough insight into the startup space so that they can decide if it is for them.
"Everyone in Startup Exchange, even if they're not doing a startup, has some kind of hustle," he said.
Wang's own hustle recently has been learning to produce music and DJ at events around Atlanta. He loves the Startup Exchange community because it brings like-minded students and entrepreneurs together, helping each member figure out how to hustle.
The most popular events include Friday gatherings — a productive meeting of the entrepreneurship community, where speakers are often invited to share insights about their own journey.