Rob Kischuk looks back on a defining moment in his entrepreneurial journey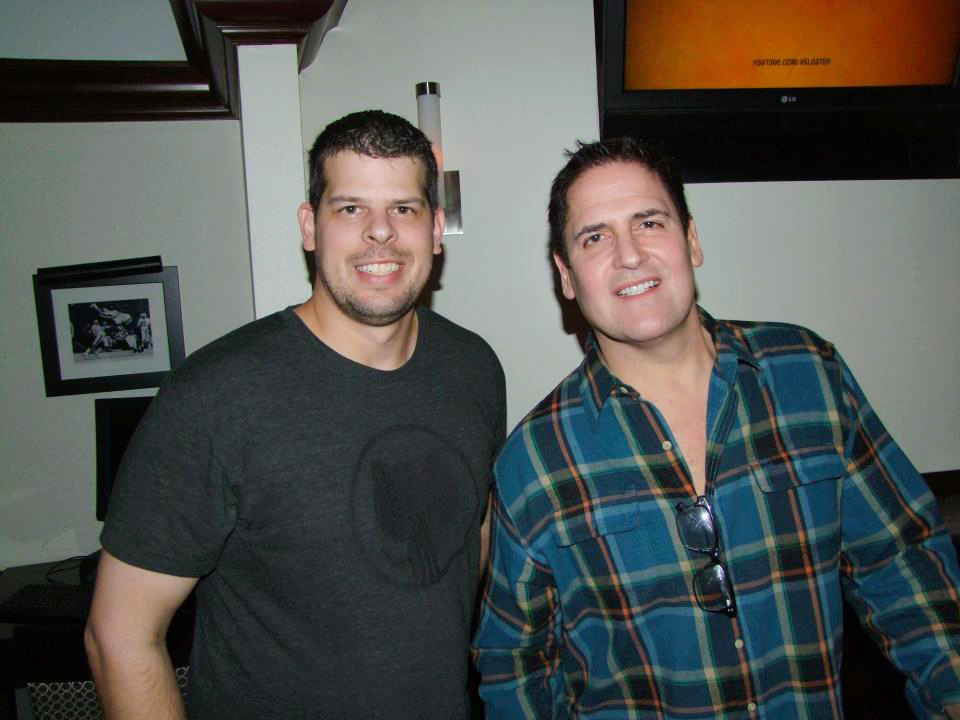 As a Georgia Tech engineering student, Rob Kischuk (ECE, '00) was the quintessential man about campus. After graduation, he rose steadily in the ranks of software development and tech team leadership. He then launched a startup, Badgy, which he later pivoted into Converge, a digital reporting platform for marketers.
The winding road behind him is replete with stories — one of which was the night he met business mogul and notorious "Shark Tank" panelist Mark Cuban. For Kischuk's first full foray into entrepreneurship, the meeting proved to be a turning point. Here, the story unfolds in his own words.
I had started this company called Badgy, which created digital contest games for brands. Our customers would use Badgy to get more people to enter company contests, which gave their brands more exposure.
It was August 2011. Three weeks before our second child was born, I had a birthday. My birthday gift — and Christmas gift, from my wife, sister, my mom, my in-laws, everybody — was a trip to the Super Bowl in Indianapolis. I'm originally from Indiana.
After I got to Indianapolis, I saw there was this startup pitch competition taking place at a co-working space there. So, I showed up and met Scott Case, who runs Startup America and was the founding CTO of Priceline. Someone else at this event said, "Hey we're having a 'Shark Tank' watch party tonight, and we've invited Mark Cuban. Would you like to come?"
So that night, I went to this watch party at Don Shula's Steakhouse inside the Westin. And sure enough, Scott Case came strolling through the lobby with Mark Cuban, and we all watched "Shark Tank" together. When the program was over, Scott brought over two of the people who had won the pitch competition to present to Mark what they were doing. I got to be a fly on the wall and listen to what they said and how he processed that conversation.
You could tell he was a smart guy who had done a lot of deals. If you're talking to an investor, typically they'll have 10 questions that are always asked. You could just see him connecting the dots and skipping those questions. That night, he told them both no, though he later invested in one of the companies.
But after those two made their pitch, nobody was talking to him. I had just come off from Flashpoint's "Demo Day" for Badgy, which gave us a $25,000 early investment. I said, "Hey Mark, can I get your feedback on my business?" He said, "Sure." So, we talked for five or 10 minutes, and he said, "I want to keep talking, here's my email." And then I got the heck out of there, because there was nothing more that was going to come out of that. All I could do was make a mistake and embarrass myself.
I ran into him again the next night. Mark throws a big party for Direct TV every year on the night before the Super Bowl. I got there after Katy Perry was performing. He was hanging out with Michael Irving in the VIP area. And again, I'm thinking, don't embarrass yourself. Just smile and say hi. He finds me an hour later. He said, "Where'd you go? I was going to get you into my VIP area." He said he was still interested in talking to me and to be in touch. That affirmation mattered to me.
The lesson here is you need to create the opportunity to put yourself in position, but also know that success depends on things that are out of your control. Mark ended up investing $250,000 in Badgy. Merrick Furst, who runs Flashpoint, was a great help to me in making sure I covered all of the details of the deal.
It took five months from the first meeting to get the check. I was sitting in Rev Coffee in Smyrna, Georgia, doing some work. Up until that point, everything still seemed a little uncertain. You think you've got something going on, you've got a term sheet, you've got a signature. But none of it is real until the money hits the bank.
I knew the paperwork was signed, so in this coffee shop, I just checked the bank account, and there the money was. Then, it was real. It gave me permission — not that I needed it — to feel like I could be the one to run the company. I had worked for so many other people who had raised the money, and now I was doing it.
In some ways, I've always struggled a little bit for that acceptance. Some of us folks who come into Georgia Tech have this chip on our shoulder. We were very good at math and science in high school, but there wasn't a lot of admiration for people like us. Now, I was a CEO. Doing that deal sort of made me feel like I belonged.
Image