From the start, an engineer's academic background and technical skills allow them to easily understand product design and build, enabling them to speak with customers, consult clients, and lead teams in a business setting. Engineers who want to pursue more education to further their career are faced with the option of earning an advanced engineering degree. Ultimately, the choice depends on the individual and their career aspirations.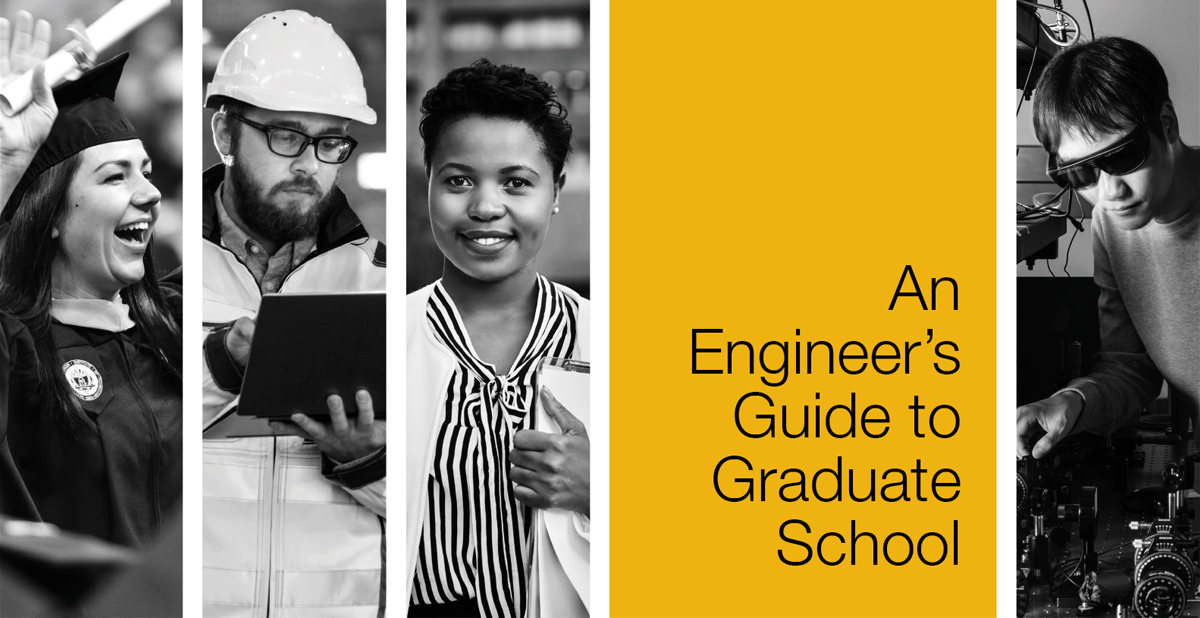 Many engineers are faced with an important question: Should I get an advanced degree to move my career forward?
In this eBook, discover 3 factors you should consider when deciding to pursue an advanced engineering degree:
Gain a competitive advantage – an advanced engineering degree differentiates you from the rest of the workforce, providing the technical skills needed for product development and research
Advance your career – position yourself as an expert in the field and a company standout
Follow your passion – always pursue a path you're passionate about when setting your career goals
Download the eBook to hear from more engineers who were faced with the same decision. You'll gain valuable advice on what to consider when planning your future.
An Engineer's Guide to Graduate School eBook
Testimonials
Hear from more engineers who earned an advanced engineering degree from Georgia Tech:
"Everyone applying to the research and development jobs I'm interested in has a master's, at least. I needed the advanced degree to stay competitive with my peers. The research and writing aspect of my degree enhances my communication skills as well and makes me a well-rounded candidate."
Matthew Orr, Ph.D. candidate at Georgia Tech
"With a job in waste water, you have to have expert knowledge in a lot of areas. Tech was the only master's program I even considered because I knew I would get the best return on my investment. I was able to complete my master's while still working. Not to mention, Tech is very affordable and accessible."
Annie Blissit, engineer, Gresham, Smith and Partners (M.S. Environmental Engineering, 2017)
"The problem-solving methodologies you develop when you get a master's or Ph.D. predispose you to look at problems with originality and an eye to completion. You can apply a practical eye even though it's an uncommon problem. That makes you a viable consultant, increasing the value of your firm and opening up career opportunities."
Mike Houlihan, principal, Geosyntec Consultants (M.S., Civil Engineering, 1987)
"The master's in biomedical innovation and development really stood out because of it s focus on industry. I knew I would be able to get my master's in one year, which would help jumpstart my career in industry. During my time at Tech, I was able to figure out my likes and dislikes to help me plan for my future."
Jyuthika Sen, associate engineer II, Design Science Consulting, Inc. (M.S., Biomedical Engineering, 2018)
"If you're going to get an advanced degree, recognize that it's a huge time commitment. Pick a topic you love — something you have a passion for. Also, completing a master's thesis enables you to gain skills you wouldn't have just from course work."
Phil Varney, senior structures engineer, Pratt & Whitney (Ph.D. Mechanical Engineering, 2016)