Wednesday, 13 November 2019
Two Tech alumni use machine learning and better equipment to make neighborhoods in more than 400 cities in Georgia and across the country more secure with Flock Safety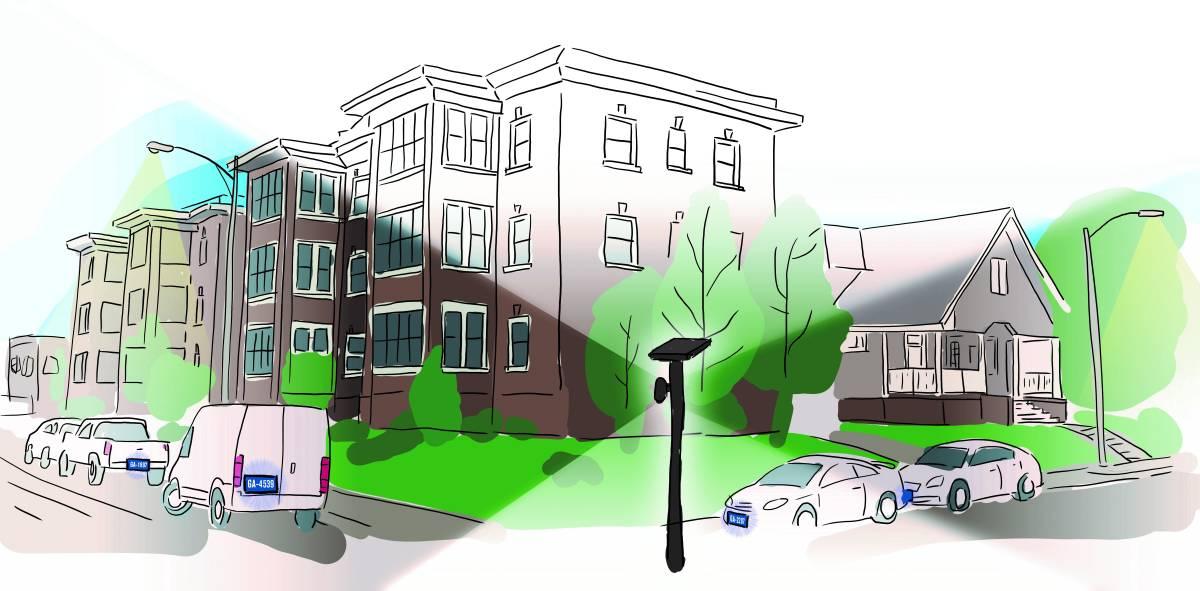 Image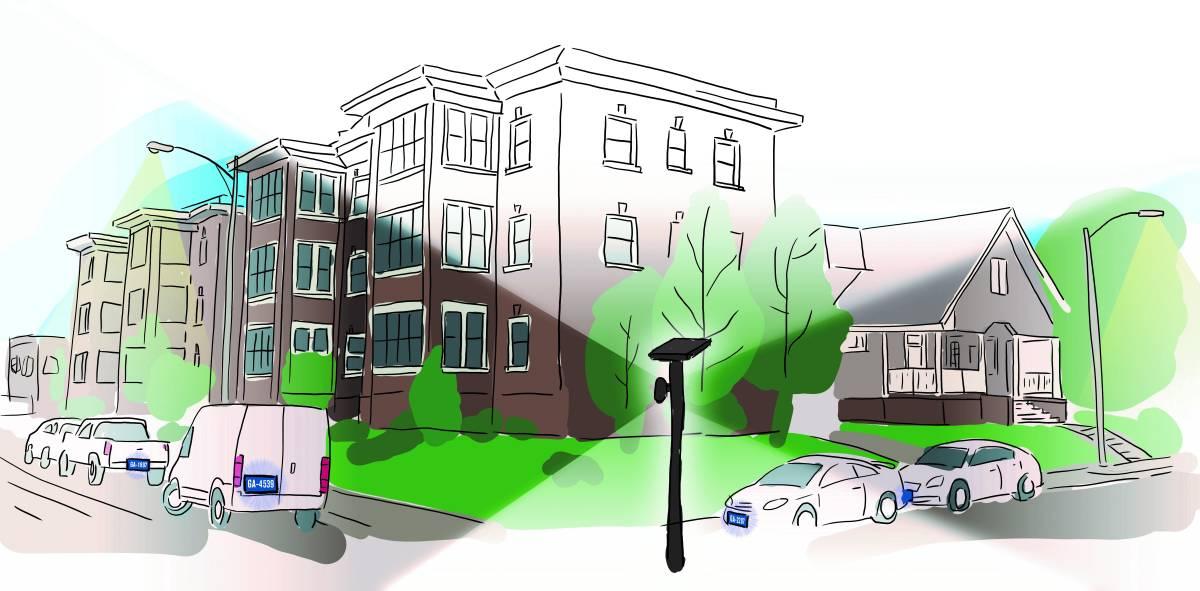 In 2017, Garrett Langley noticed an uptick of burglaries and break-ins in his new Atlanta neighborhood over the winter holiday season. Concerned for his safety and that of his neighbors, he called the local police to ask for some help and discovered that with little concrete evidence, not much could be done to find the perpetrators.
"People have a false perception that grainy surveillance footage will help detectives find criminals," says Langley, a 2009 electrical engineering alumnus and a HOPE scholarship recipient. "But in reality, they need at least a license plate number to make any real moves."
In order to capture license plate information that the local police could use, Langley thought about buying and installing security cameras, but they each cost $25,000. Why, he wondered, was it so expensive to provide quality safety and security services when affordable, first-class camera hardware is so ubiquitous today?
Langley called up his friend and fellow alumnus Matt Feury (Computer Science '11) so they could brainstorm ways to build a less expensive, more effective security solution. Combining off-the-shelf components with the latest in machine learning, the duo had the beginnings of a viable product.
"Within 60 days, our cameras helped make an arrest by helping the police obtain the actionable evidence they needed to find the perpetrator," Langley remembers. "So Matt and I thought, 'What if we spend more than a couple of weeks on this project — how big can we go?'"
Helping Police and Citizens Work Together
And so, Flock Safety went from great idea to new company and is currently in use in 34 states across the U.S., helping solve a crime five times every hour. In more than 100 cities from Jersey Village, Texas, to Richmond, California, it is the primary source used by police departments to solve non-violent crimes. 
Using an automatic number-plate recognition (ALPR) system that securely captures images, Flock Safety's proprietary machine learning algorithm identifies a vehicle fingerprint, including license plate, vehicle type, and vehicle color. Data is stored securely and privately in the cloud and is easily searchable by both police and citizens through a footage portal.
Flock Safety is making a big impact here in Georgia — after the Marietta Police Department installed a trial license plate reader in a local neighborhood, crime rates dropped 34% over an eight-month period, leading them to make moves on purchasing 10 additional Flock Safety cameras.
Marietta police spokesperson Chuck McPhilamy calls the Flock Safety cameras an important part of "a combined package [that] has led to a decrease in crime."
Likewise, Sandy Springs residents Carren and Stone Sellers were happy that Flock Safety cameras had recently been installed in their neighborhood when someone broke into their daughter's car while it was parked in their driveway, stealing a laptop and other valuables. The Sellers asked Flock Safety for help, and the Crime Team helped them through the entire process, from reporting the incident to local police to letting law enforcement know that they could access key footage of the burglar's vehicle leaving the neighborhood.
"The rule of thumb is that non-violent crime — break-ins, theft, smash and grabs — are crimes of opportunity and convenience, and statistically you only have a one-in-10 chance of getting caught," explains Langley. "Criminals think, 'It's easy for me to break into your car and not get arrested, so I'll do it.'"
Flock Safety takes the smartphone supply chain and builds software on top of it to help cameras interpret what they're seeing. So instead of just seeing a blurry picture of a car, the camera acts like a detective and can determine that it sees, for example, a blue Honda CRV with damage on the passenger side door and a GA license plate from Fulton County.
Image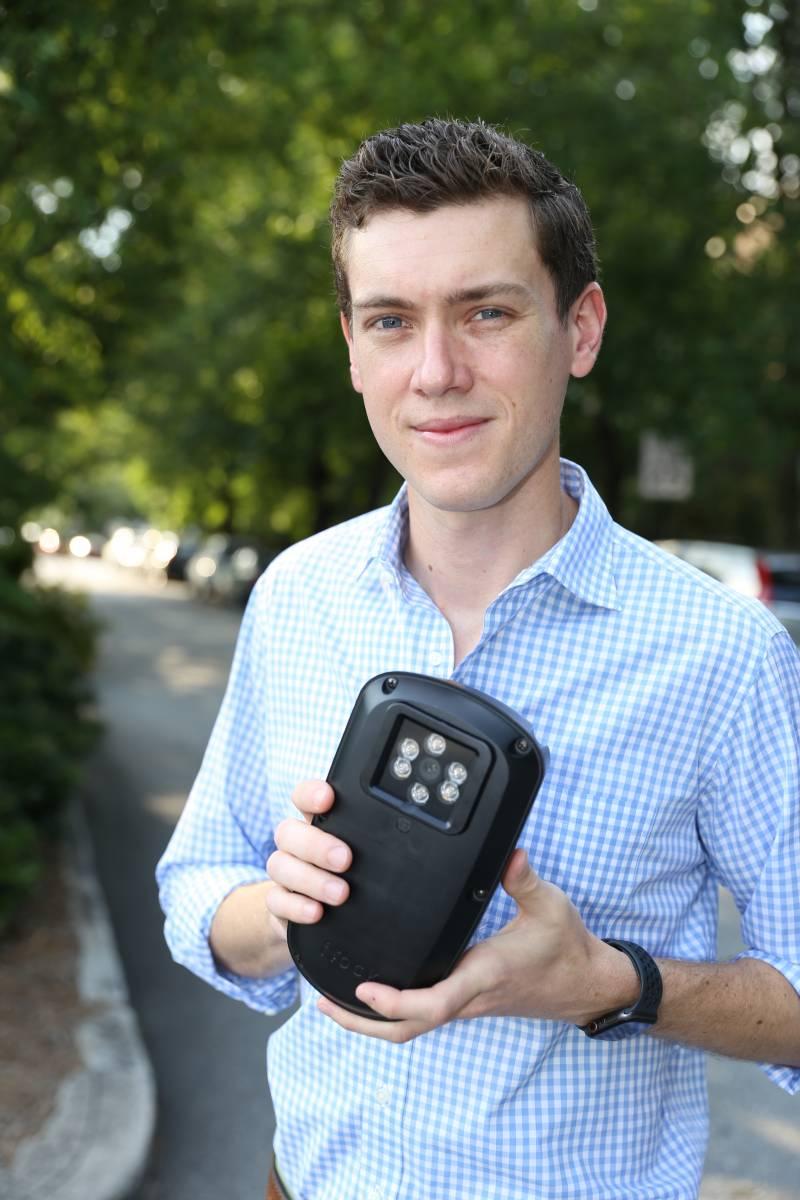 Tapping into Georgia Tech Connections
When working on taking Flock Safety from an at-home project to a full-fledged business, Langley made a call to his senior design project mentor Steve Chaddick, a fellow electrical engineering alum and mentor capitalist at Ridgewood Advisors.  
"When we first got started, I hadn't touched a circuit board in 10 years," recalls Langley. "Steve played a critical role early on, giving us both technical and business advice to help us stay on top, since so many tech companies fail in the beginning stages."
As they look to the future, Langley sees partnerships popping up in even more cities and states, as well as facilitating larger deployments with municipalities around the U.S. As police departments begin using Flock Safety, they can partner with the public to purchase their own cameras and help expand the coverage area.
"Flock Safety wouldn't work nearly as well as it does if it was solely consumer or solely police," says Langley. "Law enforcement is a challenging industry, and Flock Safety is a force multiplier that helps municipalities do their job better by streamlining the resources they use. In our experience, the safest scenario is a 50/50 split between police and citizens installing and using our cameras. The more we work together, the stronger we are."
Langley credits his time at Georgia Tech with instilling in him the know-how and inquisitiveness to make Flock Safety a reality.
"Georgia Tech teaches you curiosity, which led Matt and me to question, 'Why is the incumbent solution of standard home security systems so expensive? Should it be or is this a market opportunity in disguise?' Because of this line of questioning and the foundation of knowledge we gained at Tech, we have developed a far superior product that is less expensive, does a better job, and has shaken up the home security marketplace."