Startup Crescendo acquired by Ultimate Guitar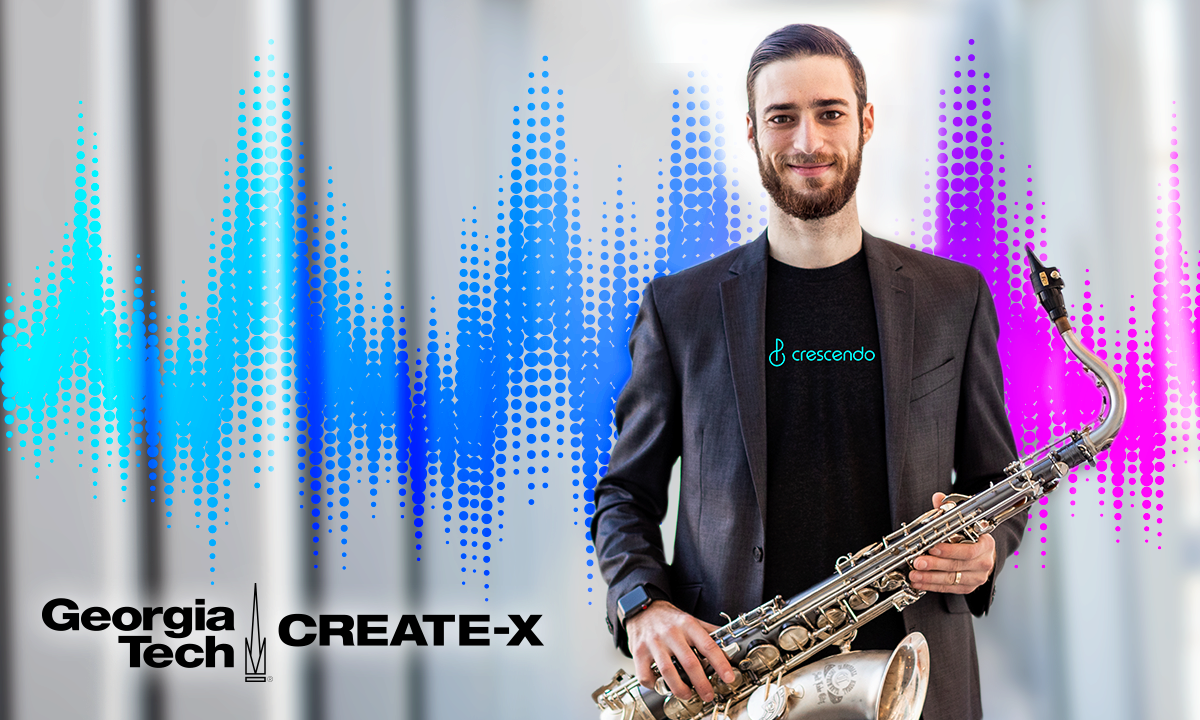 CREATE-X at Georgia Tech announced today that Crescendo, an AI-powered interactive music trainer that facilitates focused practice and immediate feedback, has been acquired by Ultimate Guitar, the world's largest guitar community that provides chords and tabs for more than 1.1 million songs to 240 million users. Ultimate Guitar will leverage the artificial intelligence within Crescendo's app to enhance user experience within a suite of apps for aspiring musicians. 
CREATE-X at Georgia Tech is a visionary enterprise aimed at systematically nurturing entrepreneurial confidence as one of the signature attributes of Georgia Tech graduates. The broader goal of this initiative is to provide the knowledge, skills, abilities and experiences that will give Georgia Tech graduates the confidence to actively create their own future.
"The idea that our algorithm is being used by millions of people to help them become better musicians is awe-inspiring to me," said Seth Radman, co-founder of Crescendo and Georgia Tech mechanical engineering alumnus. "CREATE-X gave me the skills and confidence to create my startup, which had over 1 million app downloads and was featured as Apple's App of the Day, and now it's truly making an impact in the global music community."
Radman recalls receiving the final email that all agreements were in place with Ultimate Guitar.
"It was surreal, and I was in shock. It's a delicate dance to close a deal like this. In fact, it took nine months with many emotional highs and lows. But my mentors at CREATE-X were with me every step of the way."
Radman is now working with Ultimate Guitar to help integrate Crescendo's AI-powered music analysis engine into a suite of products that help users learn to play more proficiently. Radman will continue working with Ultimate Guitar until the AI is fully integrated.
"We are incredibly proud of Seth and what he has accomplished as the co-founder of Crescendo," said Raghupathy "Siva" Sivakumar, director and co-founder of CREATE-X and Wayne J. Holman chair in the School of Electrical and Computer Engineering at Georgia Tech. "This is the program's first exit, and exits are one of the success metrics we track as we look to become the No. 1 startup campus in the U.S."  
In addition to merging Crescendo with Ultimate Guitar's products, Radman already is working on his next project, he said.
"I recently joined CharterUP, a transportation tech startup, as Head of Product," Radman said. "As a mechanical engineer from Georgia Tech, I never dreamed I'd be impacting the lives of so many people who love music, and CREATE-X gave me the confidence to pursue my startup idea and, ultimately, the support and resources I needed to get acquired."
"It was immediately clear during our first meeting that Crescendo had created something special," said Jonathan Kehl, Ultimate Guitar's Vice President of Global Business Development, "The unique combination of Seth's technical capabilities with his musical experience resulted in an innovative approach to helping musicians practice music. It was a perfect storm of passion, knowledge and technology. We look forward to finding more ways to work with Georgia Tech and finding the next Crescendo."
Image