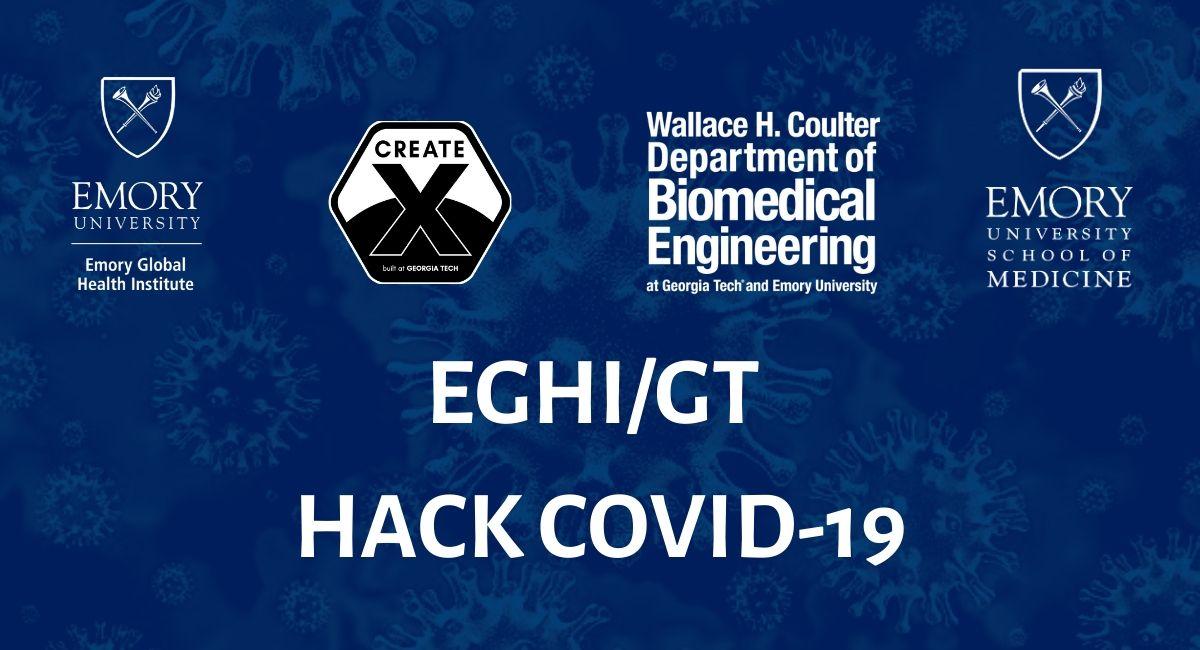 On Saturday, May 16, nine teams comprised of Emory University and Georgia Tech students pitched solutions to COVID-19 problems in the final round of the EGHI/GT HACK COVID-19 virtual hackathon. Teams presented innovative product ideas to a group of judges from the tech, business, and healthcare fields.
The hackathon was a partnership between the Emory Global Health Institute (EGHI), the Wallace H. Coulter Department of Biomedical Engineering at Georgia Tech and Emory, and Georgia Tech's CREATE-X program. The Emory University School of Medicine funded the hackathon through its Imagine, Innovate, and Impact (I3) Award program.
The event began on May 8 when 508 students in 105 teams began working on solutions to COVID-19 problems in eight different tracks, which included an open category, transmission/PPE, social distancing, workplace impact, supply chain, healthcare delivery, testing, and contact tracing.
"This hackathon was able to provide an outlet for students looking for ways to help control the pandemic. Together, these teams had to determine how to communicate, plan, and execute their projects from separate homes. Their work is incredibly impressive given that it was completed during this time of social distancing," says Keriann Roy, EGHI Operations and Evaluation Manager, who organized the hackathon.
The top three teams, all comprised of Georgia Tech and Emory students, each won a $10,000 cash prize and enrollment in the summer 2020 CREATE-X Startup Launch. One team pitched an app called CAPACIT, which helps businesses manage new regulations required to open and operate under COVID-19 and helps consumers practice social distancing by alerting them to a store's customer traffic in real time.
Emory student Alexandra Tuttle, who just finished her first year at the Rollins School of Public Health, made the hackathon a family affair by participating on the same team with her sister McKenzie Tuttle, who just completed her sophomore year at Georgia Tech in biomedical engineering. The Tuttle sisters and their teammates pitched the winning CAPACIT app. "As a public health student, I'd been searching for ways to help the community in the midst of the pandemic, and this hackathon seemed like an incredible way to make a tangible difference. I mentioned it in passing to my sister McKenzie. She later reached out saying she had a group from Georgia Tech and asked if I was still interested," says Tuttle.
The sisters and their teammates plan to dedicate a portion of their prize money toward developing CAPACIT into a commercially viable product that could help hundreds of communities in their social distancing efforts.
Image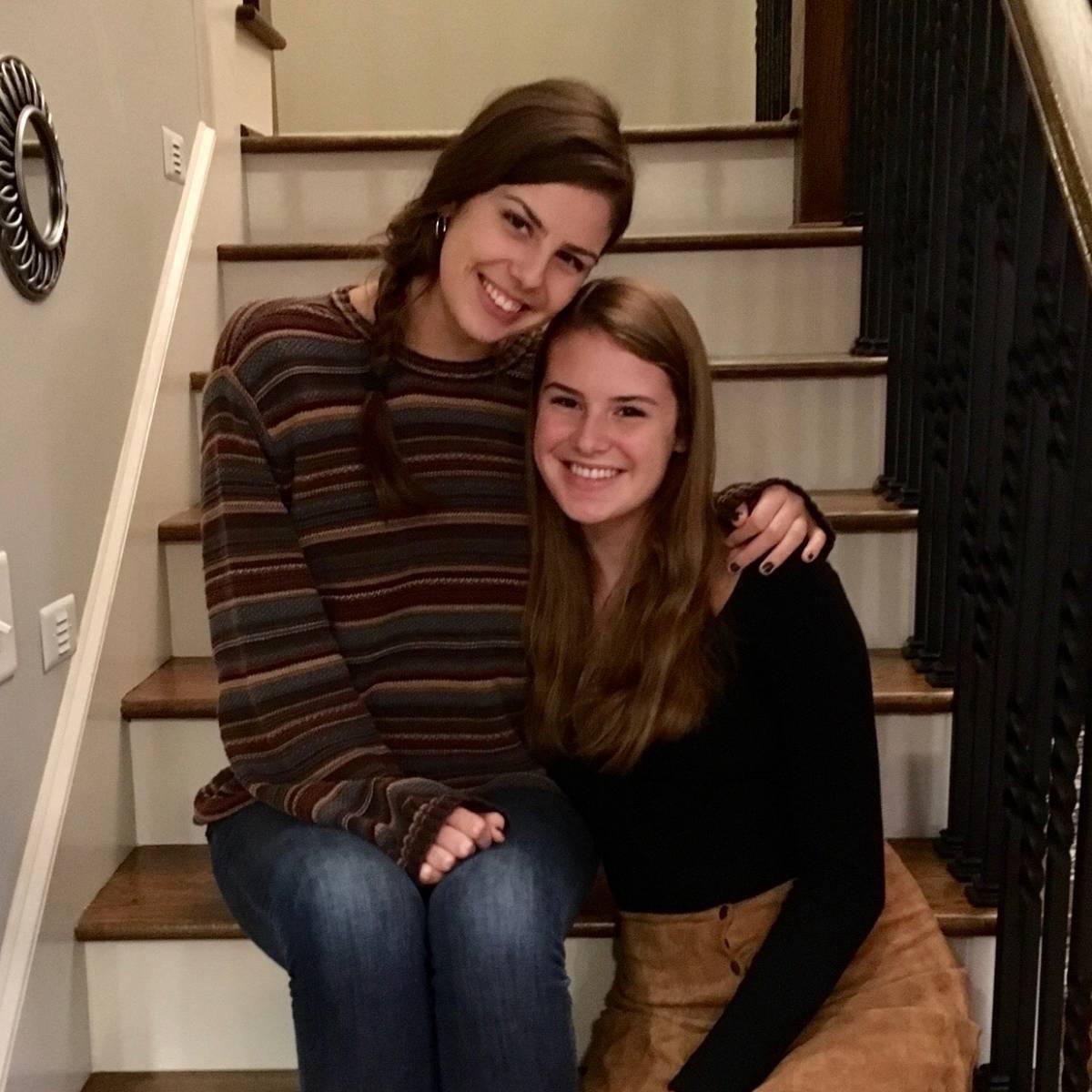 Another team created an app called CareRing that helps family members and caregivers better communicate with and monitor the physical and mental health of elderly residents living in long-term care facilities. "For our team, we definitely want to focus on customer discovery. We want to make sure that our app will actually benefit our target audience and can make a difference," says Katherine Choi, a Georgia Tech College of Computing student who worked on the team that developed the app.
To assist providers caring for patients in hospitals, a third winning team developed an app called CovidHub, which integrates COVID-19 rapid testing results collected in facilities outside of hospitals with hospital emergency medical records (EMRs). "I am working with a startup that offers COVID-19 antibody testing, so my mind was already focused on all the issues I was seeing around testing. Throughout the hackathon, we spoke with doctors who validated a true need for CovidHub, which was our solution to integrate results from pop-up testing sites into legacy EMRs at hospitals," says Shirley Gao, a CovidHub team member who completed her dual MPH/MBA degree at Emory earlier this month.
A fourth team comprised of Georgia Tech students won a $5,000 honorable mention award and enrollment into the CREATE-X program for its COVID Cleaner tool, which uses computer vision algorithms to help businesses keep their facilities properly sanitized. Michael Krause, a Georgia Tech aerospace engineering student who worked on the COVID Cleaner idea, looks forward to bringing his and his teammate's product to market.
"One thing I'm especially proud of is the significant progress we made toward creating a viable product during the hackathon period itself. We're pretty close to being able to roll out a live demo to stores, so we look forward to the support of CREATE-X as we endeavor to do that through building technical and business relationships with stores," said Krause. 
The Emory and Georgia Tech partners for this hackathon are pleased that they brought so many students together to work on products that could make a positive difference in controlling the pandemic.
"Partnering with Georgia Tech on this hackathon was a great experience for the Emory Global Health Institute and for all of the Emory students who participated. We were thrilled that so many students from both universities participated and impressed with the high-quality work they produced. While this was our first hackathon partnership with Georgia Tech, I hope it won't be our last," says Jeffrey Koplan, Vice President for Global Health at Emory.
Image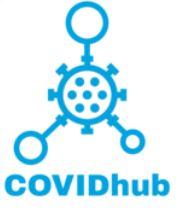 "We are so proud of all of the students who were able to participate in the virtual hackathon, developing ideas that could potentially make a real difference during this unprecedented pandemic," said Raghupathy "Siva" Sivakumar, Director and Co-founder of CREATE-X and Wayne J. Holman Chair in the School of Electrical and Computer Engineering at Georgia Tech. "Partnering with Emory gave us an added edge to bring more students together and tackle the tough issues facing us today. We hope that CREATE-X will help these winning teams bring their products to market, creating viable solutions to fight COVID-19."
This sentiment was echoed by the hackathon participants. "We got lucky with the array of skills the different team members brought together. These Tech students are super impressive and smart, and it was really great to work with high caliber, hard-working people," says Colin Emerson, a student at Emory's Goizueta Business School who worked on the CovidHub team.