For Chiamaka Obianyor, leadership is in her DNA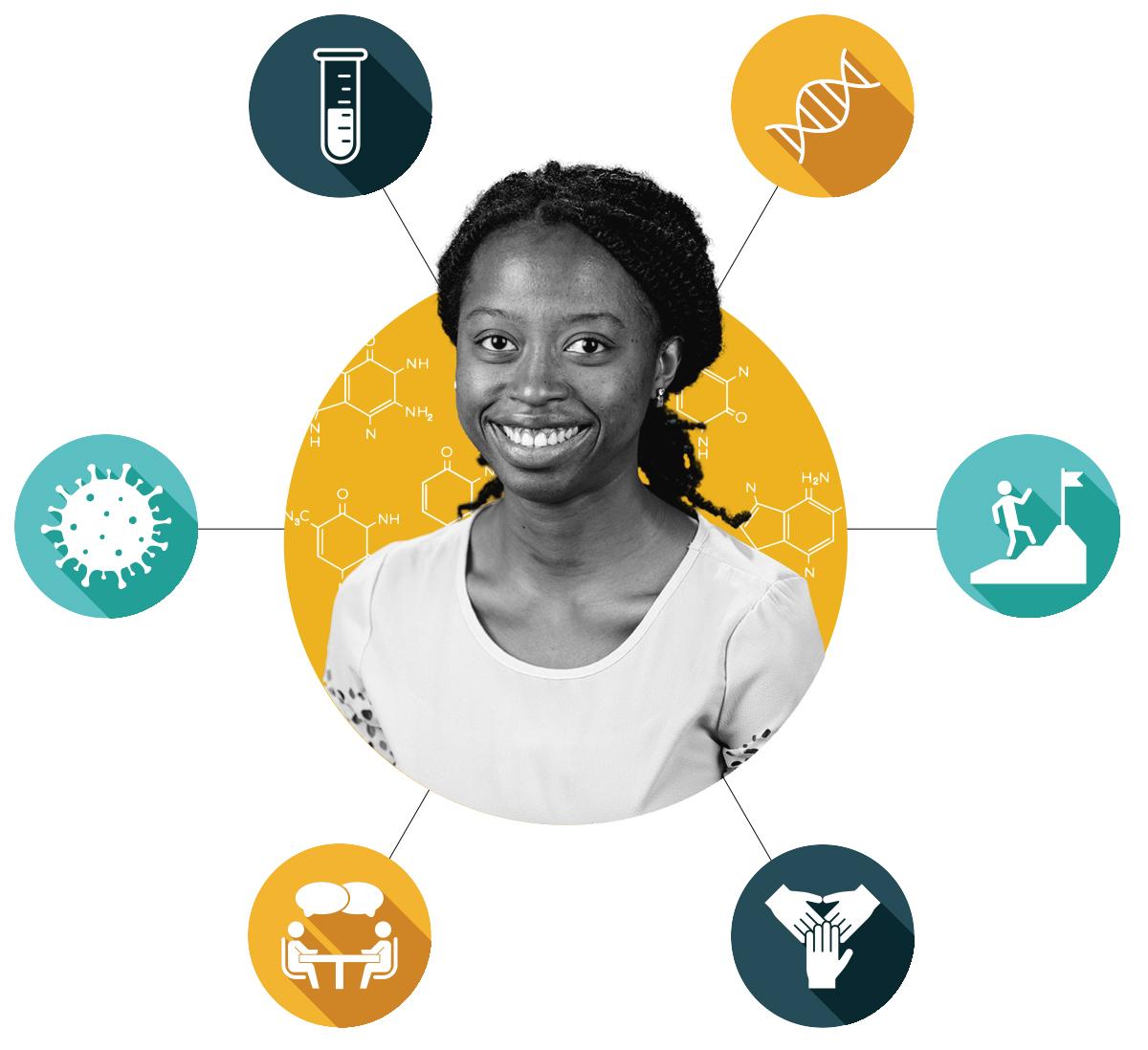 While growing up in Nigeria, Chiamaka Obianyor was raised with the principle that it takes a village to raise a child. "Everyone is involved in the community to make sure that others are doing okay," she says. The Ph.D. candidate in the School of Chemical and Biomolecular Engineering lives by that principle to the fullest in her current "village" of Georgia Tech. She has demonstrated leadership not only in the laboratory but through her participation in two interdisciplinary teams working on Covid-19 testing technology and as a mentor in multiple Tech organizations.
"I came to the U.S. for my studies because once I decided that I wanted to be a chemical engineer, I knew I wanted to go to the best schools in order to make the kind of impact I wanted to have," Obianyor says. She is already making an impact through her research in the building blocks of life: nucleic acids, the "NA" in DNA and RNA.
In nature, enzymes play a role in nucleic acid replication. Obianyor strives to understand how DNA and RNA strands can make more of each other (replicate) without using enzymes. Particularly, she is interested in the joining together (ligation) of the strands of nucleic acids without using enzymes in the replication process. In her recent results, she found that by optimizing DNA reaction conditions, she was able to cut down the time it took past researchers to join strands without enzymes from six days to just under 24 hours. These microscopic reactions could potentially have big-picture implications for understanding the origins and evolution of life.
"Chiamaka is a natural in the lab," says Nicholas Hud, Ph.D., Obianyor's co-advisor and Director of the Center for Chemical Evolution (CCE), which funds her research. "She can extract important information about reactions involving DNA and RNA that can easily be overlooked if such reactions are carried out in a less systemic or less quantitative manner."
Obianyor's skills in the lab and expertise in nucleic acids were sought out after the pandemic broke out this past spring. She eagerly accepted an invitation to join the interdisciplinary Georgia Tech Covid-19 Test Kit Support Group, which helped fill in the gap in testing supplies by creating components for hundreds of kits a day. Obianyor was responsible for making sure the enzymes produced in-house were free of contaminants that could lead to false test results. She also performed a similar role – conducting technical assessment of assay reagents – for the Georgia Tech Research Institute's continuing efforts to develop a rapid point-of-care Covid-19 test kit.
"In my daily research and in academia in general, it takes time to develop and learn new techniques to make profound discoveries," she says. "To be able to use my skills to contribute to these projects with such a high impact in such a short amount of time was really rewarding."
Image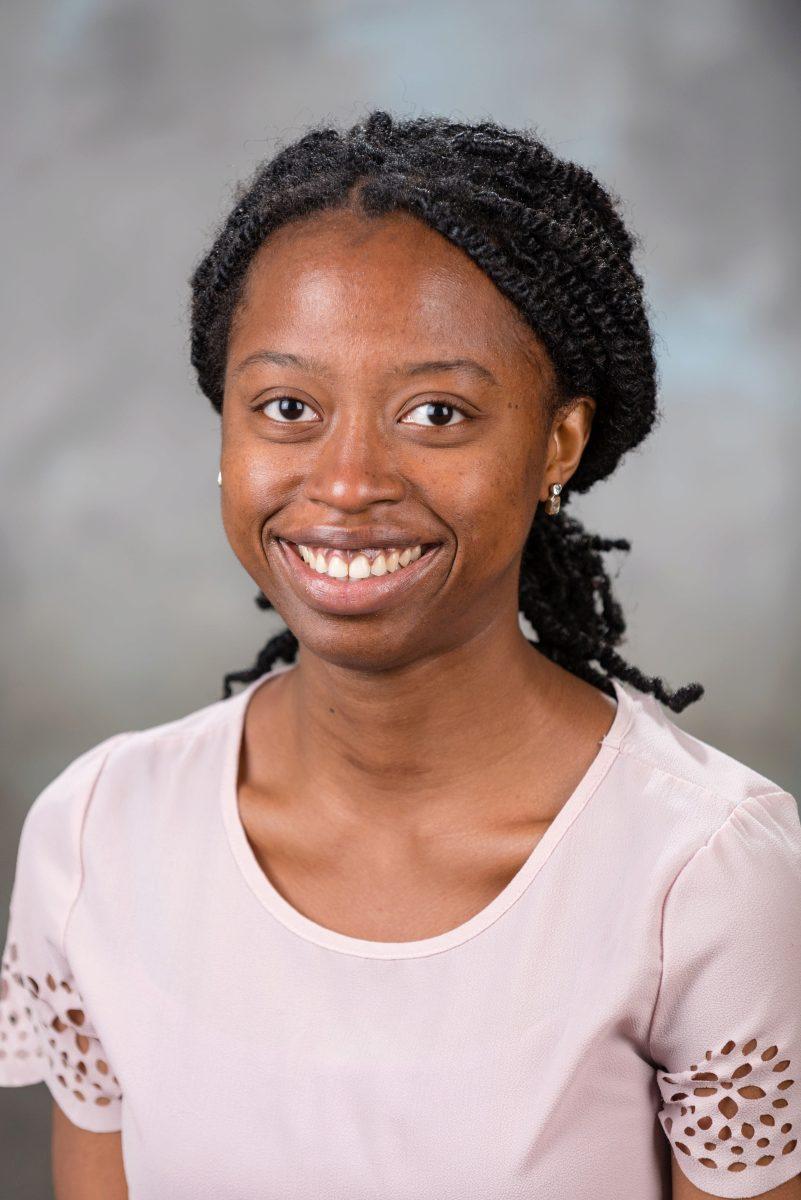 Her contributions to the Covid-19 test projects are just the latest of numerous examples of how Obianyor gives so generously of her time to help others. During her time at Tech, she has served in leadership and mentorship roles for several organizations. "Being heavily involved in my community is something I've always done since I came to America for college," she says. "It was only natural when I came to Georgia Tech that I looked for ways I could continue to serve and give back."
In her two years as CCE's outreach chair, she developed fun STEM demonstrations for not only elementary school students in their classrooms, but also high schoolers attending the Hands On Future Tech Expo on Campus. She also led professional development seminars for fellow CCE grad students and post-docs on such topics as building a solid LinkedIn profile.
"Being heavily involved in my community is something I've always done since I came to America for college. It was only natural when I came to Georgia Tech that I looked for ways I could continue to serve and give back." --Obianyor
As a graduate mentor for the School of Chemical and Biomolecular Engineering's Exxon Success Program, she has supported undergraduate students from underrepresented groups. "Our goal is to provide a space for these students to be able to function and thrive in the department," she explains. She provided formal training such as mock interviews, as well as informal one-on-one mentoring sessions and roundtable lunches during which students can share their life and classroom experiences with their professors. "Chiamaka is an intentional leader and a tireless contributor," says Martha Grover, Obianyor's other co-advisor and a professor in the School of Chemical and Biochemical Engineering.
But it has been Obianyor's role as a leadership coach through the Leadership Education and Development program that has made the greatest impact – on her own life. "It's one of the best things I've ever done," she says. "It taught me the difference between being a mentor, which is based on your own experience, versus being a coach, where you remove yourself entirely from the narrative and ask the coachee insightful questions to help them come up with their own unique solutions. They can chart their own journey. It has taught me to ask these questions of myself as I walk through my own leadership journey."
Obianyor's still deciding whether that journey will lead into industry or academia after completing her Ph.D. next spring. True to her guiding principle, though, she's ready to serve and contribute, wherever her next village may be.