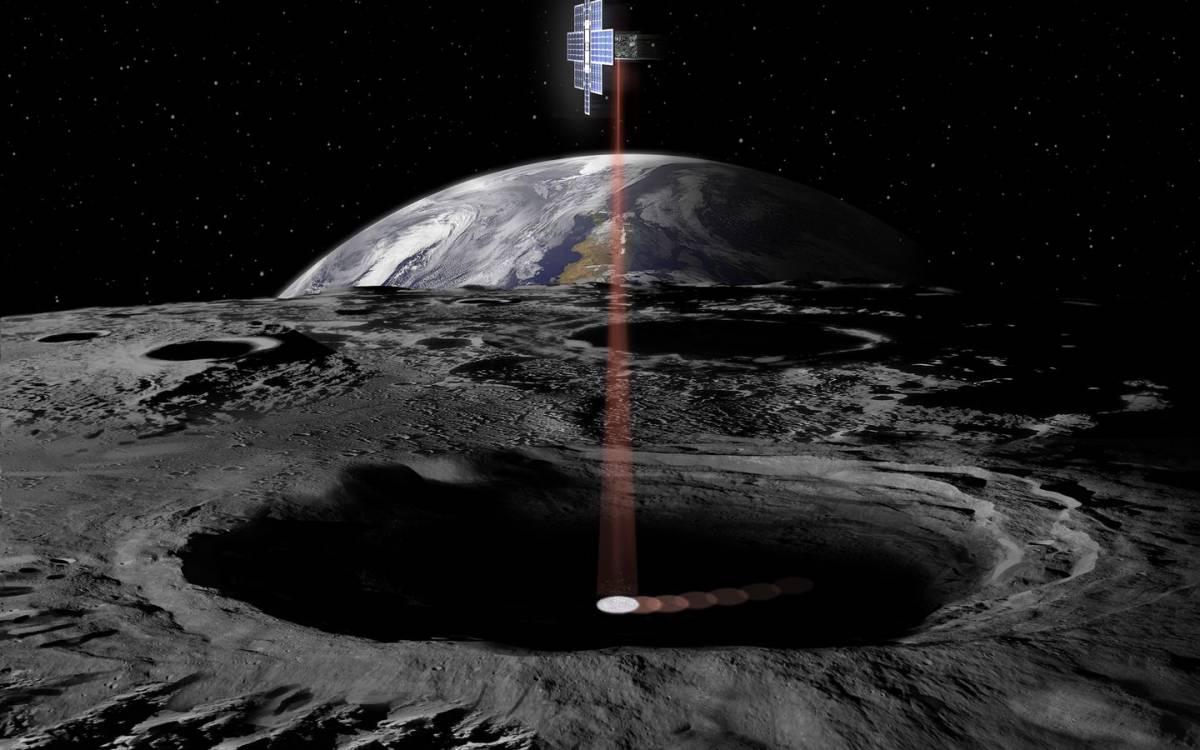 Blank Space (small)
(text and background only visible when logged in)
A new agreement with NASA puts Georgia Tech on a mission to find water on the Moon
For years, NASA has been studying ice on the Moon. Now, they want to determine where it is exactly and just how much, and a spacecraft at Georgia Tech could provide definitive answers. Georgia Tech engineers and researchers will work with NASA's Jet Propulsion Laboratory (JPL) in Southern California to assemble, integrate and test a small satellite mission known as Lunar Flashlight.
"Nobody knows where or how much lunar ice is on the Moon, and this could be hugely important for human space exploration," said Glenn Lightsey, professor in the Guggenheim School of Aerospace Engineering and co-principal investigator for the Lunar Flashlight project. "Lunar Flashlight will be launched and fly a trajectory into lunar orbit and circle over the south pole of the Moon looking for ice in shadowed craters using infrared lasers. Mission control will be run out of Tech, so we will be the first on-the-ground team to receive the measurement data that will indicate where the lunar ice is."
Not only would ice on the Moon tell scientists more about lunar chemistry, but knowing what is in the ice will help scientists understand planetary origins, potentially uncovering pre-biotic molecules. Additionally, the ice could amount to millions of gallons of water that could sustain human life during planetary travel. The water could also be used to make rocket fuel or fuel for combustion engines on site, rather than loading a rocket with those supplies, which is costly.
Image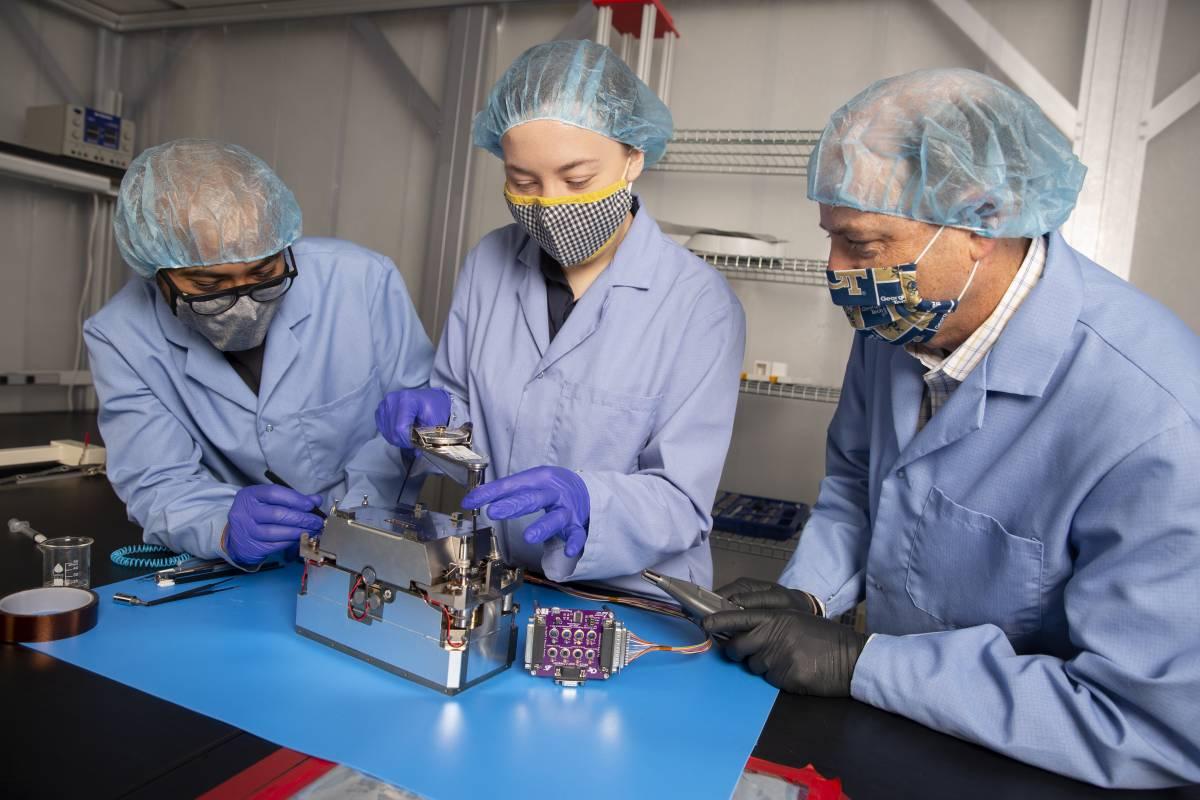 Professor Glenn Lightsey (right) and students work on the Lunar Flashlight propulsion system in a Georgia Tech cleanroom.
"The presence of water on the Moon is of tremendous importance from both a fundamental science point of view and a practical perspective. It is a topic that links lunar science and exploration," said Thom Orlando, professor in the College of Sciences at Georgia Tech and principal investigator for the Radiation Effects on Volatiles and Exploration of Asteroids and Lunar Surfaces (REVEALS) team that is dedicated to researching topics for future human space exploration. It's also NASA-funded as a Solar System Exploration Research Virtual Institute, focusing on lunar and asteroid science and exploration.  
As scientists, Orlando's group studies how the ice was formed, delivered, how to get it and how to use it. And it's the Lunar Flashlight spacecraft that will perform reconnaissance mapping of surface ice, carrying out critical measurements before any extraction efforts can begin.
"The combined Georgia Tech REVEALS work and Lunar Flashlight efforts place Georgia Tech in a unique position where we can contribute significantly to both the science and engineering necessary for NASA's Artemis missions," said Orlando.
Georgia Tech signed an agreement with JPL in early July to complete the final integration, environmental testing and spacecraft operation for Lunar Flashlight. The integrated spacecraft will be delivered to Kennedy Space Center for launch. Lightsey and his team had already built the Lunar Flashlight propulsion system for NASA.
"Running this mission and building this spacecraft is a tremendous opportunity for Georgia Tech," said Lightsey. "It really puts us in the space arena as a world-class enterprise that can carry out missions for NASA. There are very few places that can do this kind of work."
Running this mission and building this spacecraft is a tremendous opportunity for Georgia Tech. It really puts us in the space arena as a world-class enterprise that can carry out missions for NASA.
Image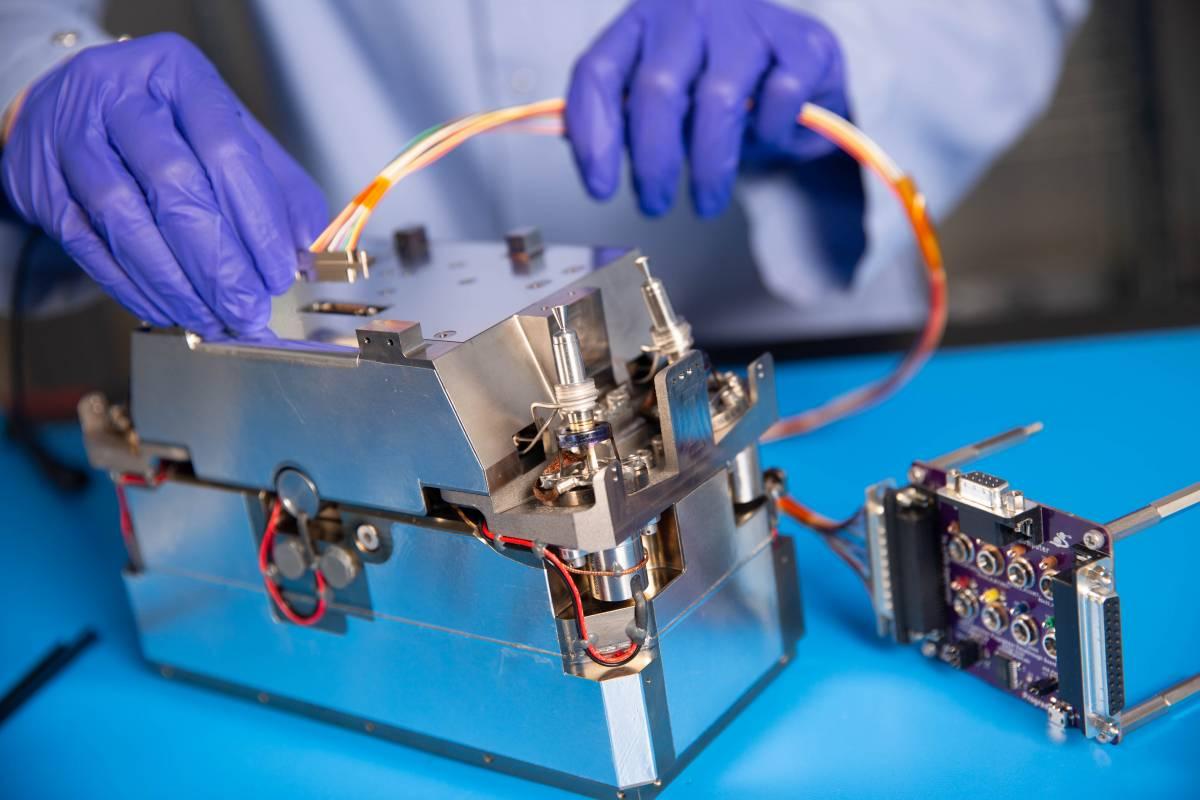 Blank Space (small)
(text and background only visible when logged in)
Integration and Testing
JPL will ship all spacecraft parts to Tech this summer, where they will be assembled and tested. The Georgia Tech Research Institute (GTRI) will provide the clean room for assembly, and a team of researchers, led by principal investigator Jud Ready, will manage all the integration and testing of Lunar Flashlight before it is shipped to the Kennedy Space Center in Cape Canaveral, Florida.
"Our new Center for Space Hardware Assembly, Fabrication and Testing will provide the cleanroom space to assemble Lunar Flashlight and put it through a rigorous series of tests," said Ready, principal investigator of the Lunar Flashlight project at Georgia Tech. "Once we receive all the spacecraft components from JPL, our team of researchers and students will put it all together. There's no instruction manual right now – it's our role to collaborate with the scientists and engineers at JPL and the other partners to write the test and integration procedures, do them, and at the same time to conclusively verify our work."
While Lunar Flashlight is a small CubeSat spacecraft – about the size of a briefcase and weighing 30 pounds – it is a high-profile mission. Its mission is to demonstrate and prove a number of new technologies for NASA including being the first to use lasers to survey the Moon's surface for surface ice and the first spacecraft to use the propulsion system developed at Tech. Upon mission completion, Lunar Flashlight is expected to become the first CubeSat to achieve orbit around a planetary body other than Earth.
Lacey Littleton, a graduate student working in Lightsey's lab on the project, served as the lead mechanical engineer on the propulsion system. This summer, she will be a liaison between JPL and GTRI, facilitating the hardware handover and integration.
"Lunar Flashlight is a technology demonstration mission, where you have an actual scientific purpose in addition to the technology objectives," said Littleton. "It's exciting to do this work as a student with NASA and help build a spacecraft that will attempt to find ice on the Moon. I'll be able to say, 'I've touched stuff that will go to the Moon one day.'"
Blank Space (medium)
(text and background only visible when logged in)
Mission Control
After Lunar Flashlight is assembled, tested and shipped to Kennedy Space Center, it will be integrated into a dispenser and made ready for launch. Launch may occur as soon as Spring 2022. 
Image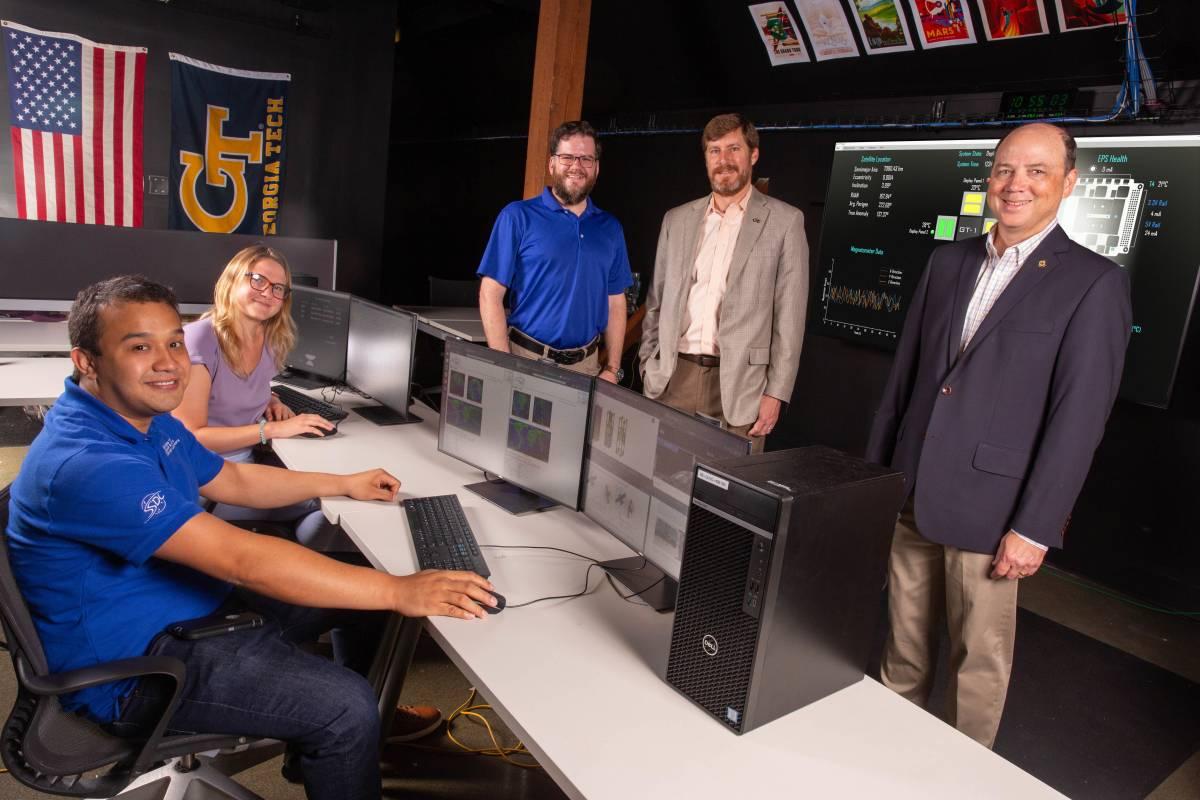 Mission Control for Lunar Flashlight will be run from Georgia Tech. Faculty Jud Ready (second from right) and Glenn Lightsey (far right) have led the project.
But Georgia Tech's work won't end there. Mission control for Lunar Flashlight will be run out of Lightsey's lab on Georgia Tech's campus. Tech will use NASA's Deep Space Network and send out signals from Georgia Tech through NASA's radio antennas.    
"Our students will be in the mission control room, monitoring the flight of Lunar Flashlight," said Lightsey. "The spacecraft's data will come through Georgia Tech before it goes to NASA. We don't officially interpret the science data, but we'll know if everything is working properly. Operating a mission like this will create new opportunities for future space missions at Georgia Tech."
Likewise, for GTRI, Ready sees it as being the go-to service center for both space researchers and industry that want to put together a CubeSat or work with NASA.
"Part of GTRI's mission is to benefit the state and help the region become a technology leader with our world-class facilities and personnel expertise," said Ready. "By 2023, GTRI will be a billion-dollar enterprise. That has a major impact on Georgia's economy, and our NASA partners are helping make it happen."  
Lightsey and his students started on the project over two years ago when they designed and built the propulsion system with NASA's help. Today, that work has led to an even stronger partnership between Georgia Tech and GTRI. It will take researchers from across the Institute to bring the project to fruition, from Ready's cleanroom at GTRI to Lightsey's lab in the School of Aerospace Engineering. Once Lunar Flashlight is in orbit, mission control will operate out of an aerospace engineering building, with GTRI as a backup mission operations center.
"If we are successful with this mission, it will lead to many future opportunities for us to collaborate with NASA," said Lightsey. "Plus, it's just really cool. We are part of the human quest to return to the Moon."
Blank Space (medium)
(text and background only visible when logged in)