More than 200 student teams closed the semester with the Capstone Design Expo, showcasing Georgia Tech's interdisciplinary culture.
Image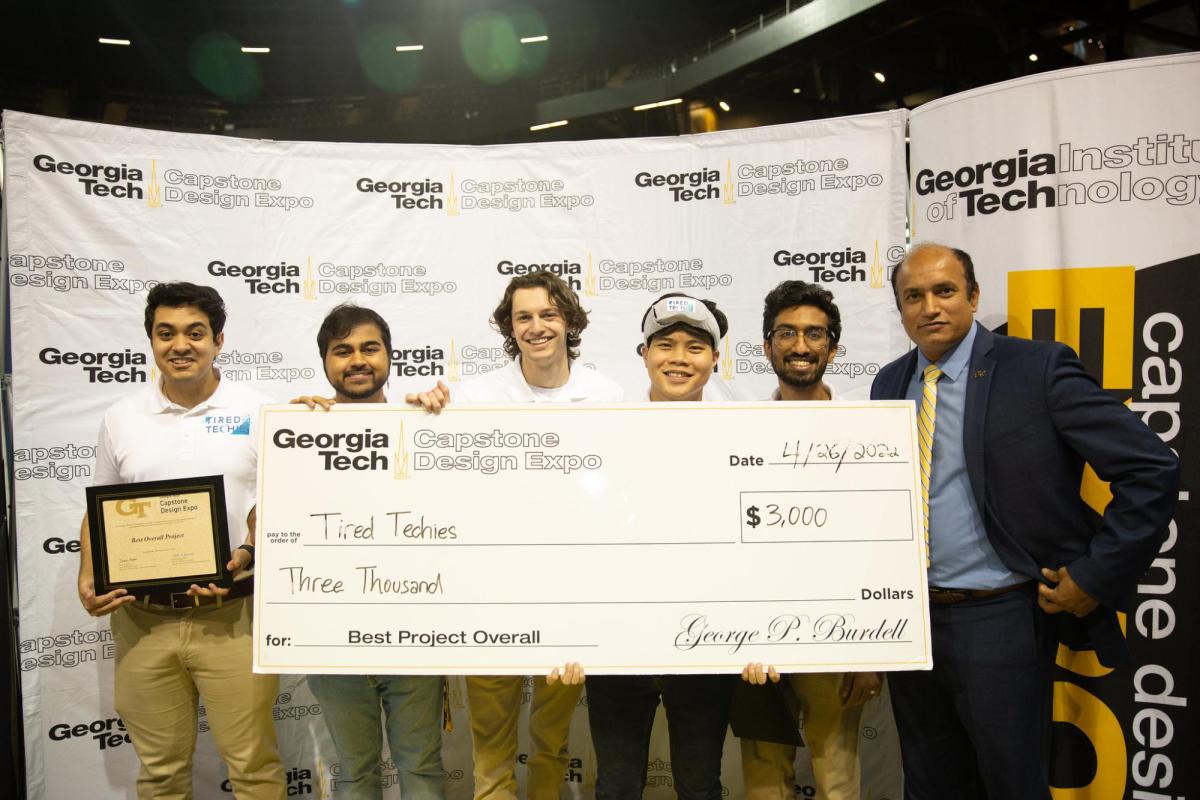 Sleep, or a lack of it, was the big winner during Georgia Tech's Spring 2022 Capstone Design Expo. Three of the 13 first-place awards, including the overall winner, were tied to getting a good night's rest.
The Expo is the culmination of Capstone Design, a series of courses offered to undergraduate students from all disciplines. Graduating seniors work in teams throughout the semester to design and test solutions with real-world applications. Many projects are sponsored by companies, including Google, Norfolk Southern, the Mayo Clinic, and Texas Instruments.
This semester's 218 teams spanned four colleges — Engineering, Computing, Design, and the Ivan Allen College of Liberal Arts — and 12 schools. Seven disciplines within engineering were represented: aerospace, biomedical, electrical and computer, industrial and systems, materials science, mechanical, and nuclear and radiological.
Twenty five percent of the teams were interdisciplinary, the highest number in the Expo's history. That includes the overall winner, Tired Techies. The team of computer, electrical, and mechanical engineers created a sleep-monitoring mask and smart alarm that reduces drowsiness by waking the sleeper during the correct sleep cycle. The device measures eye movement throughout the night and processes the data to classify sleep stages.
The team won $3,000 and credited their success to plenty of sleepness nights.
"Our team had an idea of where we wanted things to go," said Ananth Kumar, a computer engineering student from Pleasanton, CA. "After hours and hours of work, things surpassed what we thought we could have accomplished." 
Image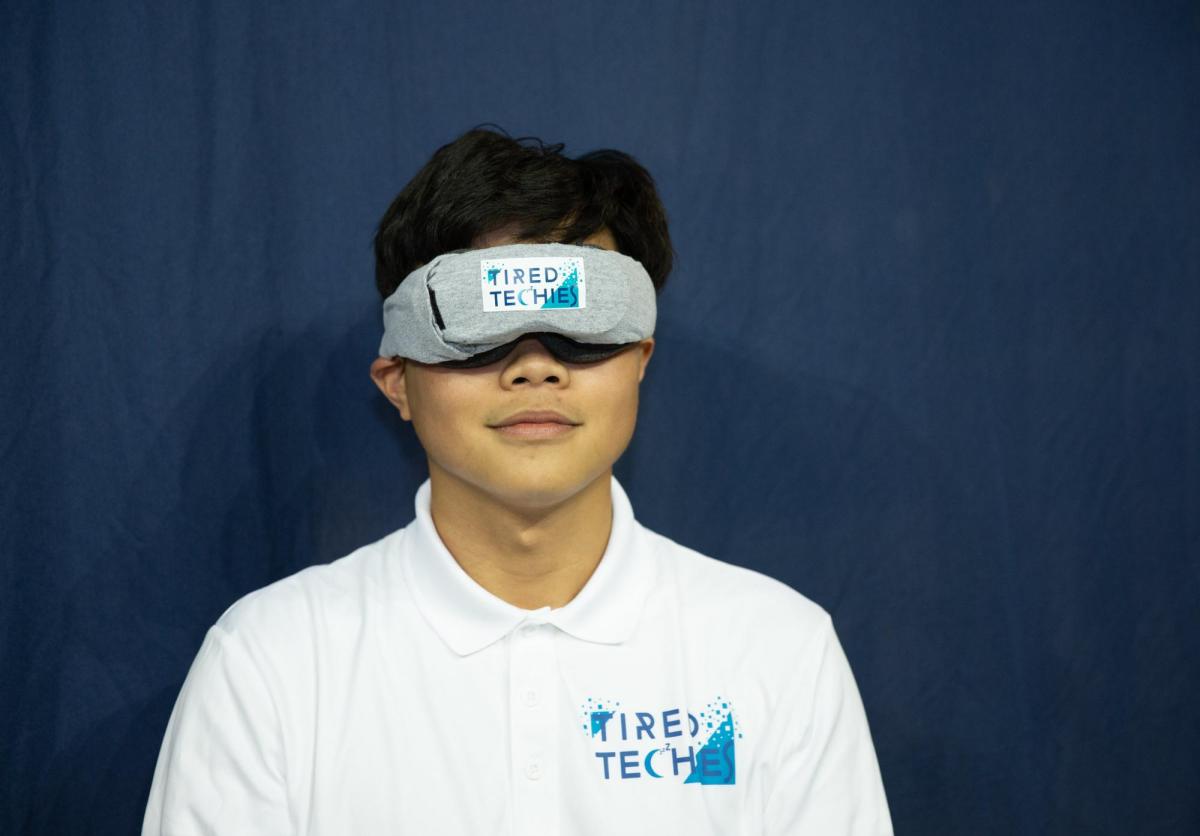 Tired Techies' device measures eye movement throughout the night. 
Image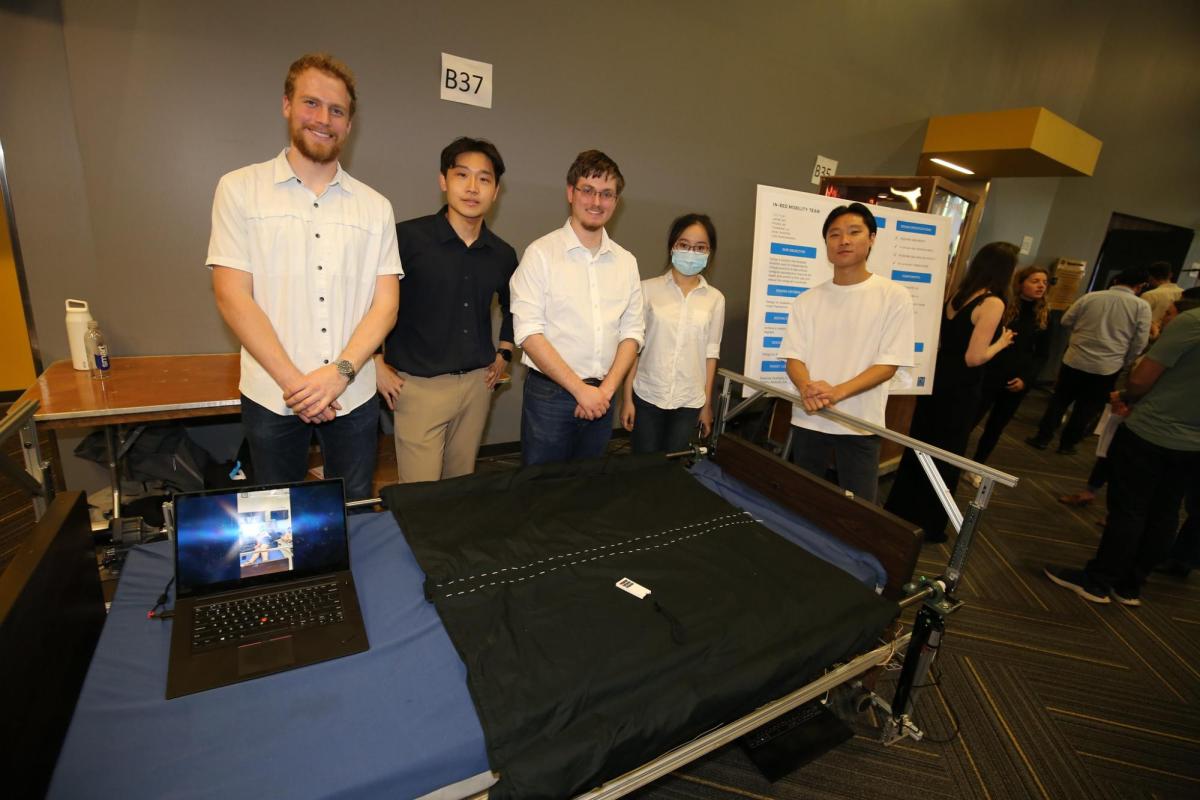 In-Bed Mobility won the industrial design and mechanical engineering category. 
Two other winners focused on beds. First place in the industrial design and mechanical engineering division was In-Bed Mobility. The team created a bed that allows disabled users to independently change positions overnight without caregiver assistance.
The top team in the School of Materials Science and Engineering, Recreational Sleepers, worked with Serta Simmons Bedding to improve the cooling properties of the company's mattresses. The students created a matrix made of silicon rubber to increase the design's air flow.
"Our team was really interested to work with the consumer product side of a company to create something that people will actually use," said Cameron King of Tyrone, GA. "It was a great experience working with the sponsor to get their expertise and see them get excited about the ideas we presented about creating a sustainable layer for their mattresses."
Recreational Sleepers and the 11 other individual category winners won $1,000.
Georgia Tech is constantly creating learning environments that enable students from across disciplines to work together. The skills that these students learn will help them be more successful leading larger diverse teams. 
Amit Jariwala, chair of Capstone Design Expo
Blank Space (small)
(text and background only visible when logged in)
Outside of the winner's circle, one team saw lines of hungry attendees throughout the night. A group from the School of Electrical and Computer Engineering spent the semester trying to solve one of Papa John's current dilemmas: a lengthy pick-up process. The team designed a barcode system and heated, glass pizza lockers.
The system allows customers to skip the line at the store by using their phone to scan the lockers and grab their pre-paid pizza. The team's goal was to reduce the time at the store from six minutes to less than three.
Other teams, such as Last-Mile Machines, were unsponsored. The mechanical and computer engineers built a foldable electric scooter that fits into a backpack. Their micro-mobility device, built with machined, 3D-printed, and water-jetted parts, was an effort to help public transportation riders quickly reach their final destination in a safe, eco-friendly, and affordable manner.
"Our interdisciplinary team of engineers recognized the differences between all of our personal and job experiences, then combined those skillsets to make a creative, rigid, and rugged project that fulfilled all of our expectations," said Melissa Foley, a mechanical engineer from Middleboro, Massachusetts. "It was also very rewarding as a personal project because it was self-defined, allowing us to create any end product or scope that we wanted."
Image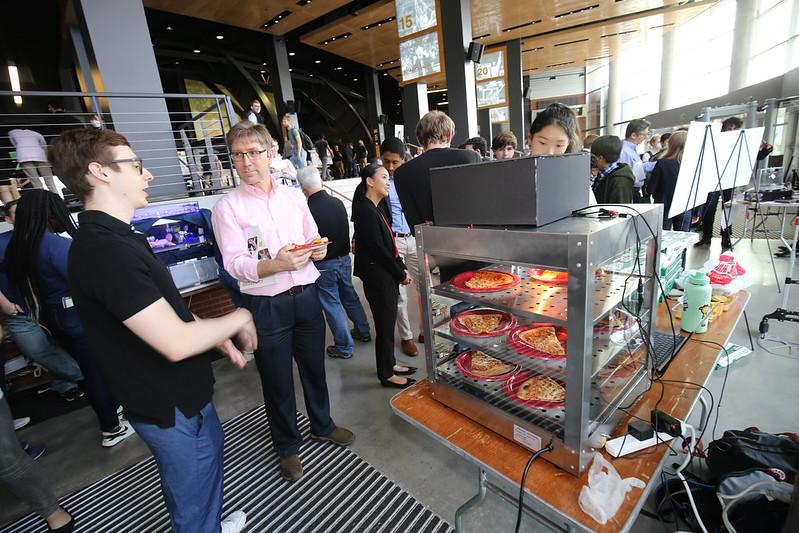 ECE students created a pizza locker to speed up pick-ups.  
Image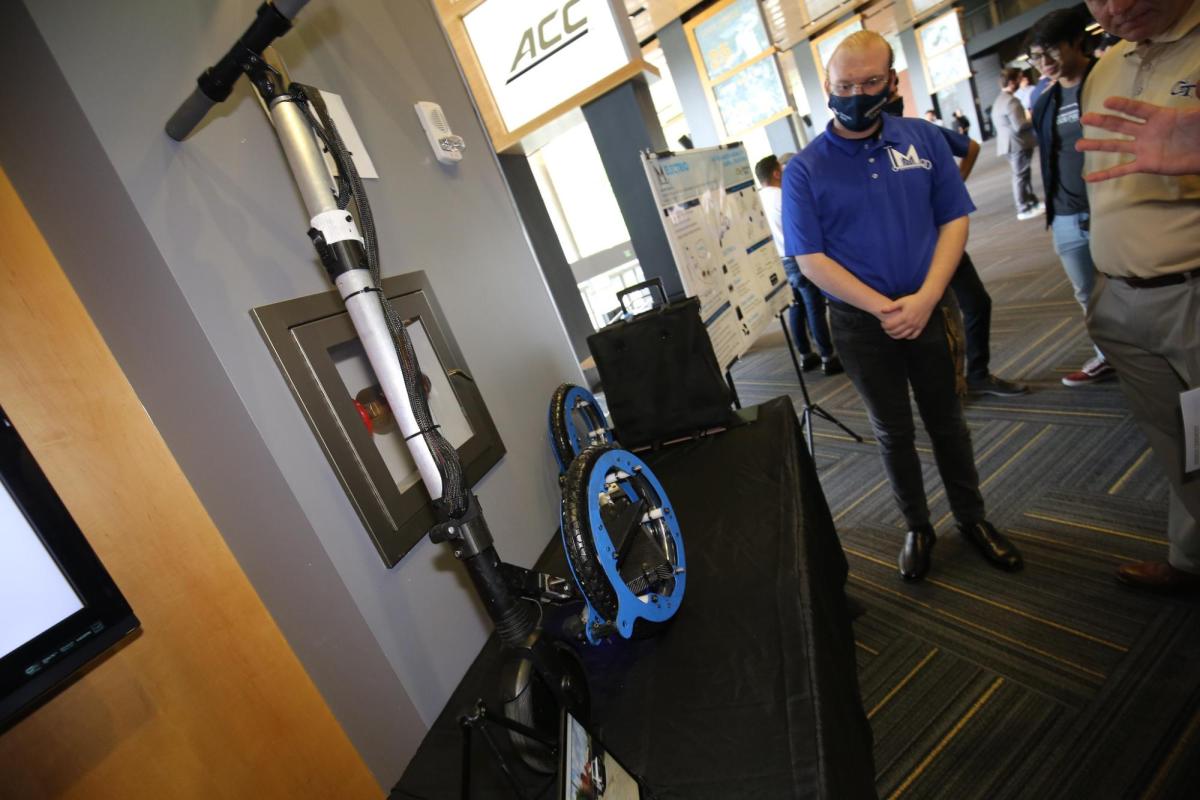 Electrio folds up into a backpack. 
Some of the night's projects will turn into products or new procedures for sponsors. Others could become start-up possibilities. Many are simply the final projects before Commencement.
"It's been a journey. A rollercoaster," said Nabid Farvez, a team member of Tired Techies and an electrical engineering student from Lawrenceville, GA. "Whatever we decide to do in the future, we're at Georgia Tech. We can do that."
Blank Space (small)
(text and background only visible when logged in)
Overall Winner — Tired Techies
Ananth Kumar, Computer Eng. (Pleasanton, CA)

Andrew Lang, Computer Eng. (Roswell, GA)

Kai Vong, Mechanical Eng. (Lilburn, GA)

Nabid Farvez, Electrical Engineering (Lawrenceville, GA)

Syed Samin, Computer Engineering (Lawrenceville, GA)
Guggenheim School of Aerospace Engineering — PICARD
A project that outlined a mission to Phobos, a Martian moon.
Ava Thrasher (Ellijay, GA)

Blake Berge (Evans, GA)

Brittney Brown (Habersham, GA)

Graham Jordan (Orlando, FL)

Jacob Chmielarz (Fort Lauderdale, FL)

Jake Anderson (Atlanta, GA)

Jerry Schweiger (St. Helena, CA)

Sergio Acosta (Miami, FL)

William Clemmons (Vestavia Hills, AL)
School of Architecture — Tim(ber) Mobile
Created an educational mass timber pavilion for sponsor Georgia Forestry Foundation to demonstrate the sustainable nature of mass timbers.
Benjamin Ullrich (Winterville, GA)

Daniel C.Y. Hsu (Hsinchu, Taiwan)

Jared Abrahamian (McDonough, GA)

Katherine Bradford (Winter Garden, FL)
Coulter Dept. of Biomedical Engineering — FeediNG Forward
Simplified nasogastric (NG) tube feed positioning and verification for preterm babies.
Alima Ballo (Abidjan, Ivory Coast)

Esha Kashyap (Augusta, GA)

Eunice Kim (Marietta, GA)

Janet Kim (Silver Spring, MA)

Meghana Sridhar (Powder Springs, GA)
School of Electrical and Computer Engineering — Sixth Sense
Created a haptic feedback navigation vest to help people with visual impairments move around tables, chairs, and walls.
Blair Johnson (Knoxville, TN)

Flannery Murphy (Roswell, GA)

Hongyu Guo (Fuzhou, China)

Jason Fan (Lexington, MA)

Vineeth Harish (Columbus, GA)
H. Milton Stewart School of Industrial and Systems Engineering — Put a Ring On It
To assist sponsor Tiffany and Co., the team created better methods of slotting and wave planning for their warehouse, which has not been configured in 20 years.
Asli Yucebilgin (Izmir, Turkey)

Fares Hasan (Alexandria, VA)

Neha Srivatsa (Marietta, GA)

Ozashwee Ghimire (Leesburg, GA)

Saman Muhammad (Lawrenceville, GA)

Shreya Desai (Suwanee, GA)

William Reich (East Islip, NY)
Industrial Design and Mechanical Engineering — In-Bed Mobility Team
A bed that that enables disabled users to independently change positions overnight without caregiver assistance
Isaac Shapiro, Industrial Design (Arlington, TX)

Jacob Gay, Mechanical Eng. (Cumming, GA)

Kyung Lee, Mechanical Eng. (Johns Creek GA)

Luke Marchbanks, Mechanical Eng. (Douglasville, GA)

Yuanning Liu, Mechanical Eng. (China, Shenyang)
Interdisciplinary — TeleHELP
Creation of a tele-operated controller for a robot arm that is easy to learn and use.
Akhil Sadhu, Mechanical Eng. (Johns Creek, GA)

Alexander Yu, Mechanical Eng. (Alpharetta, GA)

Brandon Su, Computer Eng. (Plano, TX)

Mary Seo, Mechanical Eng. (Chapel Hill, NC)

Nikhil Chittaluru, Electrical Eng. (Orlando, FL)
School of Materials Science and Engineering — Recreational Sleepers
Improved the cooling properties of mattresses through the selection of sustainable bedding materials with sponsor Serta Simmons Bedding.
Cameron King (Tyrone, GA)

Dio Oey (Jakarta, Indonesia)

Elijah Tan (Fayetteville, GA)

Lakshmi Panchumarti (Tampa, FL)

Thomas Thwaite (Macon, GA)

Wendi Wu (Los Angeles, CA)
George W. Woodruff School of Mechanical Engineering — 25 Years of Experience
Created Streampower, a packable, lightweight device capable of generating and storing charge for small devices using energy around us.
Addison Brown (Austin, TX)

Emily Moseley (Sandy Springs, GA)

Jacob Buck (Sandy Springs, GA)

Jake Fogarty (Boston, MA)

Jay Middleton (Dunwoody, GA)
School of Music Technology — Joe Hackman
An architectural acoustics case study of small multi-purpose room.
Joe Hackman (Hockessin, DE)
Nuclear and Radiological Engineering — AROMA
Analyzation of Molten Salt Reactors as a potential means of radioisotope production.
Anna Seppings (Newnan, GA)

Kiara Chambers (Crestview, FL)

Sean Waldron (Woodstock, GA)
School of Public Policy — TNC Coastal
A comparison of using natural approaches to coastal protection, such as oysters and beach sand, to offer an increased value-proposition over traditional infrastructure (Sponsor: The Nature Conservancy).
Archa Amin (Lilburn, GA)

Emily Chesser (Carrollton, GA)

Hanka Kirby (Cumming, GA)

Hyunjin Angelina Kim (Marietta, GA)

Jack DellaPenna (Canton, GA)

Lisa Medford (Decatur, GA)