Student researchers enter one of the planet's harshest environments to better understand sulfur worms' collective behavior.
Blank Space (small)
(text and background only visible when logged in)
Six minutes.
After flying 1,500 miles, that's all three Georgia Tech student researchers would have inside a dark, smelly cave tucked under a small ridge near a ski lift in Steamboat Springs, Colorado.
Even with full-on oxygen masks and protective clothing.
The trio recently traveled from Atlanta to explore the cave, which was packed with a toxic — and deadly — mix of gases capable of knocking a person unconscious within a few breaths. Surrounded by walls covered in patches of sulfuric acid able to burn skin and eat through clothing and gear, they searched for a phenomenon they've only observed in a Georgia Tech lab: worm blobs.
"It was dangerous, but it was necessary," said Harry Tuazon, a bioengineering Ph.D. student who led the excursion.
Tuazon has spent two years working with Saad Bhamla, an assistant professor in the School of Chemical and Biomolecular Engineering. And while the team regularly sees California blackworms packed together in tight blobs, Tuazon had never seen them do it in the wild.
The trip to Colorado gave him a chance to see collective worms for the first time, in addition to seeing if a different species acted like the blackworms.
"Worm blobs are only seen because of human interaction or structures," said Tuazon, who is co-advised by Daniel Goldman, Dunn Family Professor in the School of Physics. "Sludge worms do it in sewer systems, in worm farms, or lab settings. We wanted to see if these sulfur cave worms, which are newly discovered, can form blob collectives in their natural environment."
Besides satisfying scientific curiosity, the payoff also could be new insights into the worm blobs' physical interactions and communal behavior so researchers can develop better swarms of tiny robots that work with little communication to accomplish tasks they cannot do alone.
Blank Space (small)
(text and background only visible when logged in)
Image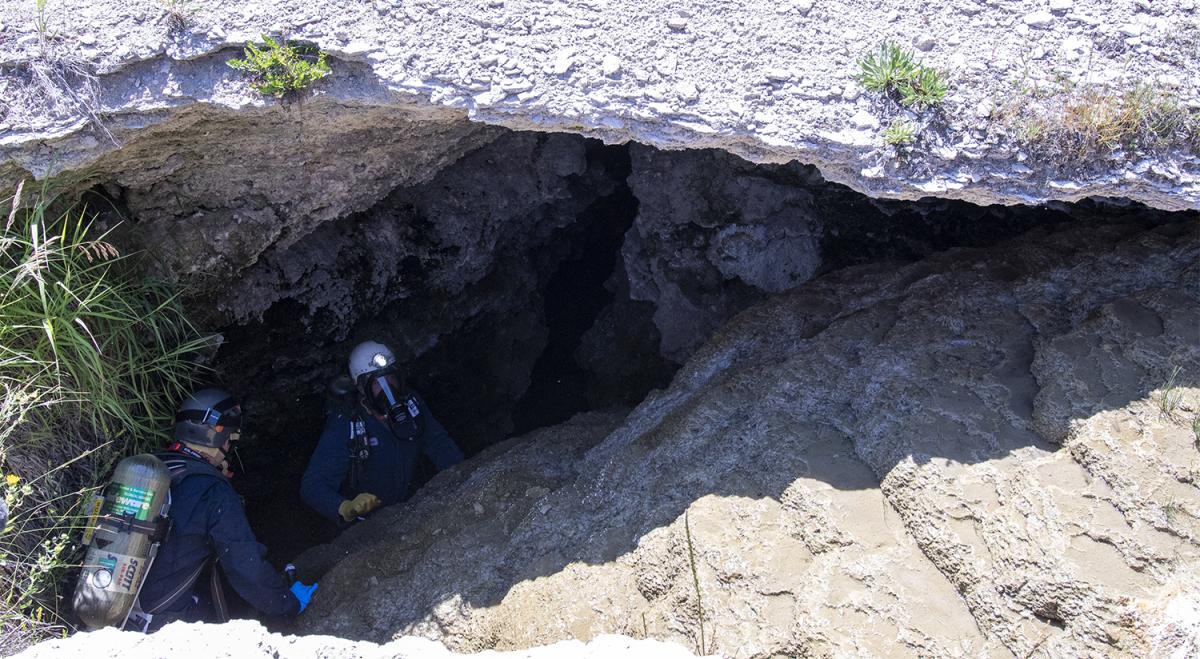 Blank Space (small)
(text and background only visible when logged in)
Inside the Dangerous Caves
Tuazon spent months planning the trip, collaborating with a Colorado scientist and spelunker named Dave Steinmann. Steinmann has discovered more than 100 life forms while crawling through Colorado passageways. That includes the blood-red Limnodrilus sulphurensis, which only live in Steamboat Springs.
Steinmann assisted Tuazon and the research team on their cave excursions, ensuring they could explore and collect specimens safely, despite the poisonous environment.
"I'm not comfortable in tight spaces, and I've never worn the oxygen tank. I got down there, and the tank takes a lot of space," said Emily Kaufman, a fifth-year neuroscience student and President's Undergraduate Research Award recipient in Bhamla's lab. "When you've never done it before, it's tough to understand the dimensions and how to move in the space. So, I freaked out a bit.
"But I would do it again in a heartbeat. It was an awesome experience."
Image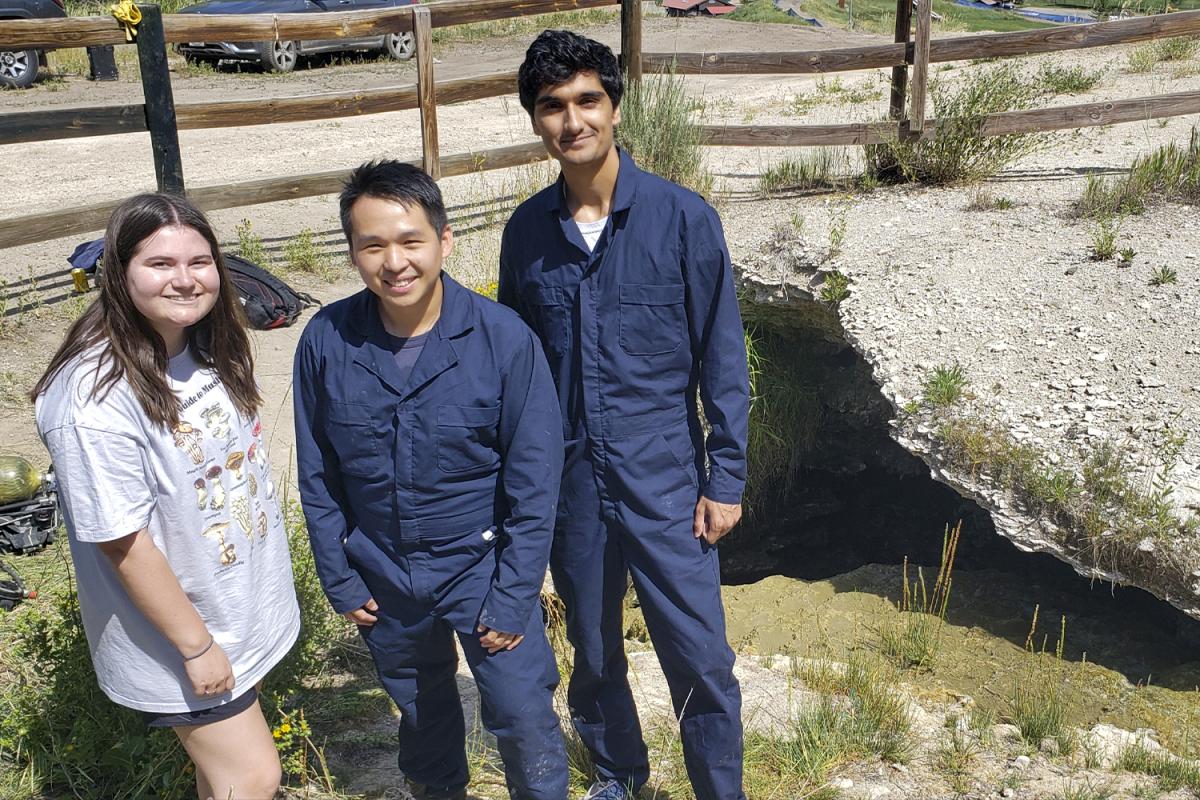 Emily Kaufman, Harry Tuazon, and Darshan Chudasama at the cave entrance.
(photo: Aaron Scott)
Image
The worm blobs (dark clusters) in the cave.
Tuazon, on the other hand, said he settled in quickly after donning the gear and maneuvering into the dark space. He has experience in similar environments: He spent nearly seven years in the U.S. Navy working on nuclear submarines prior to enrolling at Georgia Tech.
Tuazon and Kaufman entered the cave with Darshan Chudasama, a University of Georgia student in Bhamla's lab this summer as part of a Research Experiences for Undergraduates program. Time may have been limited in the cave, but they made the most of it: They collected some of strange worms living in the pitch-black, caustic cave and got them back to their lab in Atlanta for further study. They also saw the worms forming blobs naturally in the cave's extreme environment.
Blank Space (medium)
(text and background only visible when logged in)
Blank Space (small)
(text and background only visible when logged in)
Back in the Lab in a 'Puzzling Space'
Now the team begins the tough work of learning how to care for the worms. And the questions abound: How do they survive in the cave? What role does their blobbing behavior play in adapting to extremely harsh environments? Why do these worms exhibit the same blob-formation as the California blackworms, which are typically found in freshwater ponds where living conditions are far less challenging? Do other worm species work collaboratively in this same way?
According to Bhamla, that's what makes this project so exciting. The team is now in what he calls an "puzzling space," where they have opened a new door of inquiry and need to refine their questions and hypotheses.
"One of our latest studies showed how worm blobbing behavior changes in high-oxygen versus low-oxygen environments," Bhamla said. "Similar to how birds flock, fish school, and insects swarm, we are uncovering that worms in general form blobs as a paradigm for collective survival.
Blank Space (small)
(text and background only visible when logged in)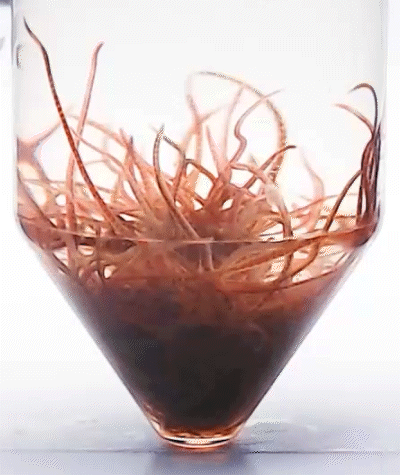 "This whole trip was about ecological context — seeing worms and how they survive in one of the harshest environments on the planet. These sulfur worms add a fascinating new lens to our worm research, with more puzzling questions than answers."
Tuazon is already working on a follow-up spelunking trip to Steamboat Springs to gather more worms and spend additional time underground. It could happen as soon as November, when he'll trade the summer heat for Colorado snow. He'll only notice a difference while gearing up: The temperature in the toxic caves stays around 50 degrees year-round.
"It's incredibly important for us to see our organism's behavior in their natural habitat," Tuazon said. "I'm always ready to get out of the lab, even if we have to worm or wiggle our way through a toxic cave."
"It's incredibly important for us to see our organism's behavior in their natural habitat. I'm always ready to get out of the lab, even if we have to worm or wiggle our way through a toxic cave."
Image