Vertically Integrated Projects involve students from first year to Ph.D. in startup-like environments that also support faculty research
Wednesday, 26 October 2022
Blank Space (small)
(text and background only visible when logged in)
The projects run the gamut from robotics and self-driving vehicles to voting, humanitarian missions, and electronic art installations. They involve students at every stage of their educational journey, with some spending as little as a semester on them and others staying for their entire Georgia Tech careers.
Since 2009, Georgia Tech's Vertically Integrated Projects (VIP) program has provided a unique multidisciplinary, hands-on approach to education that has proven to benefit students and their faculty mentors. Undergraduate and graduate students create multidisciplinary teams that are led by faculty. The long-term, large-scale projects allow participants to gain deeper insights into their fields of study, make contributions to real-world projects, and carry out a number of roles on large teams.
Nick Zhang is a first-year Ph.D. student in aerospace engineering who worked on a VIP team as an undergraduate. Now he's a team leader for the group, which is focused on safety for autonomous and semi-autonomous vehicles.
"The VIP program is a bridge that allows you to find the middle ground between doing research and learning in the classroom," said Zhang, who tailors the semester's end goals to match the students' interests as he introduces research and lab work to participants early in their college careers. "Team members often come in wanting to learn robotic systems and machine learning, but they don't really know what that is at first. They may want to study a range of topics. VIP allows them to do all that in a semester."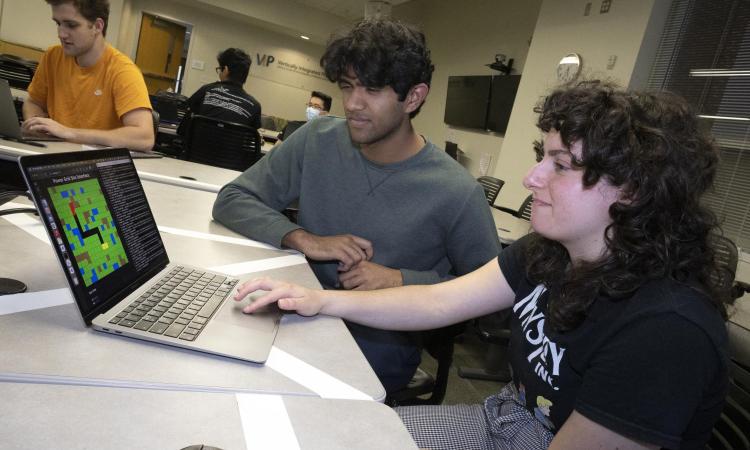 VIP teams will show off their projects at a fall Innovation Showcase and compete in an Innovation Competition.
Thursday, Oct. 27
5:00 – 7:00 p.m.
Ford ES&T Atrium
A quarter of Georgia Tech graduates in 2021 participated in VIP at some point in their college career. This semester, more than 1,500 students are spread out across 85 teams. One is even led by Chaouki Abdallah, Georgia Tech's executive vice president for research.
"VIPs offer students the opportunity to not only participate in the valuable experience of undergraduate research, but also to develop job-oriented skills as they work on multidisciplinary teams and advance each semester from learners to leaders," said Leah Misemer, assistant director of the VIP program. "VIP is the closest experience to having a job available to students on this campus aside from the co-op program — an experience industry partners have likened to working at a small startup."
Blank Space (medium)
(text and background only visible when logged in)
Blank Space (medium)
(text and background only visible when logged in)
Zhang started on the autonomous vehicle safety VIP as a third-year undergraduate. The team's project, sponsored by Sandia National Laboratories, collects human driver data via a driving simulator to develop algorithms for built-in safety features in autonomous vehicles. Led by AE professor Panagiotis Tsiotras, the project has been in progress since 2016.
The current team of 20 students ranges from first-year undergraduates to Ph.D. students like Zhang. They're divided into three sub-teams that study vehicles the size of a toy car all the way up to a one-fifth-scale racecar.
Blank Space (small)
(text and background only visible when logged in)
Image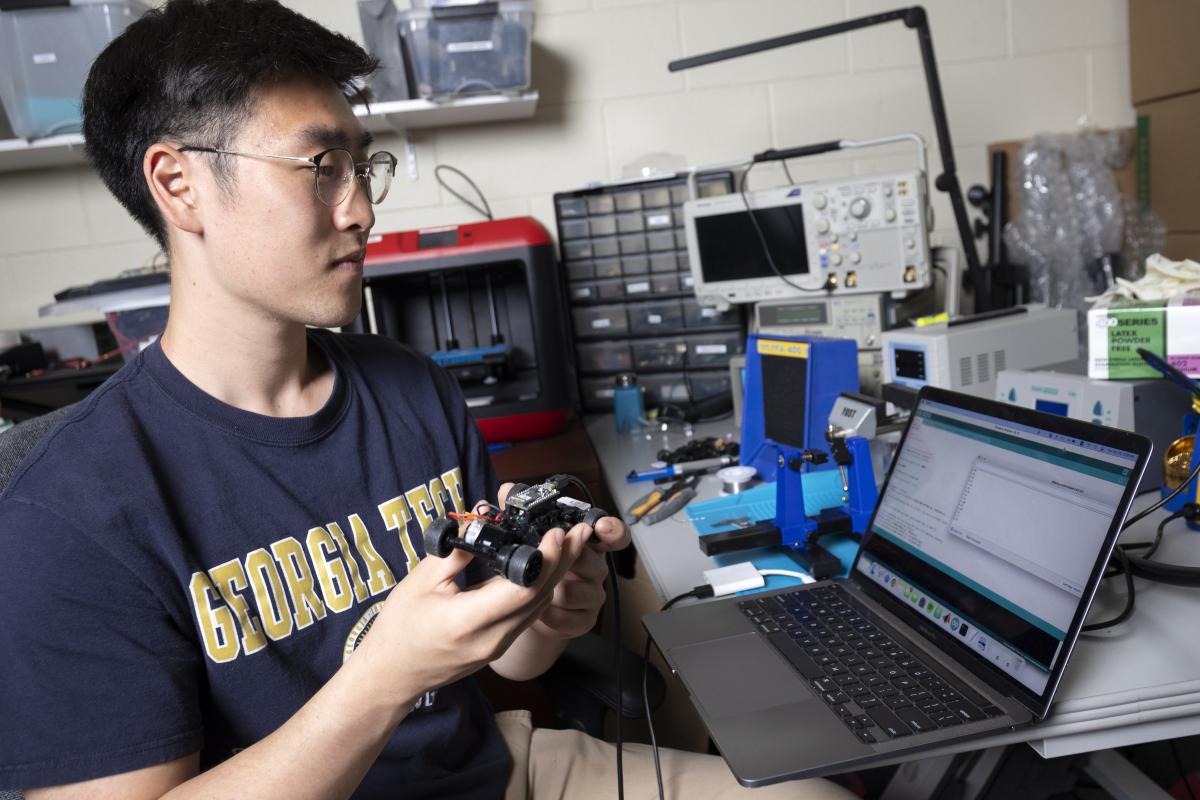 Second-year electrical engineering student Hiroki Mii has been working on control algorithms in the autonomous vehicle safety VIP. It's his first semester on the project.
Image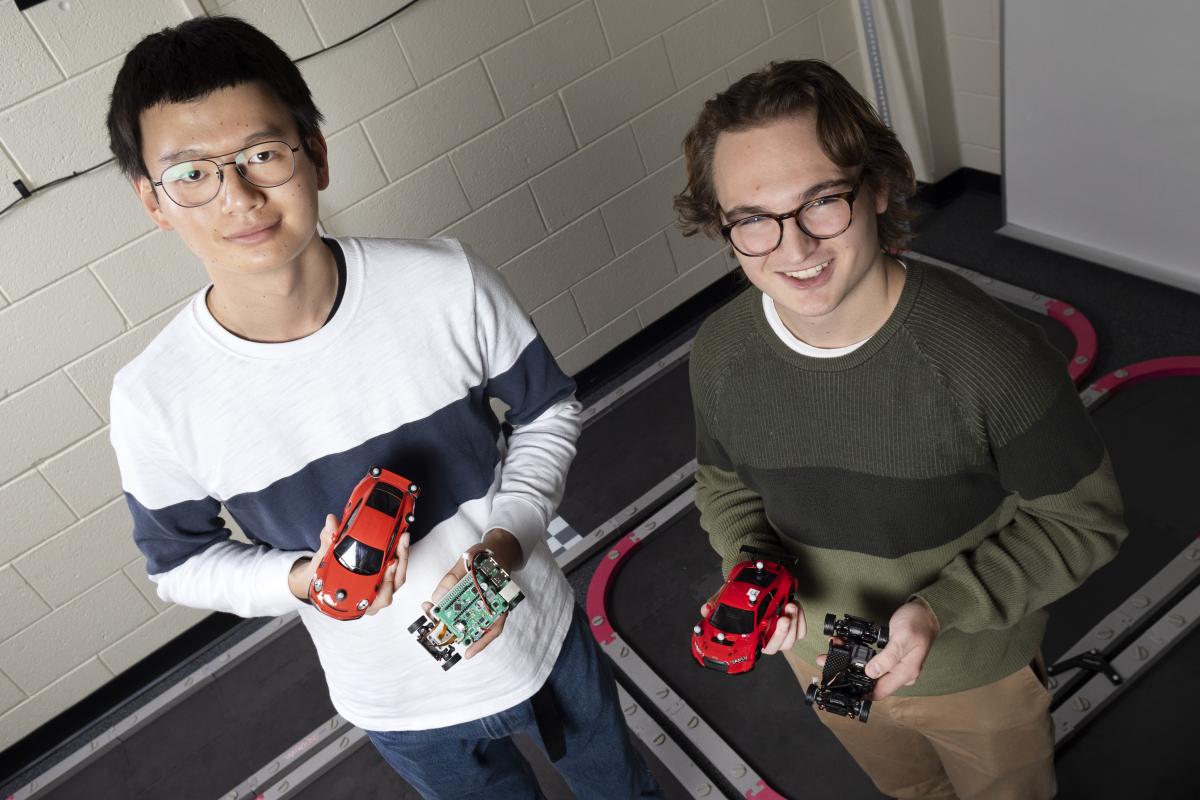 Ph.D. student Nick Zhang, left, and fifth-year student Caleb Sparks use scale model cars and a custom indoor test track to evaluate driver behavior and road scenarios for autonomous vehicles in their VIP project. Sparks is a mechanical engineering student and Zhang is an aerospace engineering student who started on the project as an undergraduate.
Each group uses the simulator to test the vehicles against unique human driving styles and different scenarios on the road. The goal is to use the driver data — behavior in traffic, driver action prediction, weather conditions, and more — to program autonomous and semi-autonomous vehicles that operate safely in a variety of conditions and adapt to the person behind the wheel.
With a higher proportion of computer science students in the current group of students, Zhang said the lab has recently focused on planning and control algorithms rather than electrical and mechanical engineering.
Blank Space (small)
(text and background only visible when logged in)
In coursework, you don't dive deep into every project, and it's interesting to see work that you can build up over time. In the VIP program, you can do things that you won't touch in undergraduate classes.
Blank Space (small)
(text and background only visible when logged in)
Caleb Sparks, a fifth-year undergraduate student, finds the long-term VIP process rewarding.
"[The project] has shown me that I like the research environment. In coursework, you don't dive deep into every project, and it's interesting to see work that you can build up over time. In the VIP program, you can do things that you won't touch in undergraduate classes," said Sparks, who's in his third semester in VIP. "I got into vehicle dynamics in my first semester, and recently, I've been working on particle filters, which is a concept I only lightly touched on [in class]."
Blank Space (medium)
(text and background only visible when logged in)
Blank Space (medium)
(text and background only visible when logged in)
This midterm election year is primetime for one of the other VIP teams, VoterTech. Led by public policy Professor Richard Barke, Honors Program Advisor Nicole Leonard, and Associate Professor Christopher Le Dantec in the School of Interactive Computing, the project aims to promote voter education and participation at Georgia Tech.
Le Dantec said it's a unique challenge because the student body includes people from a huge number of different voting states and processes. But that also means the team's education efforts can make a widespread impact across the nation, whether students go home to vote or use absentee ballots.
"Georgia Tech has a high voter registration and participation rate," said Le Dantec, who also has an appointment in the School of Literature, Media, and Communication. "The issue is less about filling a registration gap and more about sharing information on how exactly to vote."
In the current election cycle, Le Dantec said the team has increased its campus outreach and focused heavily on informing students about nearby polling stations and voter rights. The group of 25 students is split into three sub-teams: The user research team evaluates the current needs of students in voting and election awareness, and the outreach and social media teams fill those needs, building out information resources on the VIP's website and social accounts.
Le Dantec said VoterTech offers a student-guided lens to his research on civic technologies, community mobility, and digital democracy. For students, he said the VIP experience helps develop the ability to "connect technical skills and what's learned in coursework to broad and messy social issues."
"Our VIP is a place where students set the agenda and execute topics that they care about," he said. "It's a part of the larger effort and awareness on campus that elections matter and new generations of voters are important."
Blank Space (medium)
(text and background only visible when logged in)
Image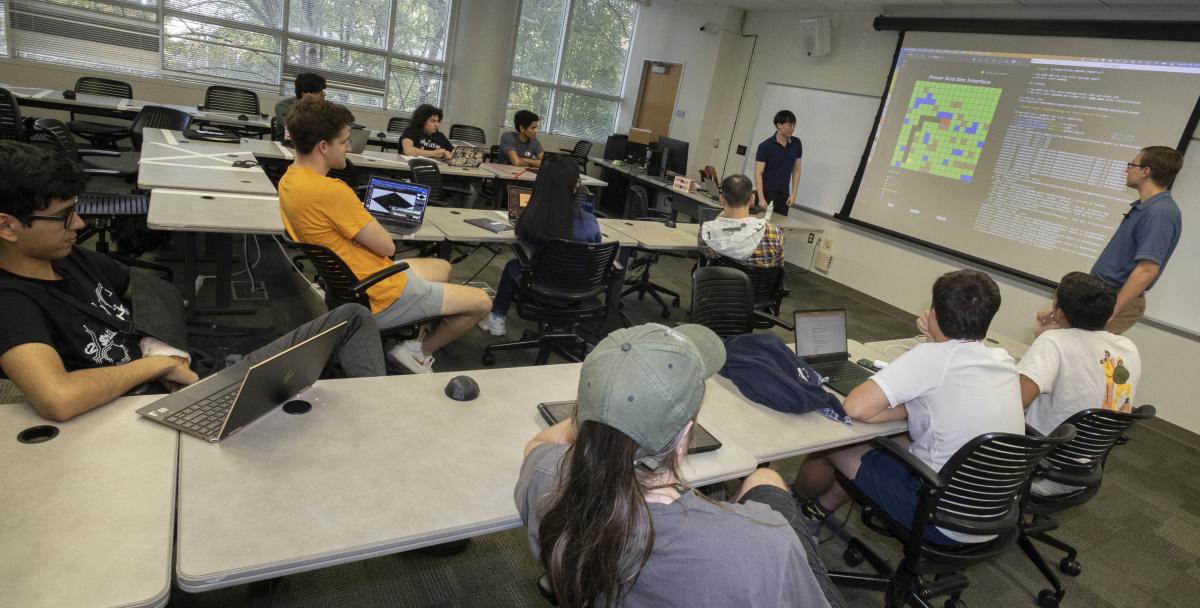 Assistant Professor Dan Molzahn's VIP team is developing a video game simulation to test power grid resilience in natural disasters. Molzahn, standing at right, works with a group of students studying engineering, computer science, computation media, and more.
Another VIP is tapping into the interactivity of video games to create more resilient power grids. It's a newer project led by Dan Molzahn, assistant professor at the School of Electrical and Computer Engineering.
His team of 19 undergraduates and master's students is working to better design and operate electric power grids during cycles of natural disasters. They're building a video game simulation that gives players a budget to invest in electric power grid structures like batteries and transmission lines. The software will test multiple natural disaster scenarios against the system to collect data on the grid's resilience.
The video game will put the player in the role of the system designer and operator, which the team hopes will provide unique test data on power grid layouts and increase public awareness on natural disaster response.
The team is now in the software development phase, and Molzahn said his priority is making the VIP experience more student-driven.
"They have much more expertise on what makes a game fun," he said. "The project evolves in the direction of the students' interests."
Molzahn's group is working against two key challenges when natural disasters strike. First, limited data exists on resilient power system designs. That data is critical to train machine learning models for future structure design. Additionally, responses to natural disasters often are disruptive to the public, like shutting off power lines for wildfire prevention, and these actions require public acceptance. Sandia National Laboratories is sponsoring the project as part of its Resilient Energy Systems Mission Campaign.
Image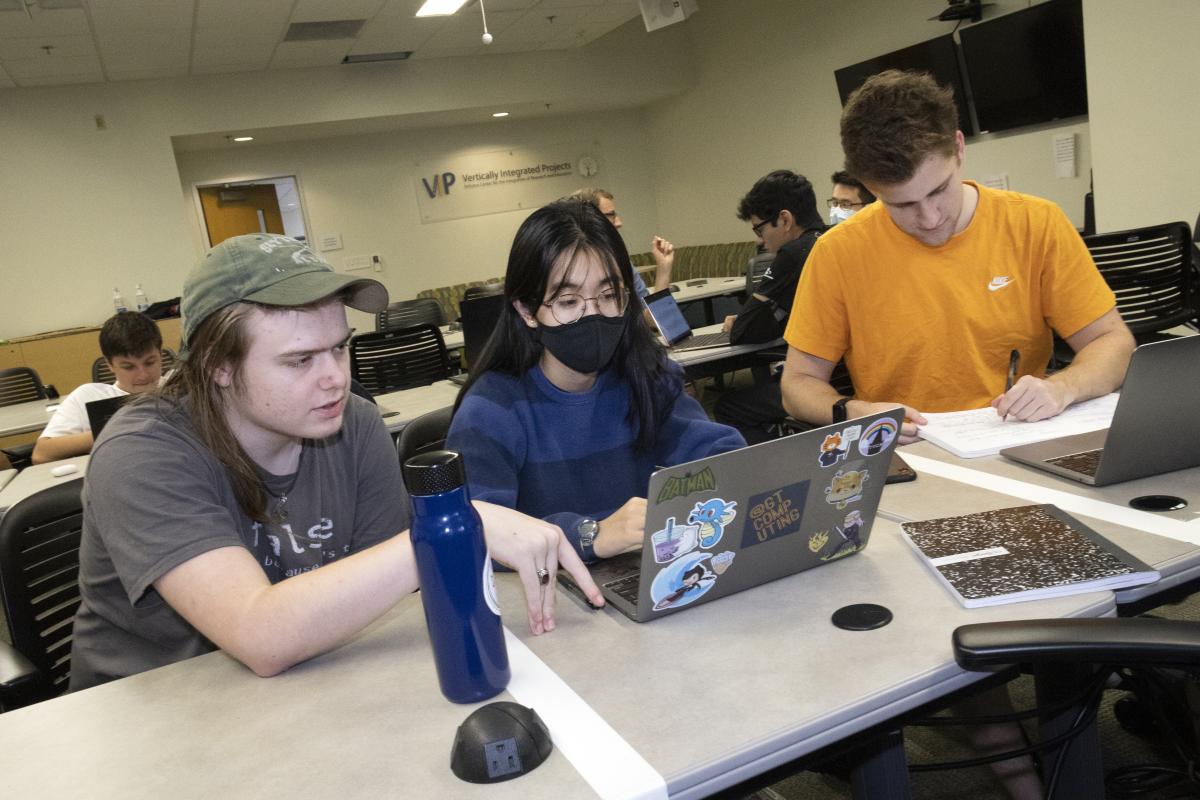 Students are building a video game from scratch to test power grid resilience in Dan Molzahn's VIP project. Computational media student Tristan Ziegler, left, and computer science students Katelynn Nguyen and Ryan O'Meara are part of the sub-team building the core code for the game.
Vineet Gali, a third-year computer science undergraduate, said the VIP program's experiential learning offers a lot more freedom.
"A lot of classes feel like you are in a box with what you can do," he said. "With a VIP, you can sit down and talk about what you want to do, knowing what your own limits are."
Electrical engineering master's student Lara Kassabian worked on the team as an undergraduate and has returned as a graduate researcher.
"Working on the team teaches you the things you don't know and reinforces what you've learned in the past," Kassabian said.
For Molzahn, the VIP program adds a layer of personal growth to the academic focus on machine learning and computer engineering.
"After one or two semesters, you see students taking more ownership of the project," he said. "As the instructor, I get to see leadership skills develop." Plus, the team helps inform his research pursuits. "The students bring both expertise and perspective to problems that I don't know the answer to myself."
Blank Space (medium)
(text and background only visible when logged in)