Image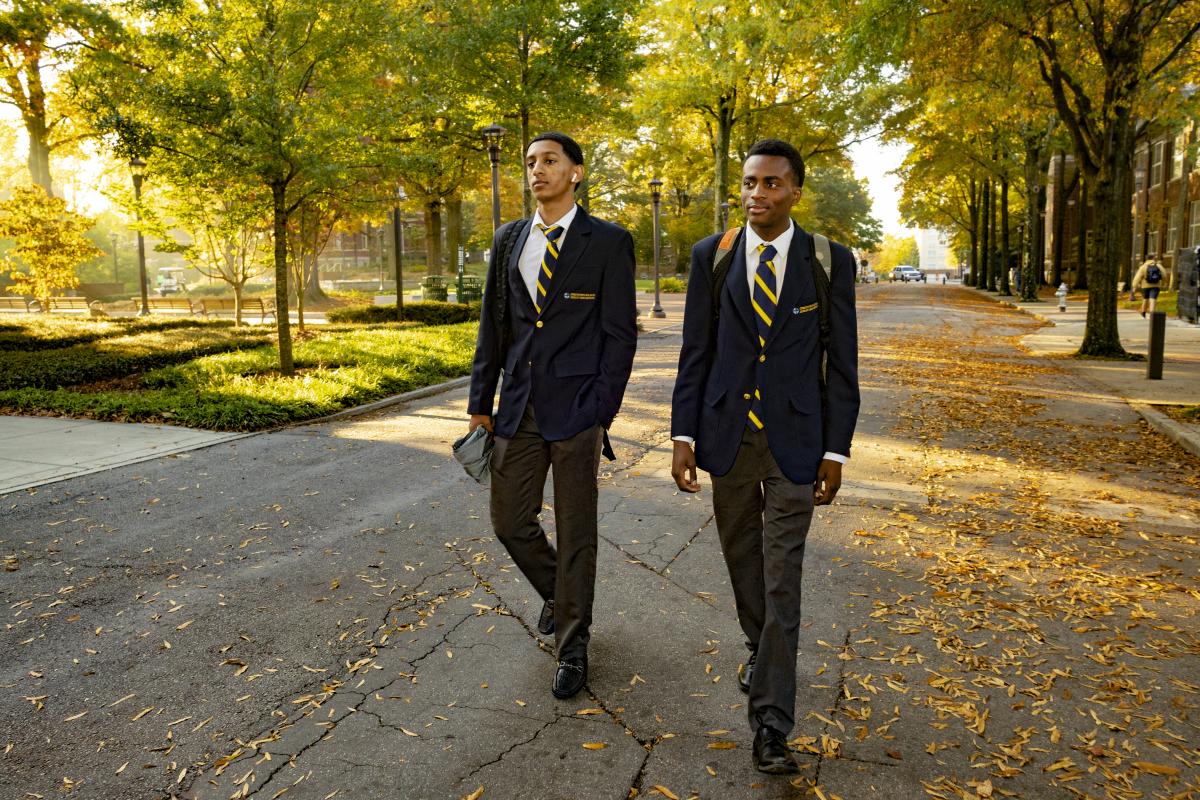 Cristo Rey seniors Yohans Seyoum and Jean-Claude Noumadji work on campus every Tuesday.
Blank Space (small)
(text and background only visible when logged in)
A partnership with an Atlanta high school allows Georgia Tech to give students a glimpse of campus life as they work in an office setting. 
Blank Space (small)
(text and background only visible when logged in)
Georgia Tech has been a home away from home for Abraham Pizano for five years — even when he was in high school.
Pizano went to Cristo Rey Atlanta Jesuit High School about 2.5 miles from Georgia Tech. The school enrolls more than 500 students from families who couldn't otherwise pay for a private, college preparatory education. While families contribute a portion of the $16,400 cost of education, the school fundraises approximately $5,000 per student. The remaining 60% of the cost is earned by the students, who work at area businesses as part of Cristo Rey's Corporate Work Study Program.
In his sophomore year of high school, Pizano landed at Georgia Tech and worked in the College of Engineering's dean's office. He had never been to campus and wasn't yet thinking of college, although he hoped to one day study engineering.
"I didn't know much at all about Georgia Tech," said Pizano, who grew up in Atlanta. "My only goal was to make some connections and do the best I could. That year, I set my heart and mind on Tech." 
Pizano loved Georgia Tech so much that he returned to the dean's office to work his senior year, then applied and was accepted as a student.
Once a 15-year-old sitting in Tech Tower, uncertain about what to do for college, Pizano is now a third-year civil engineering student with a focus on transportation systems.
"I came here in high school, loved the people, and kept coming back," said Pizano, who stayed on in the dean's office as a student assistant in 2020 and 2021. "My job in the dean's office gave me a kickstart to my current success at Tech."
Pizano said the work-study experience at Georgia Tech also taught him the pillars of working in a professional environment, an opportunity that isn't typically available to high school students. It's one of Cristo Rey's main goals, with Georgia Tech playing a supporting role since the school was founded eight years ago.
Image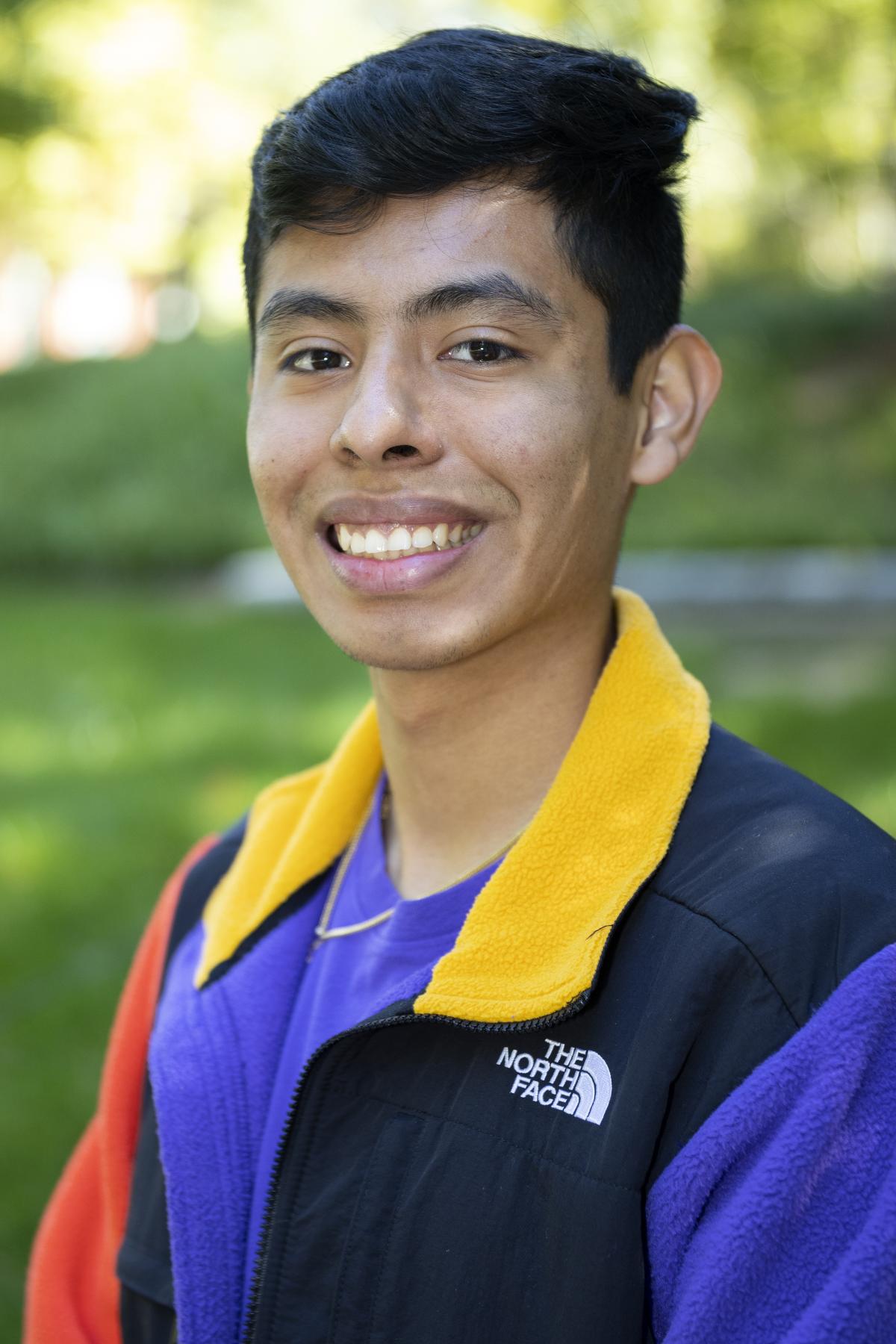 I came here in high school, loved the people, and kept coming back. My job in the dean's office gave me a kickstart to my current success at Tech.
Blank Space (small)
(text and background only visible when logged in)
Civic Duty from a Civil Engineer
There are 38 Cristo Rey high schools sprinkled throughout the nation. Each serves as a college prep institution for students from low-income families.
Atlanta's Cristo Rey opened in 2014 just across the Downtown Connector from Georgia Tech. Cristo Rey was looking for area businesses to partner in its Corporate Work Study (CWS) program, in which every student works five days per month in an office setting. In exchange for the work, CWS partners pay Cristo Rey to offset the majority of the students' tuition.
Image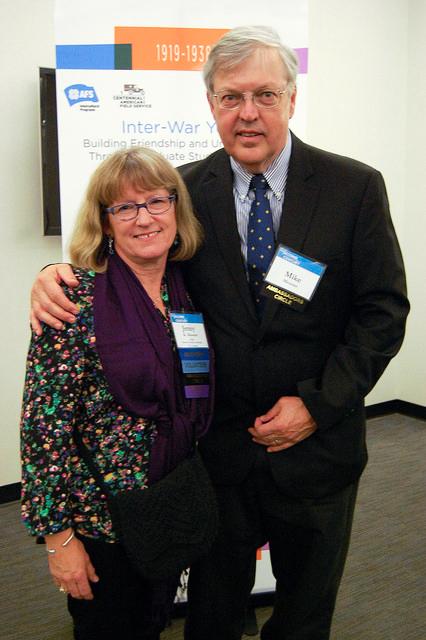 Delta, Southern Company, UPS, and other major Atlanta-based companies were already on board as founding partners that first year, and Cristo Rey wanted to talk to Georgia Tech.
"I knew the headmaster and made some introductions," said Mike Messner, a 1976 School of Civil and Environmental Engineering (CEE) graduate. "Our chair at the time, Reggie DesRoches, and the dean, Gary May, met with Cristo Rey and everyone was sold on the idea. The only sticking point was how to quickly set up the partnership to pay for the students' time.
"I knew it would be time-consuming for Georgia Tech, so I said I would pay for it."

Seven years later, Messner and his wife, Jenny, continue to pay for two to four teams of Cristo Rey students to come and work at Georgia Tech each year.
"My family didn't have much money growing up, but my parents stressed the importance of education. I attended Catholic schools and wanted to support Catholic charities here in Atlanta," said Messner, who founded a hedge fund, Seminole Capital, and led it for 23 years before his retirement. "I've done well because of a good education, and I felt it was important to give back to kids."
Blank Space (medium)
(text and background only visible when logged in)
Developing Professional Skills, Mixing with Students
Every Tuesday, Jean-Claude Noumadji rides the bus from Cristo Rey to the parking lot in front of Tech Tower, then walks to his job at the School of Chemical and Biomolecular Engineering (ChBE). The senior helps with events, redesigned the ChBE mailroom, and greets guests when they visit the chair's office.
Because of the pandemic, Noumadji hasn't experienced a corporate setting since his freshman year, so he's making up for lost time as he prepares to enter college to study speech pathology.
"Working in ChBE has helped me with my time management skills," Noumadji said. "I've learned how to pace myself during work assignments — when to work faster and when to slow down."
Noumadji is one of 12 Cristo Rey students working at Georgia Tech this year — seven in the College of Engineering and five in the athletics department.
Junior Gracy Wah is assigned to the School of Electrical and Computer Engineering (ECE). She sets up for events, works the front desk in the chair's office, and helps with administrative tasks. Wah was excited to be placed at Georgia Tech for her work-study job because she wants to study engineering.
"It's been great to meet ECE student assistants and listen to the kinds of experiences they're having," Wah said, whose family came to America as refugees from Myanmar when she was five years old. "We talk about student life on east and west campus, housing, and classes. I'm very happy I landed here."
Image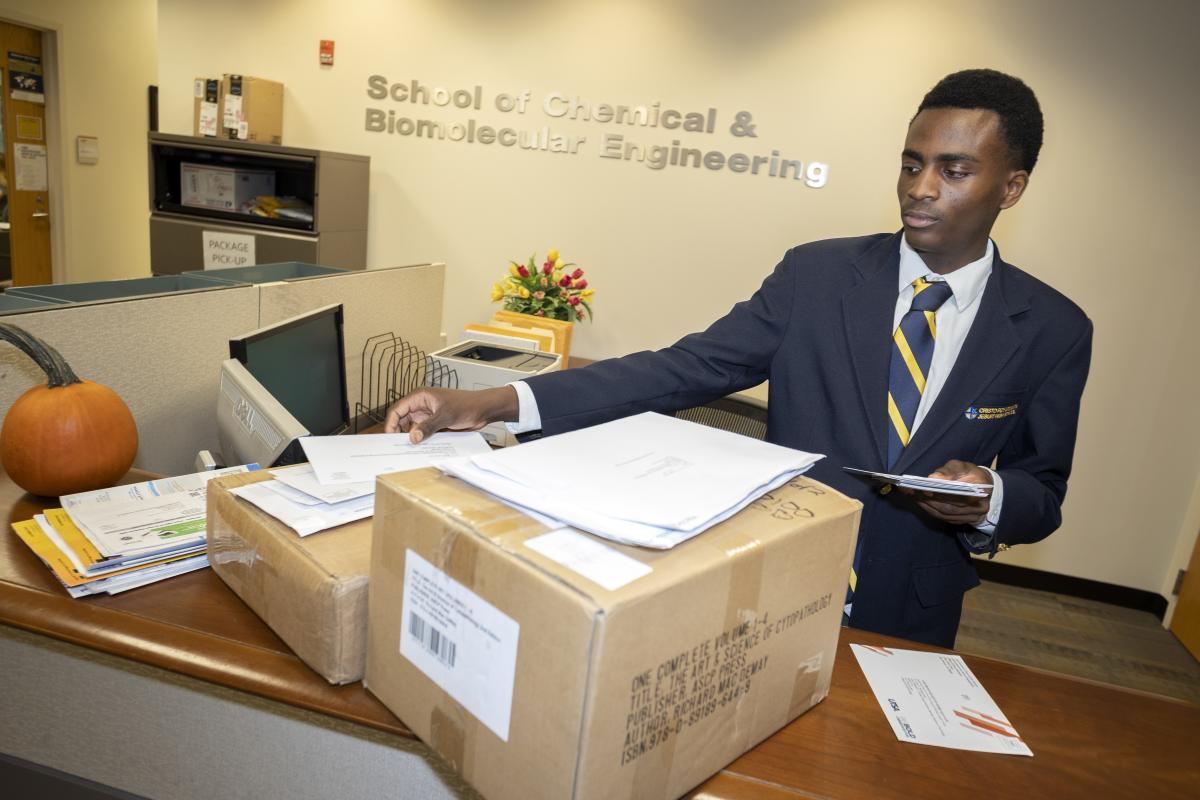 Jean-Claude Noumadji works in the ChBE office. 
Image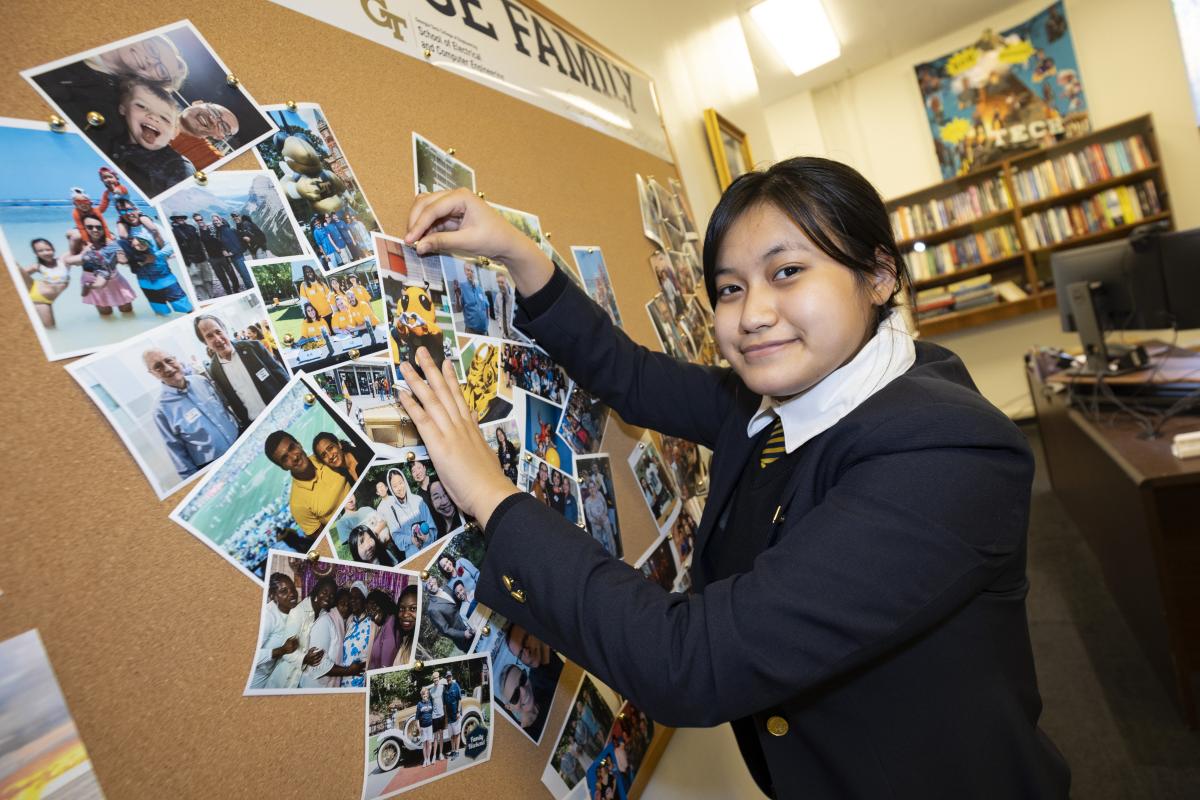 Gracy Wah, a Cristo Rey junior, arranges photos in the ECE office. 
Blank Space (small)
(text and background only visible when logged in)
A Pipeline to Georgia Tech
Should Wah enroll at Georgia Tech in August 2024, she'll likely see familiar faces. There are 21 Cristo Rey graduates currently enrolled, and four did part of their work-study on campus.
First-year student Chris Copeland worked elsewhere during his work-study program but knew in his junior year he wanted to be a Yellow Jacket.
"I like to build things and started to think about my career path. Mechanical engineering seemed to suit me the most," Copeland said. "When I started to do research about where I could get the best degree, it was obvious it was here at Georgia Tech."
Blank Space (small)
(text and background only visible when logged in)
Image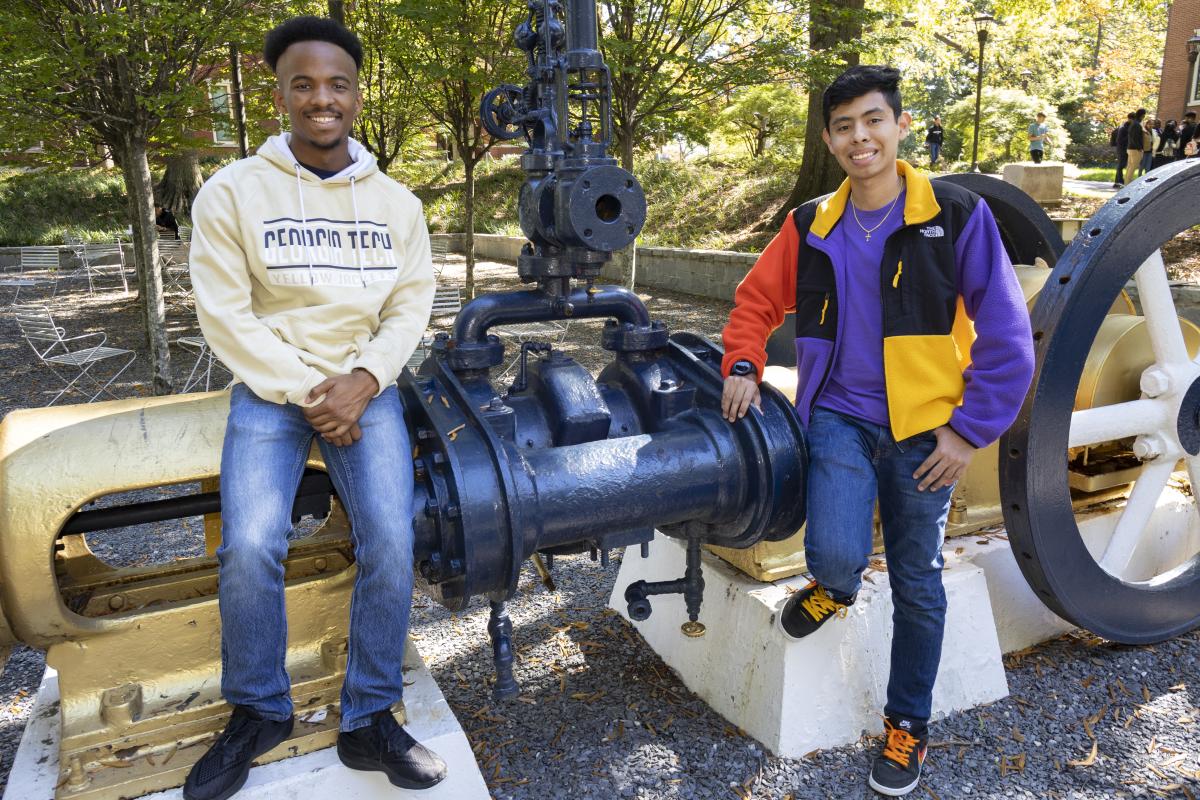 Chris Copeland (left) and Abraham Pizano are both Cristo Rey grads now attending Georgia Tech.
Blank Space (small)
(text and background only visible when logged in)
In addition to being among a group of Georgia Tech Cristo Rey graduates, Copeland is also one of the College of Engineering's Clark Scholars. The program is one of the College's signature academic programs, offering financial support to students who exhibit strong academic and leadership potential.
In December, Tanya Mbugua will be the first Cristo Rey alumna to graduate from Georgia Tech when she earns her business administration degree.

"I feel like I'm the Cristo Rey-GT trendsetter and have the ultimate bragging rights," said Mbugua, a first-generation immigrant who will graduate with a concentration in Operations and Supply Chain. "I hope I have inspired and encouraged more Cristo Rey students to pursue their education here. I've grown so much through the relationships I've built and the opportunities presented to me. I'm excited about my future and believe Georgia Tech has prepared me well."
Image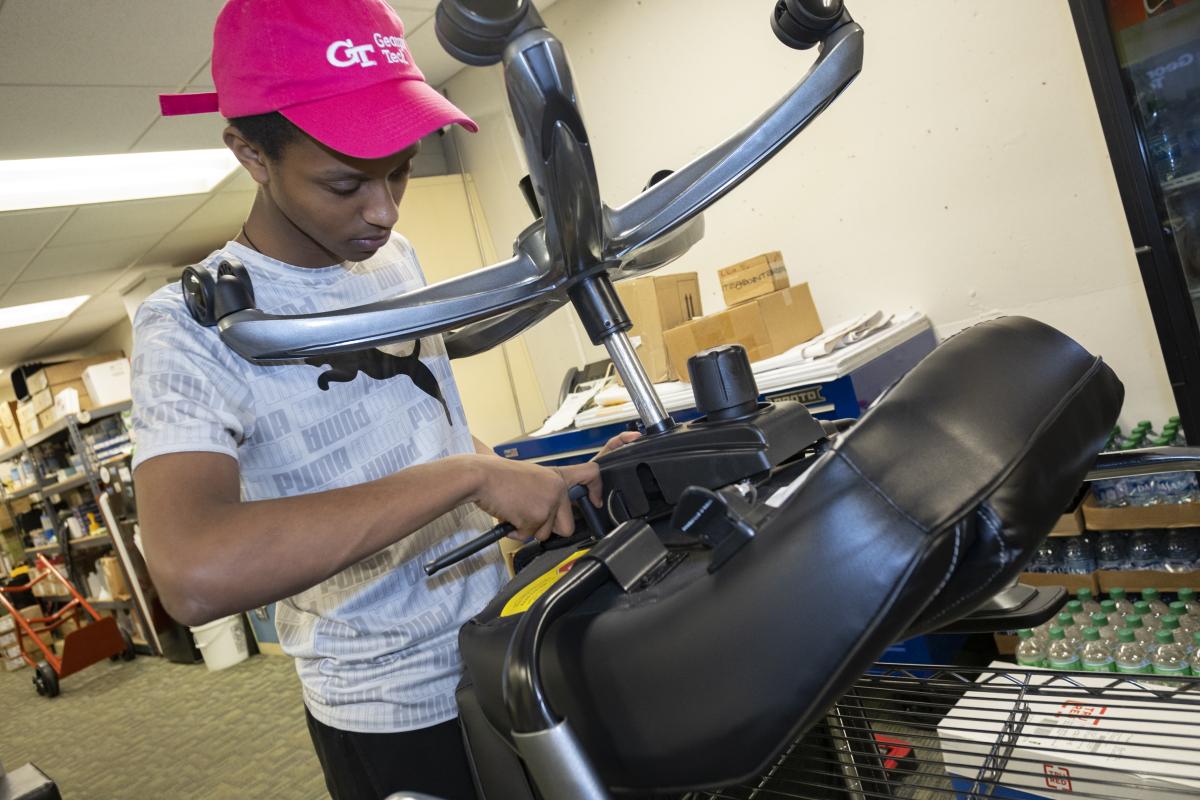 Cristo Rey student Aron Bekele works with the Woodruff School's facilities team. 
She's part of Cristo Rey's perfect record: All of its seniors through the years have been accepted to post-secondary institutions.
"Many of our students are interested in attending Georgia Tech," said Michael Johnson, Cristo Rey's relationship manager who oversees the work-study program at Georgia Tech and with other partners. "Tech is a world-class educational institution that has been a partner since we started. It's great to have our students there, and they've had an incredible experience on campus."
Johnson works closely with the College of Engineering's LaJauna Ellis to slot the students around campus and check on their progress. Ellis calls the partnership a benefit for both institutions.
"Cristo Rey students receive professional experience and the opportunity to collaborate with professionals in a variety of fields, while Georgia Tech works with a team of great, energetic students who assist us with our day-to-day tasks," said Ellis, the College's director of administration and strategic initiatives. "Just as importantly, Georgia Tech is able to expand access for students from many backgrounds and perspectives, exposing them to the college environment."
Blank Space (medium)
(text and background only visible when logged in)