Redesigned hedge trimmers, Martian missions, new gutter-cleaning tool and more among the senior design projects on display.
Image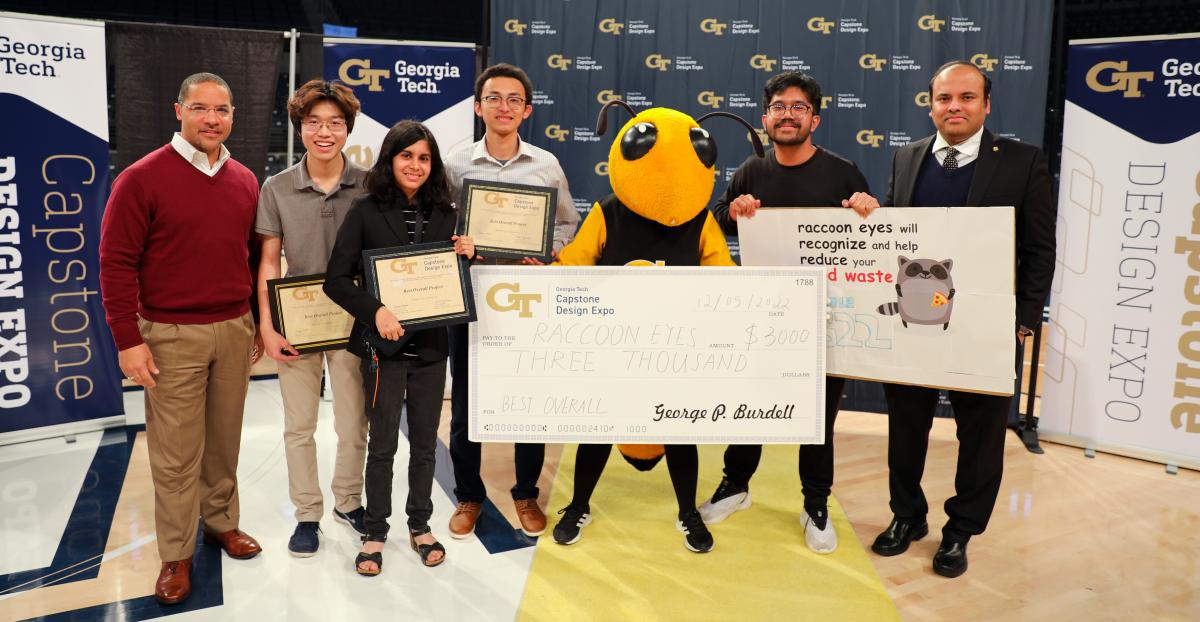 Raccoon Eyes was the Best Overall Project at the Fall 2022 Capstone Design Expo. The team used computer vision, natural language processing, and a talking trashcan to help reduce food waste in university dining halls.
A talking trash can stole the show at the Fall 2022 Capstone Design Expo.
Designed to help reduce food waste in university dining halls, the can — with a dash of behavioral psychology and a suite of computer vision and natural language processing — quantifies uneaten food going in the trash, then quizzes people about why. The goal is to collect information that chefs can use to improve what and how much they serve. The bucket also helps students think about the carbon footprint of their trash.
"Food waste is a major overlooked issue in the United States. That's what really motivated us to tackle this problem," said Ivan Zou, a computer engineering major and member of Team Raccoon Eyes. "Our project is really about reducing waste at the source by improving food quality, helping with portion sizes, and making students more aware of what they're actually throwing away."
The team's approach to reducing the estimated 7 billion pounds of food discarded every year on college campuses won the Best Overall Project award Dec. 5 at Capstone Expo. This fall, the showcase of semester-long senior design projects featured 110 teams across seven schools in the Colleges of Engineering, Computing, and Design. They displayed work ranging from Martian missions and hedge trimmers with a removable blade to play structures for kids and an easier-to-use epinephrine injector for allergic reactions.
Blank Space (small)
(text and background only visible when logged in)
Nathanael Koh, CompE (Crystal Lake, IL)

Phuc Truong, EE (Warner Robins, GA)

Abhipsa Ujwal, CmpE (India)

Ivan Zou, CmpE (Grafton, MA)
Image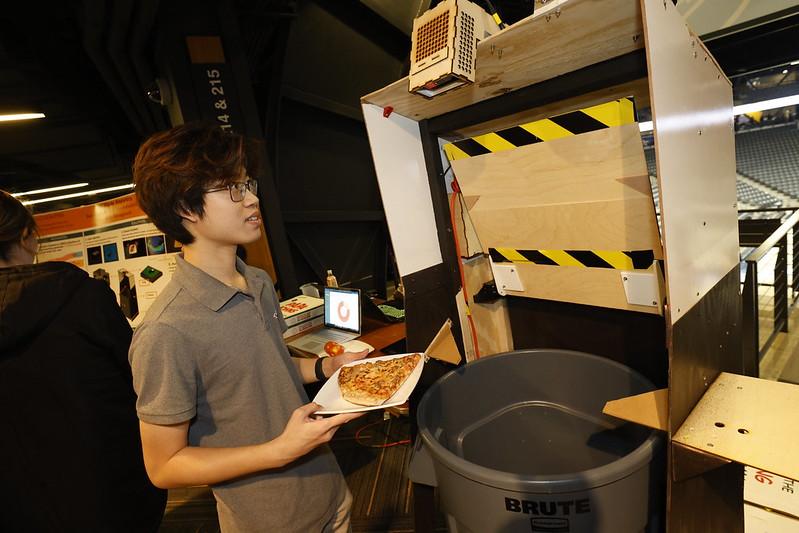 Raccoon Eyes teaches people about the carbon footprint of their wasted food. Team member Nathanael Koh demonstrates the system, which collects feedback about why users are discarding food to help chefs improve offerings.
For Zou, the idea for dealing with food waste crystallized after he saw mounds of food regularly tossed in the trash in Georgia Tech dining halls. Quickly, the team — including computer engineering majors Abhipsa Ujwal and Nathanael Koh and electrical engineering major Phuc Truong — decided the solution wasn't so much about dealing with the trash as it was changing behavior.
When users step up to the Raccoon Eyes trash can system and open the lid, the system scans their plate and identifies the volume of food being discarded. Raccoon Eyes then announces the carbon impact of the wasted food and asks the user a specific question, like, "How can we improve the pizza?"
The answers are recorded for review by dining hall staff, offering substantive and direct feedback. Data on the quantity of discarded food feeds a dashboard to help chefs make informed decisions about how much food the staff prepares.
"Early in the semester, we were the talking trash can. We would stand in dining halls and ask, 'Hey, how was the food? Did you like it?'" Ujwal said. "Some students would talk to me for five or 10 minutes. Yet the text response rate — which is what Georgia Tech uses right now for feedback — is less than 1%. So you can see there's information there and a desire to share it, but it's not relating with the current system."
Blank Space (medium)
(text and background only visible when logged in)
Blank Space (small)
(text and background only visible when logged in)
GUGGENHEIM SCHOOL OF AEROSPACE ENGINEERING
A satellite hosting platform
Jose Andrade (Spain)

William Boynton (Loxahatchee, FL)

Carson Coursey (Jefferson, GA)

Jacob Evans (Marietta, GA)

Crispin Gambill (Atlanta, GA)

Gavin Garland (N. Andover, MA)

Simon Pahlsmeyer (Germany)

Jason Smith (Plano, TX)

Maggie Stewart (Denver, CO)

Katie Wyers (Oakman, AL)
WALLACE H. COULTER DEPT. OF BIOMEDICAL ENGINEERING
Abdominal surgical device  
Catherine Devarenne (Chicago, IL)

Rachel Grosswald (Alpharetta, GA)

Alex Hall (Decatur, GA)

Omar Kayyali (Sandy Springs, GA)

Allison Rosenthal (Belle Mead, NJ)
SCHOOL OF ELECTRICAL AND COMPUTER ENGINEERING
Tool to trade book-entry stock directly 
Nipun Chhajed (Bellevue, WA)

Zeman Li (China)

Luke Rutherford (Haddock, GA)

Rahul Sunkara (Newnan, GA)

John Wooten (Charlotte, NC)
INTERDISCIPLINARY
Device to improve sewing process
Bonnie Brownlee, ME (Marietta, GA)

Kendrick Dang, EE (Dacula, GA)

Tudor Hadade, ME (Loganville, GA)

Floyd Horton, ME (Sandersville, GA)

Charu Malhotra, CmpE (India)

Zachary Nease, ME (Savannah, GA)

Lydia Stanford, ME (Brooklyn, NY)
GEORGE W. WOODRUFF SCHOOL OF MECHANICAL ENGINEERING
Redesigned packaging for power tool
Michael Dean (Atlanta, GA)

Hasanain Karium (Lawrenceville, GA)

Amarsaikhan Jargalsaikhan (Mongolia)

Mary Judson (Unknown)

Alexander Vitale (Marietta, GA)
MECHANICAL ENGINEERING/INDUSTRIAL DESIGN
Wooden climbing toy
Sophia Abreu (Dix Hills, NY)

Christian Manabat (Georgia)

Hunter Schaufel (Georgia)

Blake Underwood (Georgia)

Karlijn Verberne (The Netherlands)
H. MILTON STEWART SCHOOL OF INDUSTRIAL AND SYSTEMS ENGINEERING
Cost estimation tool
Sarah Arribasplata (Alpharetta, GA)

Gaurav Byagathvalli (Cumming, GA)

Nupur Dandavate (John's Creek, GA)

Sofia Ovsyannikov (Wyckoff, NJ)

Nina Plotko (Roswell, GA)

Yashoraj Singh (India)

Abigail Smith (Watkinsville, GA)

Christie Suszko (Jackson, NJ)
Blank Space (small)
(text and background only visible when logged in)
Image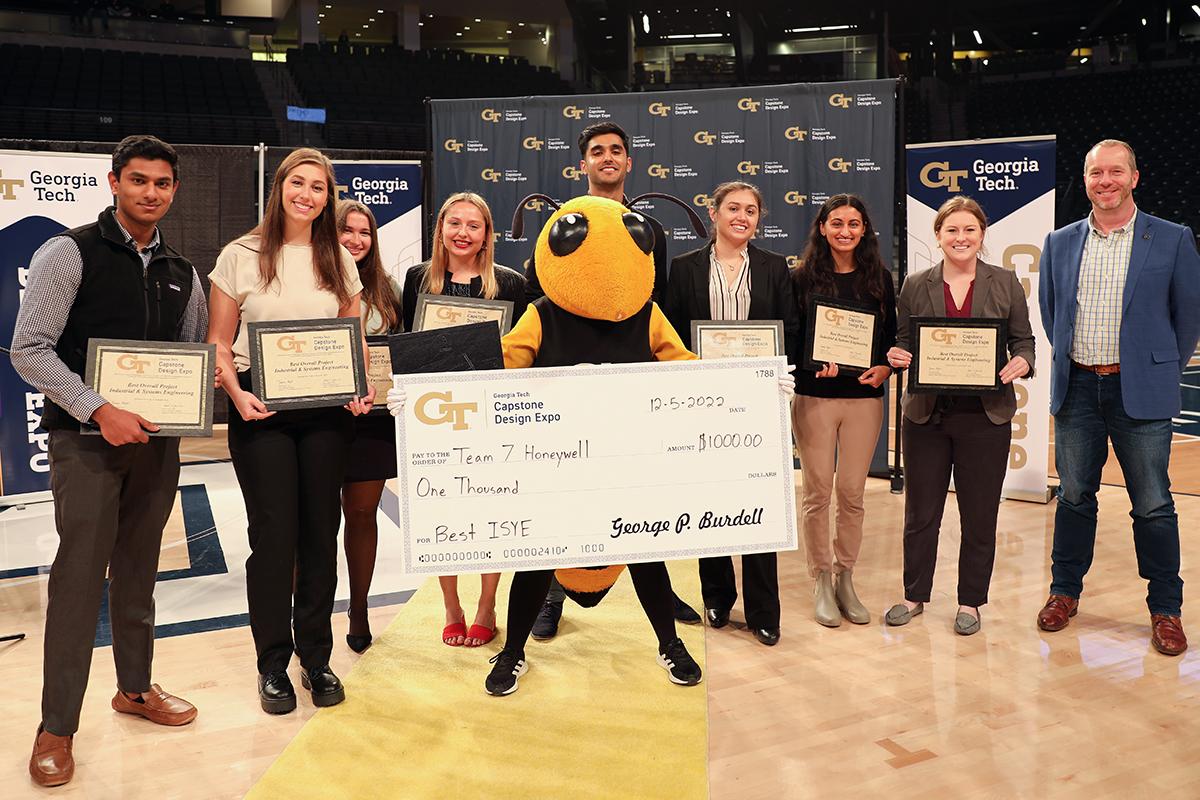 Blank Space (medium)
(text and background only visible when logged in)
Expo judges navigated a spectrum of creativity and problem-solving prowess around the concourse of McCamish Pavilion. They selected a top team from each participating School. Other awards went to the best combined mechanical engineering and industrial design project and the top interdisciplinary team. Team Materials earned that honor for addressing a problem that's been on zipper-maker YKK's agenda for years.
"The prototype we produced takes one layer of fabric off of a stack of about 60 or 70. And then from that point, YKK can use any number of industrial manipulation devices via robotic arms or even just dropping it down a chute to get it into the machines that they use already on a daily basis," mechanical engineering major Stephen Neese said. "Before, it was an operator standing there hand-feeding piece by piece."
Nease said the team is handing off their prototype and technical drawings to the company for further evaluation and review with hopes that elements of their ideas could end up on YKK's production line in the next few years.
Explore more projects from Capstone Expo below and visit expo.gatech.edu for the full list.
Image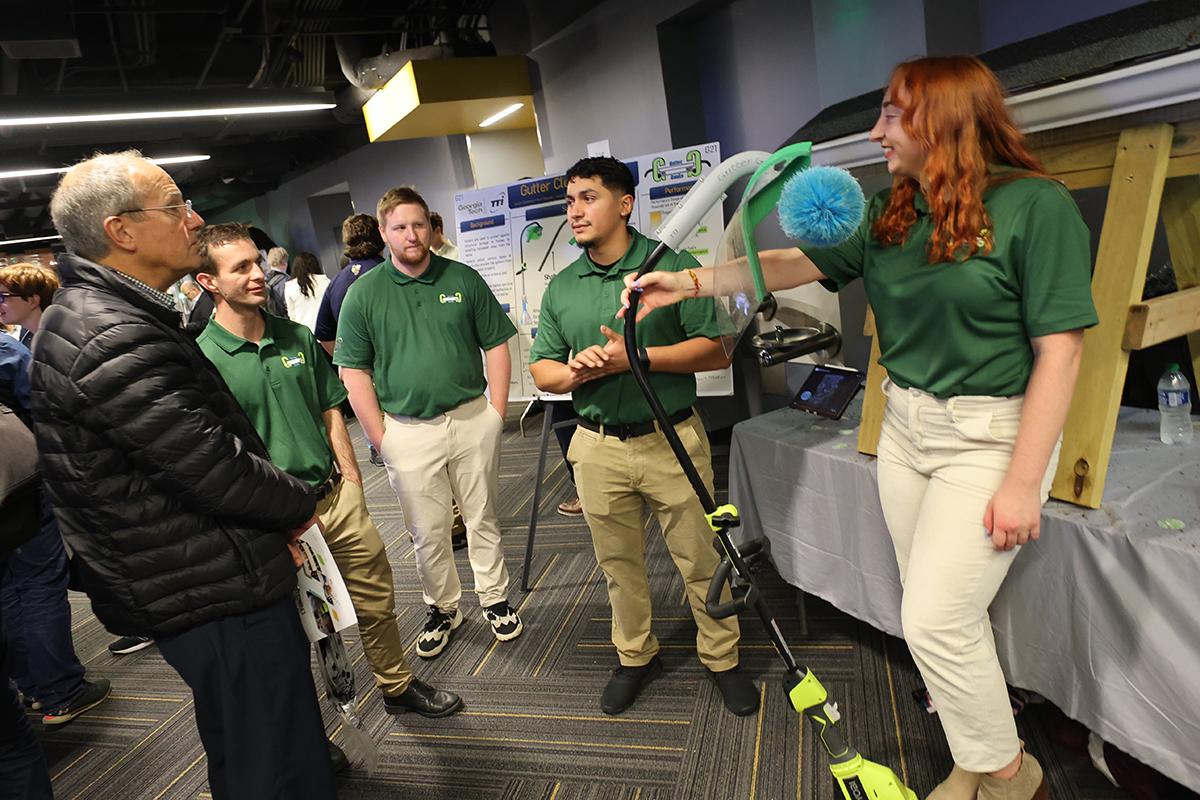 Image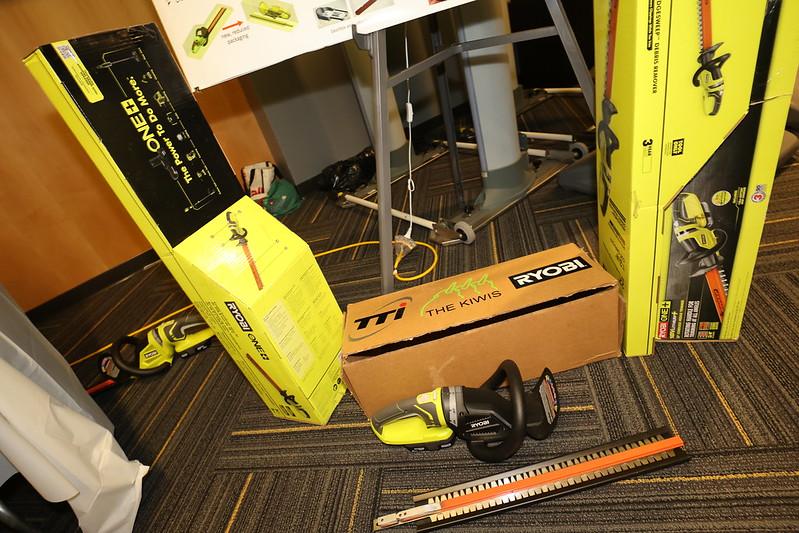 Image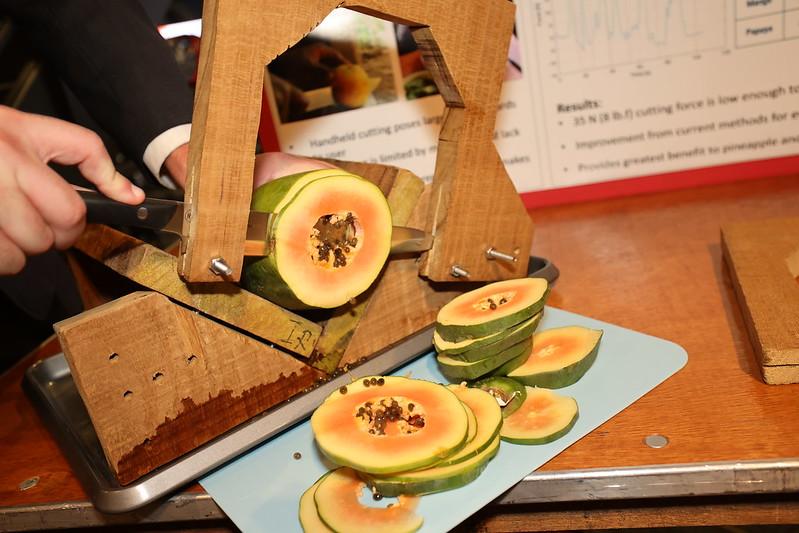 The Right Tool for the Job
Gutter Geeks created a new tool to clean gutters, while ME champion The Kiwis redesigned hedge trimmers to allow for more efficient packaging. Sugar and Slice made a cost-effective fruit slicer to help farmers in South Cameroon save more of their harvest from spoilage. 
Blank Space (medium)
(text and background only visible when logged in)
Image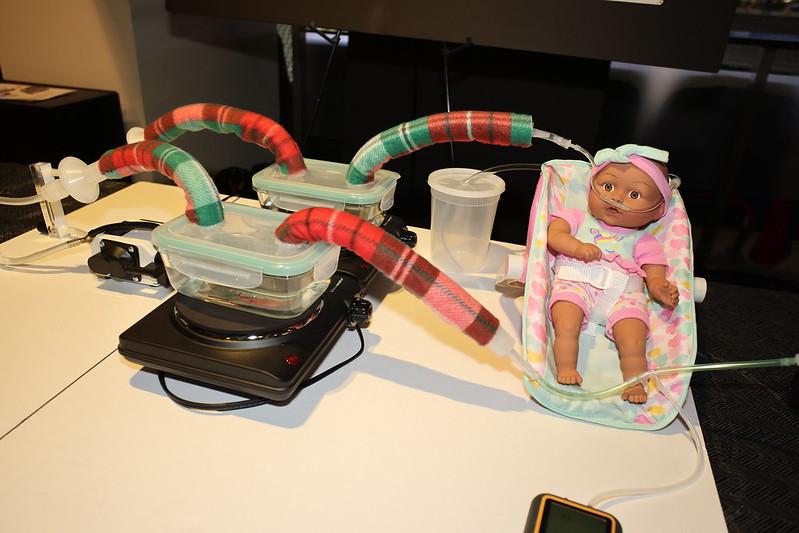 Image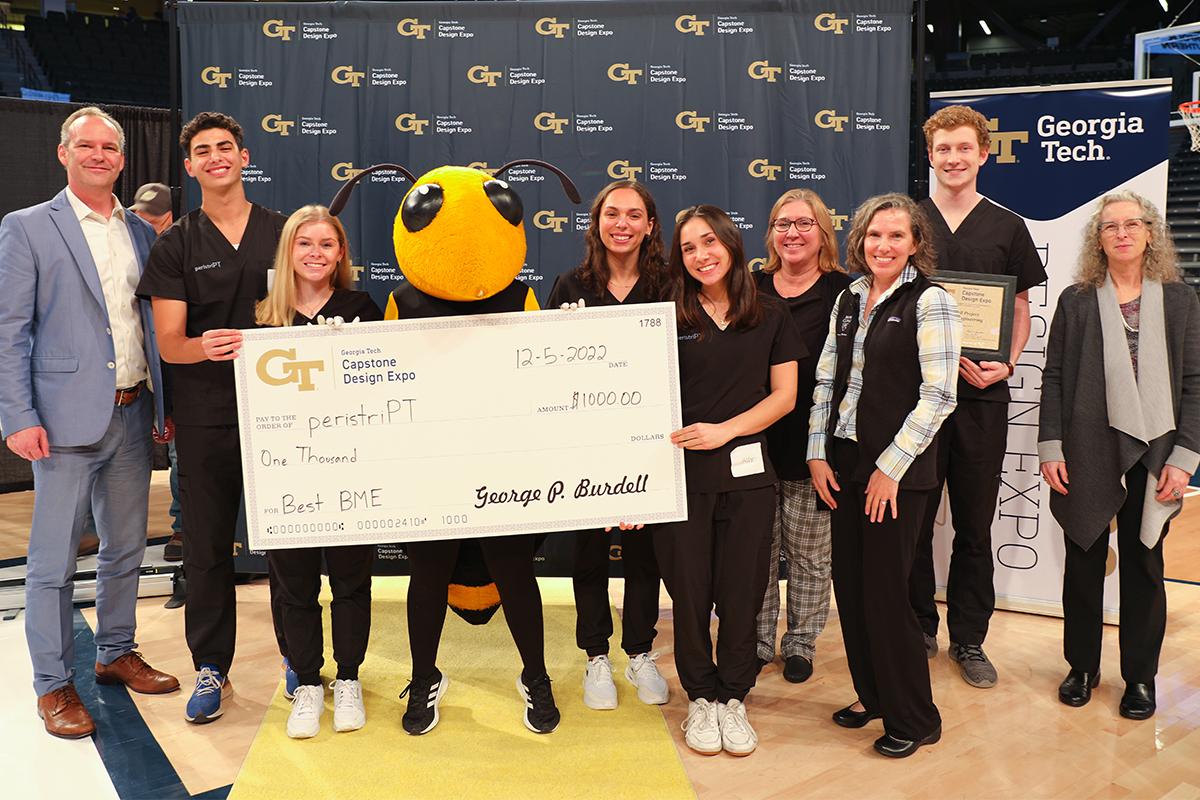 Image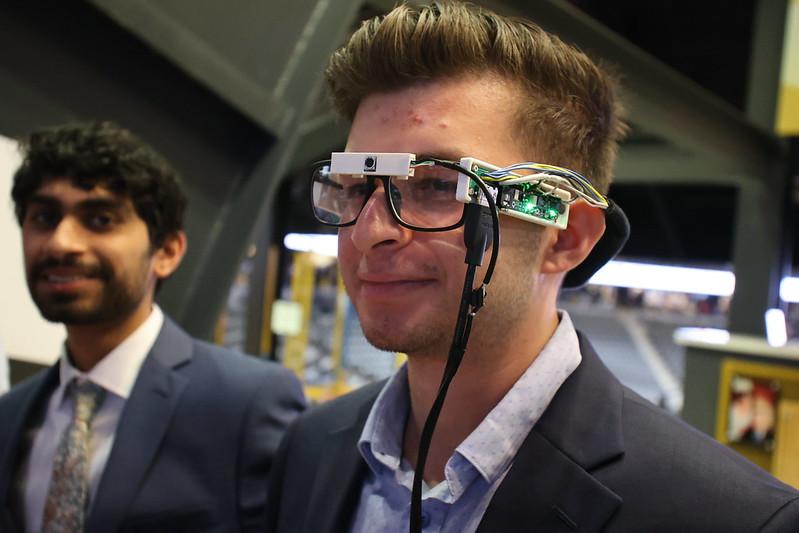 Medical Advances
Team Lil PAP created a system that heats, humidifies, and pressurizes air for multiple premature babies at once. peristriPT won the BME category with a surgical device that accelerates abdominal surgeries. VGlass provides haptic sensing to help visually impaired individuals avoid obstacles. The device can also read text such as stop signs and road signs. 
Blank Space (medium)
(text and background only visible when logged in)
Image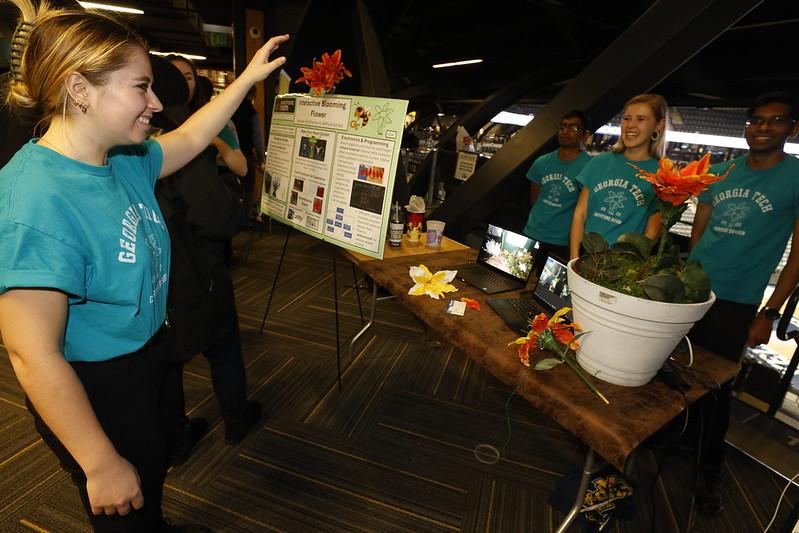 Image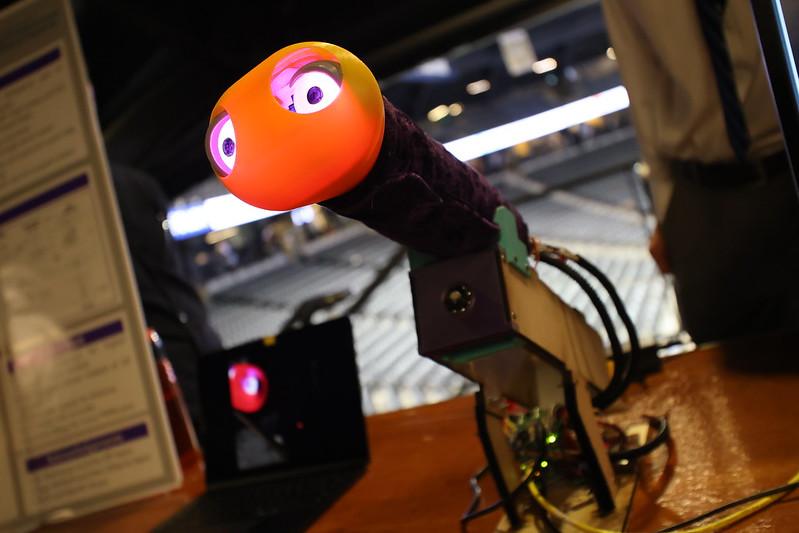 Interactive Art Exhibits
Capstone attendees were able to control an animatronic flower with hand movements. Nearby, Fred, a mechanical worm reacted to human movements using an object detection algorithm. Both projects were on display earlier this semester at the Electronic ARTrium on campus. 
Blank Space (medium)
(text and background only visible when logged in)
Image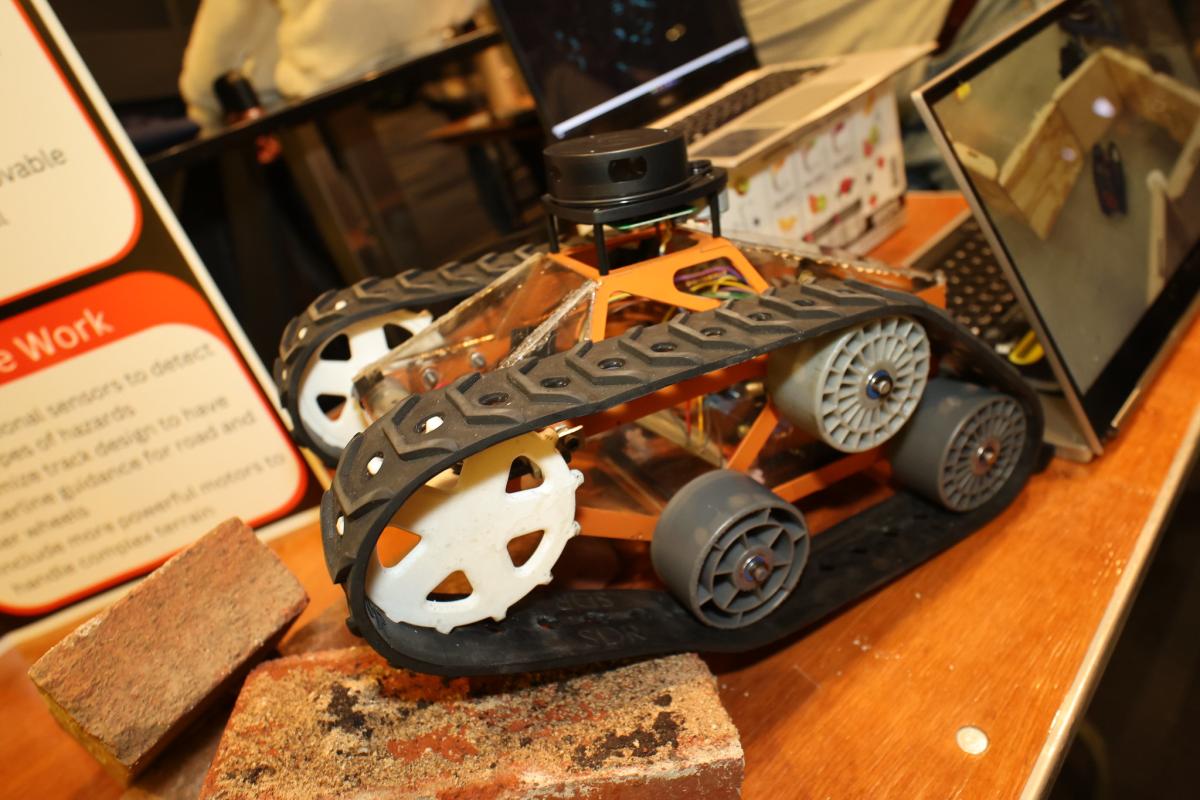 Image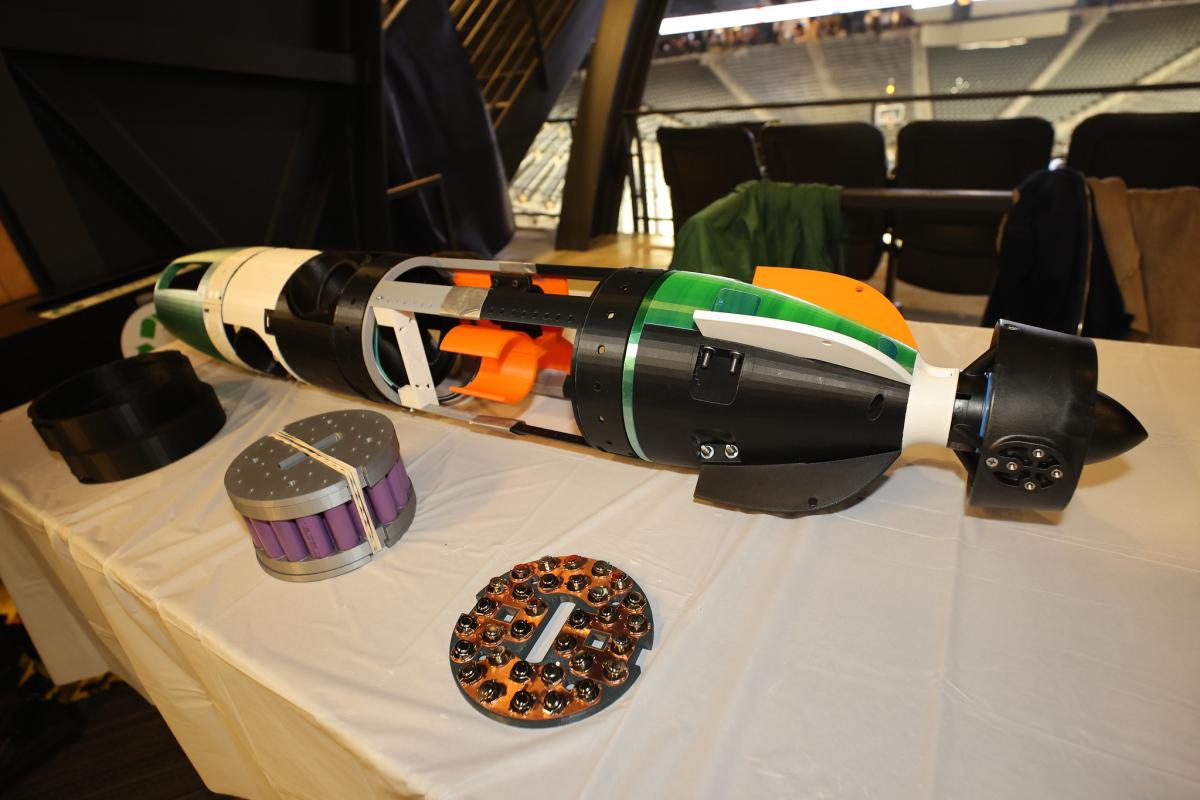 Image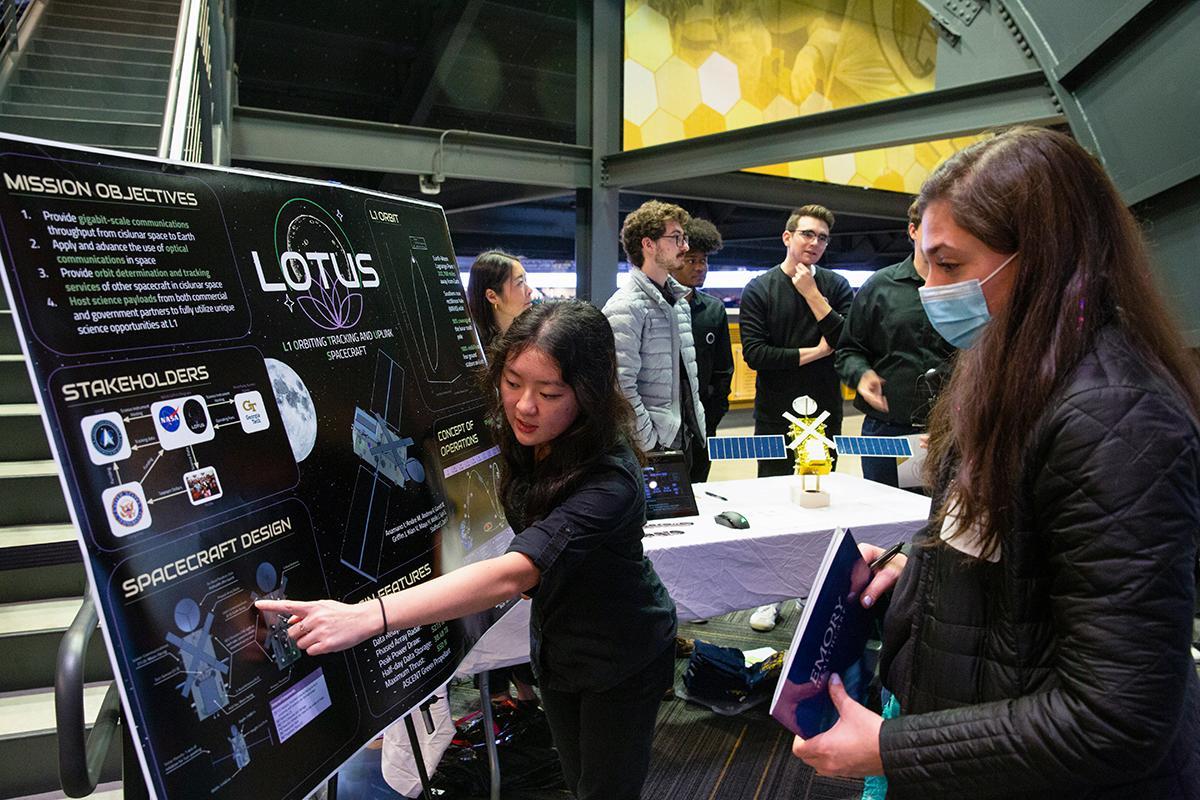 Machines that Explore
Rubble Wrangler is a cost-efficient autonomous vehicle that maps terrain for first-responders, while NEKTON is an autonomous underwater robot that would explore polar environments. The LOTUS spacecraft would provide high bandwidth communications relay, spacecraft-tracking management services, and hosted payload opportunities.
Blank Space (medium)
(text and background only visible when logged in)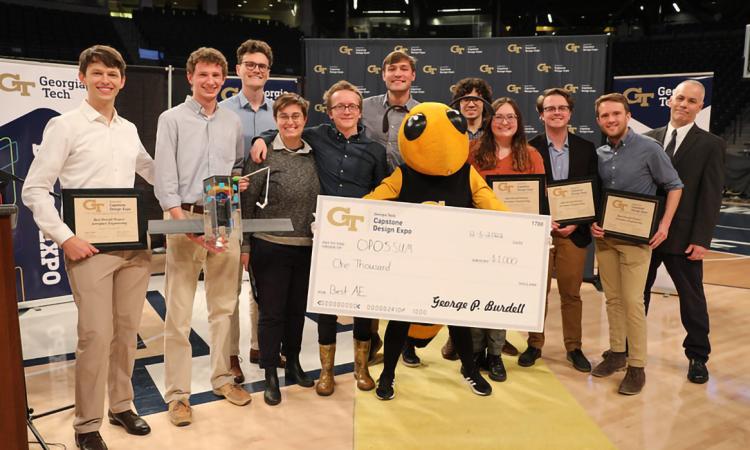 The OPOSSUM platform will provide power, communications, and station-keeping for docked satellites, saving end users critical time, mass, and money for their mission.
The team developed a surgical tool for abdominal cancer treatment that makes the procedure quicker and easier than current methods.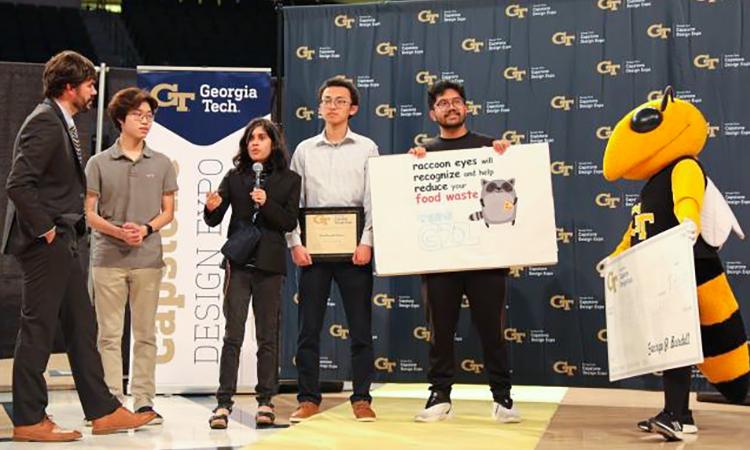 Projects spanned the breadth of the School's research focus areas with innovative applications in fields like medicine, music, and hospitality.
Blank Space (medium)
(text and background only visible when logged in)