Philip Santangelo wants to build a toolbox of mRNA drugs to activate or shut off specific genes to help the immune system fight cancer and other disorders.
Wednesday, 23 August 2023
Image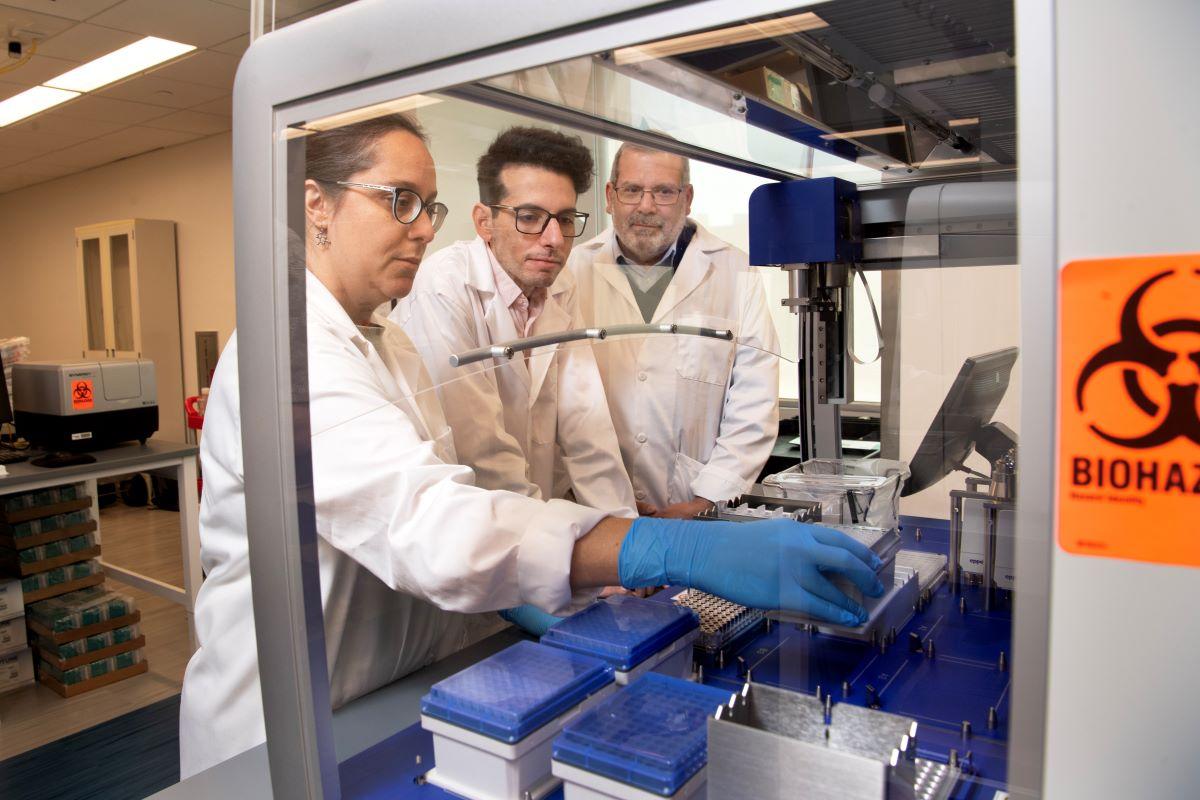 Researchers, from left, Lorena Chaves, Jose Assumpcao, and Philip Santangelo will be part of a collaborative effort to use mRNA drugs to enhance the body's immune response. Santangelo is leading the $24 million project supported by the federal Advanced Research Projects Agency for Health. (Photo: Jack Kearse)
President Joe Biden and the White House announced $24 million in support Aug. 23 for a team led by Georgia Tech and Emory University biomedical engineers who want to use mRNA to unlock new treatments for cancer and other chronic diseases.
Their project, called Curing the Uncurable via RNA-Encoded Immunogene Tuning (CUREIT), aims to use mRNA to essentially turn genes on or off in individual immune cells. The idea is to reverse the suppression or dysregulation of the immune system that is common in chronic diseases like cancer.
"By combining mRNA-encoded antigens with gene modulation technology, we will be able to radically enhance specific immune responses," said Philip Santangelo, the project's leader and a professor in the Wallace H. Coulter Department of Biomedical Engineering at Georgia Tech and Emory. "This technology, which operates transiently without modifying DNA, can offer a potential breakthrough in treating cancers, autoimmune disorders and infectious diseases."
mRNA drugs gained wide notoriety as the enabling technology behind Covid-19 vaccines. The molecule contains instructions, telling the body what proteins to make. Santangelo's team is using mRNA to target genes in immune cells and alter their function.
"Many different therapies, including immunotherapies, have been very successful in many cases, but there have been deficiencies in how they function," Santangelo said. "What we're trying to do is take that next step, which means targeting multiple cell types of different parts of the immune system and manipulating how those individual cells function. And we can change that function by manipulating multiple genes within those cells."
The award is the first batch of funding from the newly created Advanced Research Projects Agency for Health (ARPA-H), a federal agency charged with accelerating transformational ideas in health research.
"CUREIT aims to develop entirely new tools and methods to improve therapies so that fewer families experience loss from cancer," said Amy Jenkins, director of Health Science Futures for ARPA-H. "The advances in programming immune cell function that may result from CUREIT could also be broadly applied to many other health conditions affecting Americans."
Along with Santangelo, whose Coulter BME lab is based at Emory, the CUREIT team includes Emory surgeons and immunologists along with researchers from the University of Georgia, Yale University and Transimmune AG.   
"We won't solve everything, but I do think our approach allows you to confront these difficult problems in a way that you would not be able to through other mechanisms," Santangelo said. "I look at this as a life-altering opportunity to make huge steps that we wouldn't be able to make otherwise."