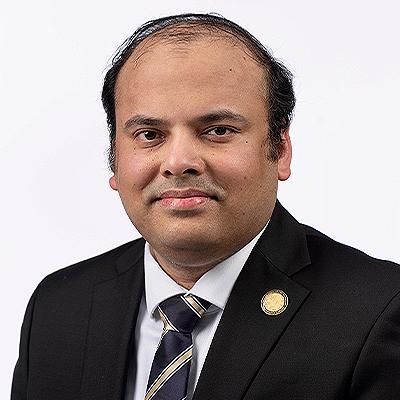 Arijit Raychowdhury, Ph.D.
Steve W. Chaddick Chair, School of Electrical and Computer Engineering
Biography
Arijit Raychowdhury has been a member of the Georgia Tech faculty since January 2013. He is the director of Georgia Tech's Institute for Electronics and Nanotechnology Center for Circuits and Systems, while also serving as the co-director of the Georgia Tech Quantum Alliance. Raychowdhury is a pioneer in energy-efficient digital and mixed-signal circuit and system research. He has contributed to foundational technologies that have been widely adopted by the leading semiconductor industries. Prior to joining Georgia Tech, he held research and leadership roles at Texas Instruments and Intel. His significant research contributions included the design of the world's first adaptive echo-cancellation network for integrated digital subscriber lines at Texas Instruments, as well as ultra-low power embedded memory technologies at Intel. Each has been used in a wide range of products.
Raychowdhury's Georgia Tech research focuses on the design of power converters, logic and memory circuits, and hardware design for emerging computing platforms.