2016 graduate program rankings from U.S. News & World Report released- Georgia Tech second among public engineering schools, sixth in the nation overall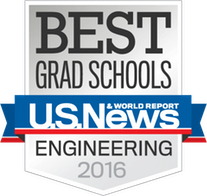 Three of Georgia Tech's engineering graduate programs rose in this year's U.S. News & World Report graduate rankings of national universities granting doctoral degrees and none dropped, helping the College of Engineering maintain its second-place ranking among public institutions (sixth overall).  
"For the fourth consecutive year all of our engineering graduate programs are ranked in the top ten in the nation," said Gary S. May, dean of the College of Engineering.  "We continue to be well-represented among the elite colleges of engineering in the country. This recognition acknowledges the continued efforts made by our faculty to ensure our students receive the finest engineering education possible."
Chemical engineering rose from 10th in the nation to ninth, materials science and engineering jumped from ninth to sixth, and nuclear and radiological engineering moved up to fifth from eighth, giving Georgia Tech seven programs ranked fifth or higher in the country. 
2016 Rankings for Georgia Tech's Engineering Graduate Programs
Aerospace – 5th
Biomedical – 2nd
Chemical – 9th
Civil – 5th
Computer – 7th
Electrical – 6th
Environmental – 4th
Industrial – 1st
Materials – 6th
Mechanical – 5th
Nuclear – 5th
As in the last three rankings, all of the College of Engineering's specialties were ranked in the top ten in their respective fields, making Georgia Tech the only institution in the nation to garner top ten rankings for all of its engineering graduate programs in four straight years.
The School of Industrial and Systems Engineering (ISyE) has now been named the top ranked industrial/manufacturing program in the country for 25 consecutive years.