Interdisciplinary team Hub Hygiene won the evening's top award.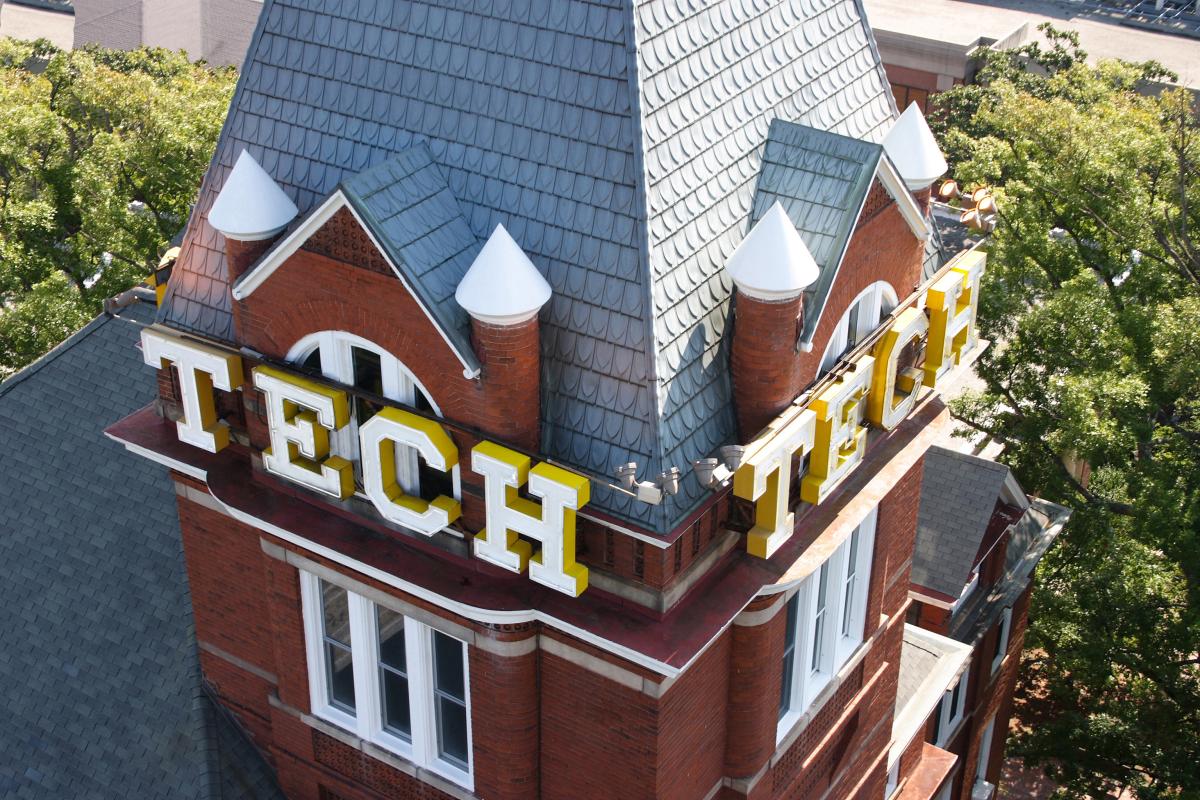 It was a big night for health at spring's Capstone Design Expo, as teams targeting medicine and wellness took home nearly half of the event awards.
The Expo's overall winner, Hub Hygiene, was an interdisciplinary team that aimed to reduce bloodstream infection rates. The group showed off a device that cleans a needleless IV connector.
In recent years, health-centric projects have grabbed center stage at the Expo, which is in some ways a compass for Georgia Tech at large. The Expo began as an exhibition for mechanical engineering alone, but it now hosts hundreds of students and reflects the Institute-wide emphases on real-world applicability and human needs.
Each Capstone Design Expo showcases senior projects from about a dozen Georgia Tech schools (most of them in the College of Engineering). The idea is for students to create prototypes that solve problems, though projects at the Expos are as diverse as the students themselves.
Many teams work with big-name sponsors – The Coca-Cola Company, Ford Motor Company, The Home Depot – to tackle corporate issues like supply chains. Some groups strike out on their own, designing new inventions that sometimes become foundations for full-fledged startup companies.
Other universities host similar events, but Georgia Tech's version stands out thanks to heavy alumni involvement and participation from around the Institute.
See a full list of spring 2016 winners. 
Team Purrfect Engineering, which designed a better way to make paper tunnels for pet-toy company Dezi & Roo, worked in the Invention Studio to create a prototype.
"It just looked like such an interesting project," said team member Joseph Tenpenny. Thanks to his mechanical engineering team's work and its Invention Studio creation, Dezi & Roo has a more efficient manufacturing process for its cat tunnels.  
Team Second Self, which won the industrial engineering prize, boasted a different kind of Georgia Tech connection: Its sponsor was a brewery owned by two Tech alumni. And plenty of graduates attended the Expo as either visitors or judges, giving students a chance to network and show off their skills. 
"A Georgia Tech alum who's now attending medical school came by our table and said [our project] is really interesting," said Shirin Kale, a biomedical engineering senior and member of the Infinitis team. Her group, which designed an IUD that's easier and more comfortable to insert than current models, eventually won the prize for best interdisciplinary project.
Twelve teams, out of 207 total, ultimately earned awards at the spring Expo. But with so many students competing, prizes aren't always the point.
The biomedical engineering team All-in-Vein, which developed an automated system to check for IV infiltrations, was sponsored by Children's Healthcare of Atlanta. Infiltrations happen when IV catheters slip from veins and leak fluid, and they can mean big trouble for kids.
Although graduation is just a couple weeks away for the All-in-Vein members, they plan to continue their work, said group member Kaci Crawford.
"We were really encouraged after getting our provisional patent," she explained.
Judges finished assessing spring Expo teams by 7 p.m., and by 8:30, the evening's awards, photographs and speeches were all over. But for All-in-Vein and plenty of other teams, the work has only just begun.