Monday, 12 September 2016
Two of the College's programs ranked first in the country, and two others placed second.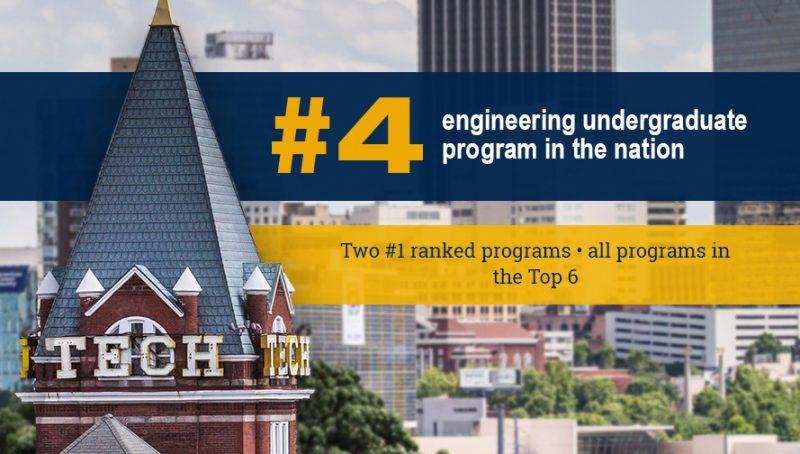 Georgia Tech's undergraduate engineering program is now tied for No. 4 in the country by U.S. News & World Report, bolstering the College of Engineering's elite stature in American education.
The rankings, released Tuesday, also revealed that two of the College's eight schools were listed as No. 1 among their disciplines. U.S. News, a media company best known for college rankings, publishes its review of undergraduate programs each September. 
Program scores are based on surveys of deans and faculty members at other universities. The U.S. News rankings can carry heavy influence among current undergraduates, professors, prospective students, peer institutions and the media.   
The overall College of Engineering (CoE) ranking – up from No. 5 last year – marks the fourth time CoE has grabbed this spot on the U.S. News chart, and it ties the College with the California Institute of Technology's engineering program.
Of course, the College is only as strong as its schools. The Stewart School of Industrial & Systems Engineering held on to its No. 1 ranking for the 22nd year in a row, while the Coulter Department of Biomedical Engineering earned its discipline's top slot for the first time. A joint venture with Emory University, the Coulter Department was third in last year's review.
All engineering specialties offered at Georgia Tech placed in the top 10 of their kinds with two just falling outside of the top four in their disciplines, a unique distinction for a program as large as CoE's.
"I'm proud to see our College recognized year after year as one of the country's best," said Gary S. May, CoE dean and Southern Company Chair. "Rankings are not what drive our successes, but it's gratifying to watch the College continue its ascent and cement its place among top engineering programs."

Specialty Ranks - Engineering
#1 – Biomedical Engineering
#1 – Industrial Engineering
#2 – Aerospace Engineering
#2 – Civil Engineering
#2 – Mechanical Engineering
#4 – Chemical Engineering
#4 – Electrical Engineering
#4 - Environmental Engineering
#6 – Computer Engineering
#6 – Materials Science and Engineering