New fellowship program instills entrepreneurial confidence in faculty, opening new frontiers for CREATE-X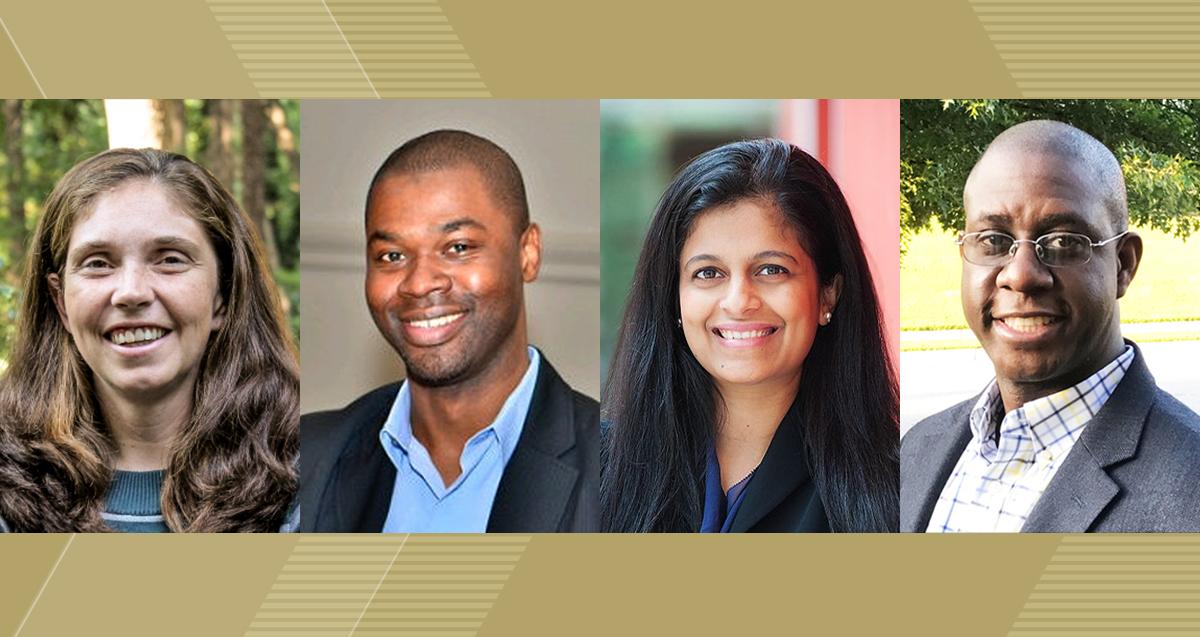 Student entrepreneurship is a core tenet of a holistic education from Georgia Tech. To support this mission of innovation at Tech, CREATE-X is a program that encourages students to launch successful startups and instills entrepreneurial confidence. To deliver on this mission, it is critical to involve faculty in the program to mentor students and help foster an innovative mindset.
This semester, four faculty members were named to be the first Jim Pope Faculty Fellows for CREATE-X. The program serves to inspire faculty members to build strong bridges between their academic units and CREATE-X, while at the same time developing their own entrepreneurial confidence as educators.
The fellowship program will span three semesters, providing the selected faculty members an opportunity to build entrepreneurship into their course curriculum and research. Further, fellows have the option to identify the critical elements of a startup business model through extensive interactions with real customers.
The 2020 Jim Pope Faculty Fellows include Anjali Thomas from Ivan Allen College of Liberal Arts, Stefan France from the College of Sciences, Olufisayo Omojokun for the College of Computing and Kelly Griendling from the College of Engineering. Their appointments will last one year and include discretionary funding to be spent on resources to support entrepreneurial courses and research. The four fellows are looking forward to starting their faculty tenure with CREATE-X.
"I believe that entrepreneurship has an important role to play in helping to develop and implement solutions in the area of global development," said Anjali Thomas, associate professor in the Sam Nunn School of International Affairs and recently appointed director of the Nunn School's Program on Global Development. "The fellowship will allow me to devote a portion of my time to develop and foster curricular content that incorporates entrepreneurship into existing courses and on-campus programming to give students the confidence, skills and knowledge they need to make an impact in addressing the important challenges in global development."
Professors France, Omojokun and Griendling have also Identified ways to incorporate entrepreneurial skills into the Renewable Bioproducts Institute, College of Computing Junior Design and Introduction to Object-Oriented Programming classes, and Intro to Aerospace, respectively.
Image
"We fully expect the Jim Pope Faculty Fellows Program to instill assurance in our faculty, creating a scalable mechanism to realize our vision of equipping every Georgia Tech student with startup experience before they graduate," said Raghupathy "Siva" Sivakumar, co-founder of CREATE-X and Wayne J. Holman Chair Professor in the School of Electrical and Computer Engineering. "The entrepreneurial confidence will dramatically and positively alter the faculty's teaching, research and entrepreneurial activities."
With a generous gift from Jim Pope, retired president and CEO of Hazlehurst & Associates, Inc. an actuarial and consulting firm, CREATE-X can further it's mission as an exemplary program for experiential learning that contributes to whole-person education though entrepreneurial confidence.
"It's critical for students to develop an innovative and entrepreneurial mindset as they enter the workforce," said Pope. "Companies today are looking for folks that can bring creative problem solving to the table, and CREATE-X is the type of program that can make that possible. Faculty can also benefit from an entrepreneurship program to potentially commercialize their research endeavors."
To learn more about the Jim Pope Faculty Fellows Program, contact siva@gatech.edu.
Image