Students showcase devices to help children with autism, improve gorilla feeding at zoos, and even sort Lego bricks.
Blank Space (small)
(text and background only visible when logged in)
Image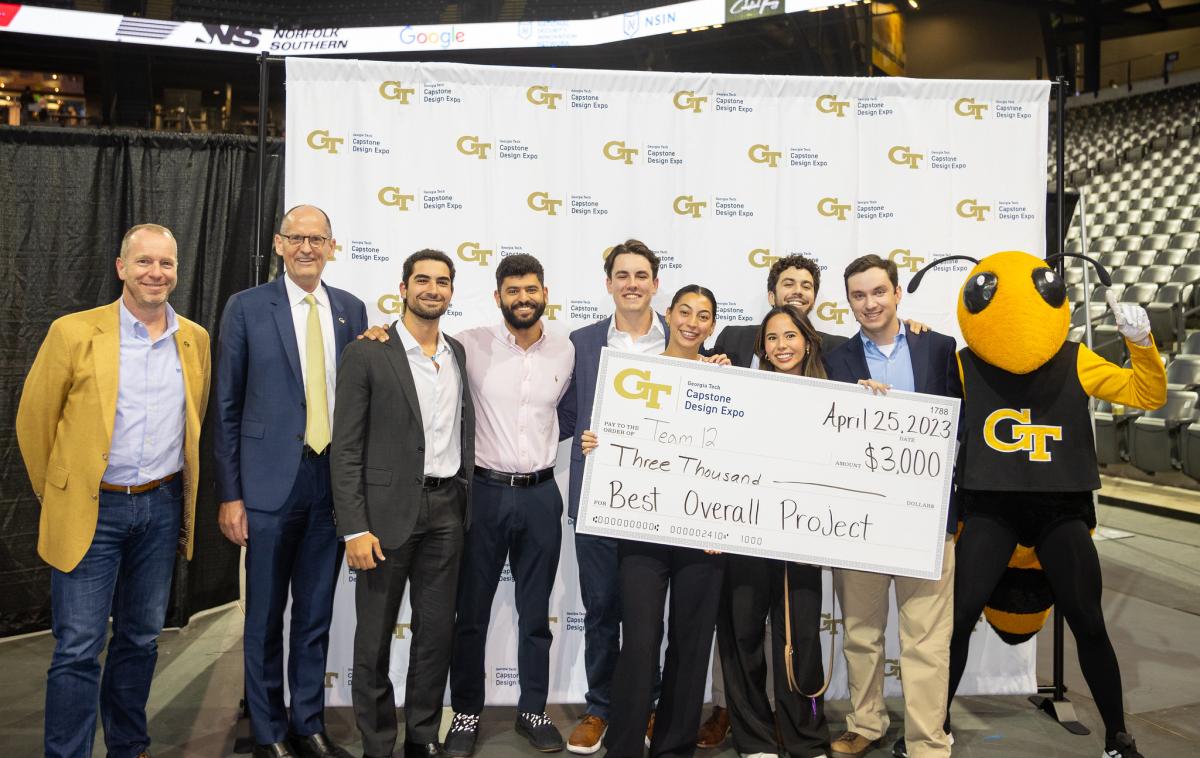 Team 12, a group of industrial engineers, won the overall prize at the Spring Capstone Design Expo. 
Blank Space (small)
(text and background only visible when logged in)
One of the most challenging parts of any journey is packing. Turns out, that's true whether you're loading the car for a trip to the beach or packing cargo headed for the International Space Station (ISS).
For Axiom Space, loading a rocket is a process that begins with months of planning and organizing before the first items are put onboard. It's a unique challenge that draws on the years of experience of the two people principally charged with packing. And it needs to speed up to accommodate the company's plans for more frequent launches in the years to come.
Blank Space (small)
(text and background only visible when logged in)
11
Schools from 3 Colleges
Image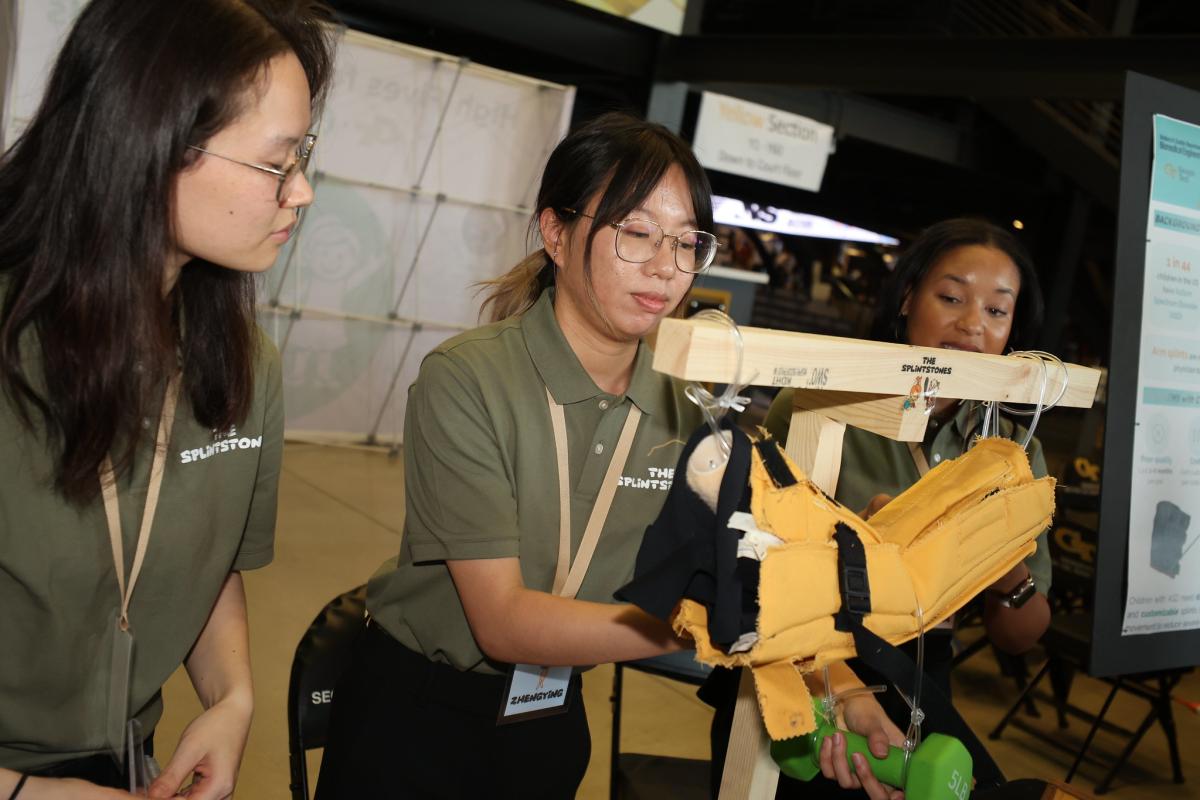 Team Splintstones created a splint to prevent self-injurious behavior exhibited by children with autism.
Image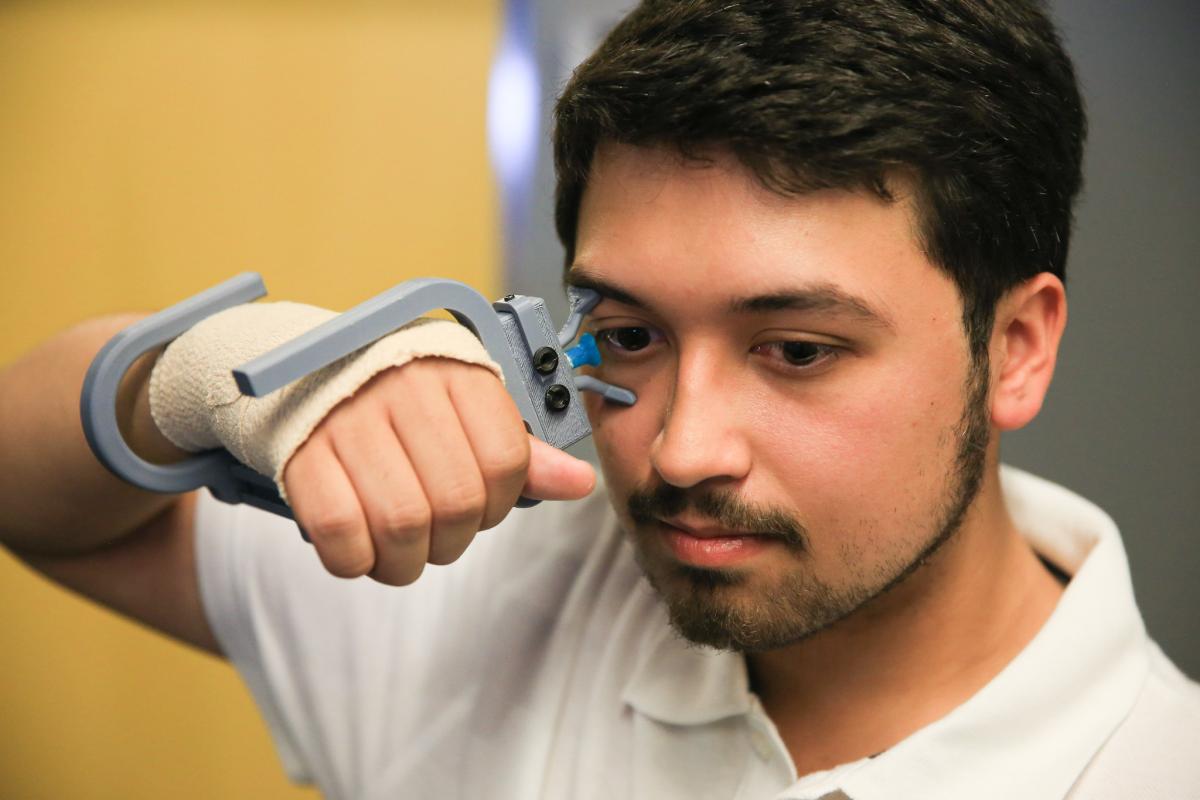 Eye.See.U is a device that helps people with tetraplegia safely insert and remove contact lenses.
Image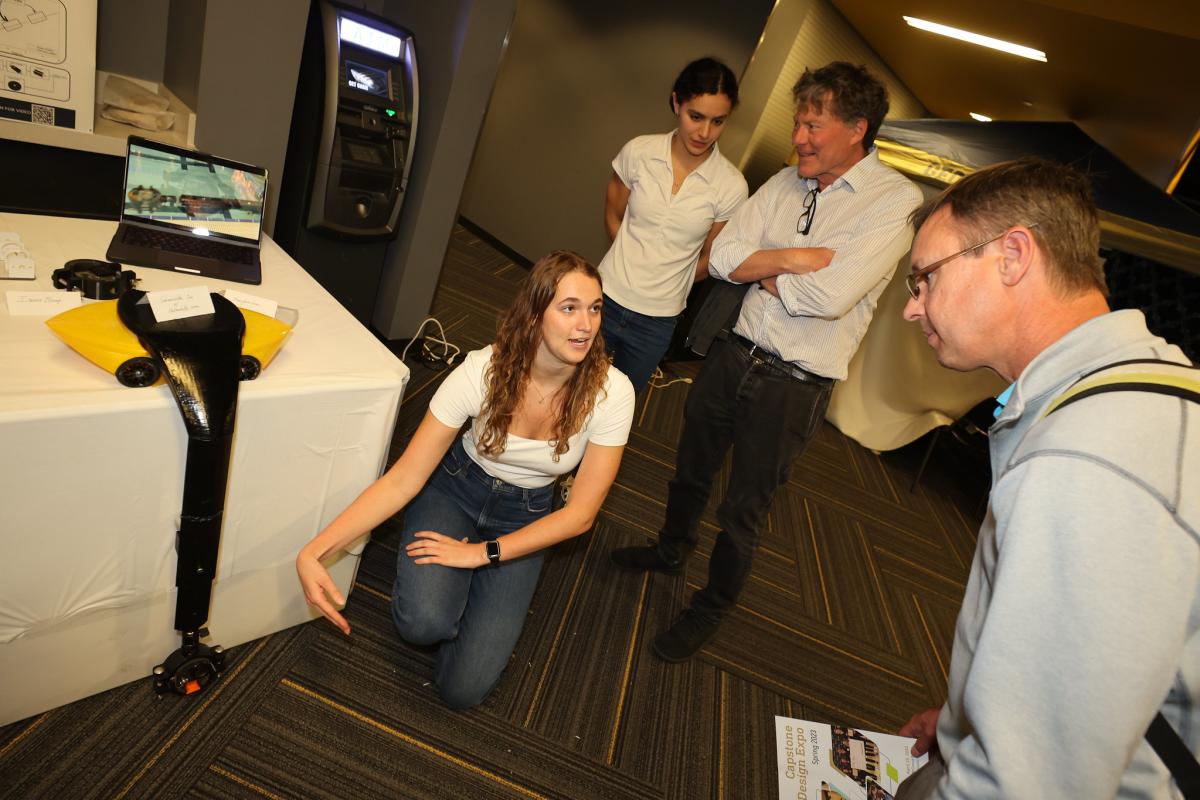 SwimOptics analyzes swimming strokes using an underwater intelligent tracking system.
Their reaction after they learned judges rated them the best overall project?
"We're absolutely over the moon," team member Alec Russin said, without a hint of irony.
"I'm on a different planet right now," Andrew Jarcik added quickly.
Despite their surprise at earning the top spot, the group was excited about the potential efficiencies they developed for Axiom.
"First, our solution is able to replicate the way that the humans manually pack," Russin said. "And second, we made it better, saving astronauts 50% of the time needed to unpack the spaceship. That's time that they now have back to do other stuff."
And at an estimated $130,000-per-hour cost for astronaut time, the impact is significant.
The same kind of innovation and impact was on display throughout McCamish Pavilion and the parking lot outside, where more than 190 student teams showed off the results of their semester-long senior design projects. Prizes went to the top team in each of the nine Georgia Tech schools represented at the event, along with the best interdisciplinary project and the best overall.
Blank Space (small)
(text and background only visible when logged in)
Image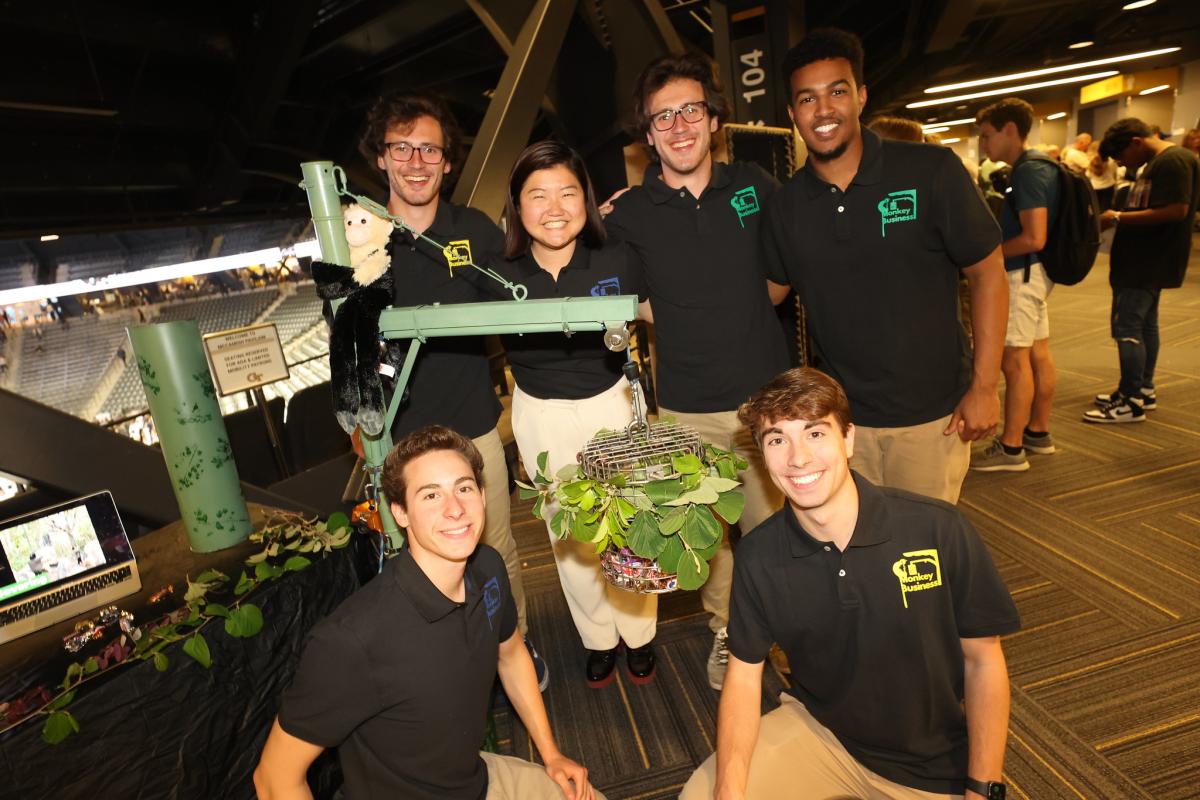 Monkey Business developed a feeding device for Zoo Atlanta and tree-dwelling monkeys.
Image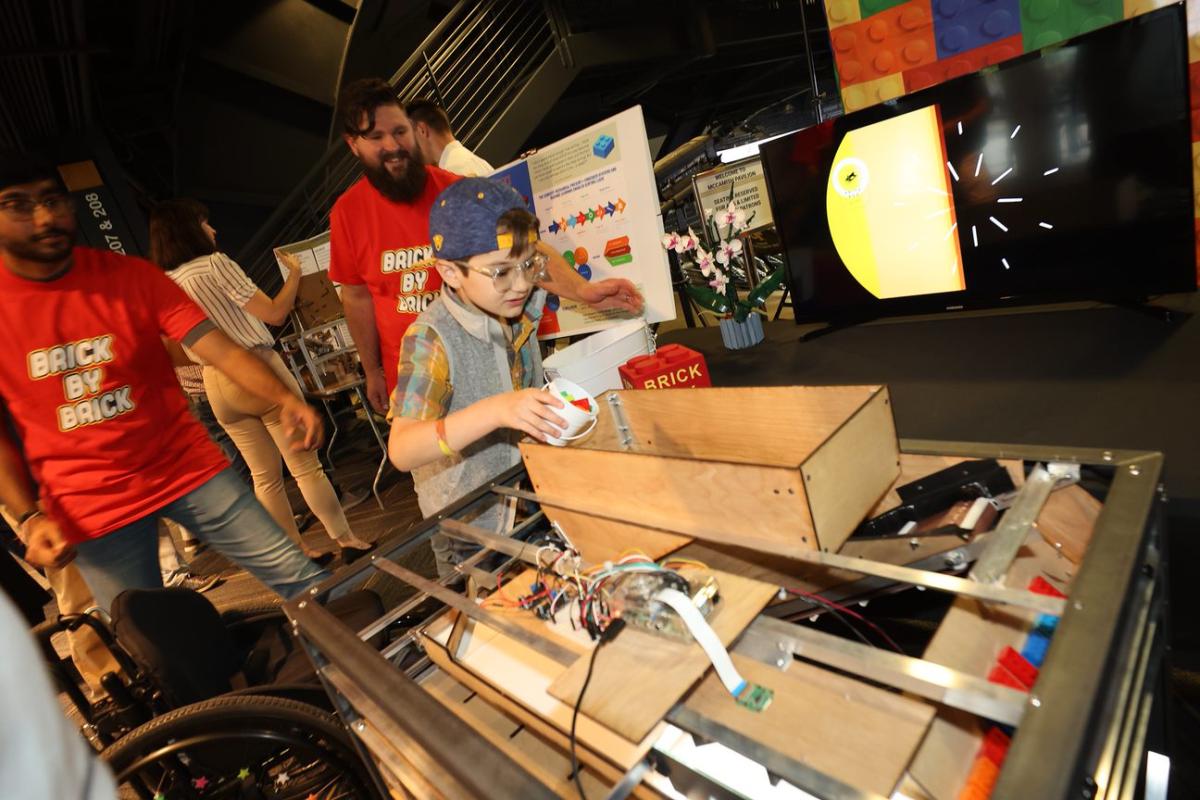 BrickBox is an automated Lego brick sorting machine.
Image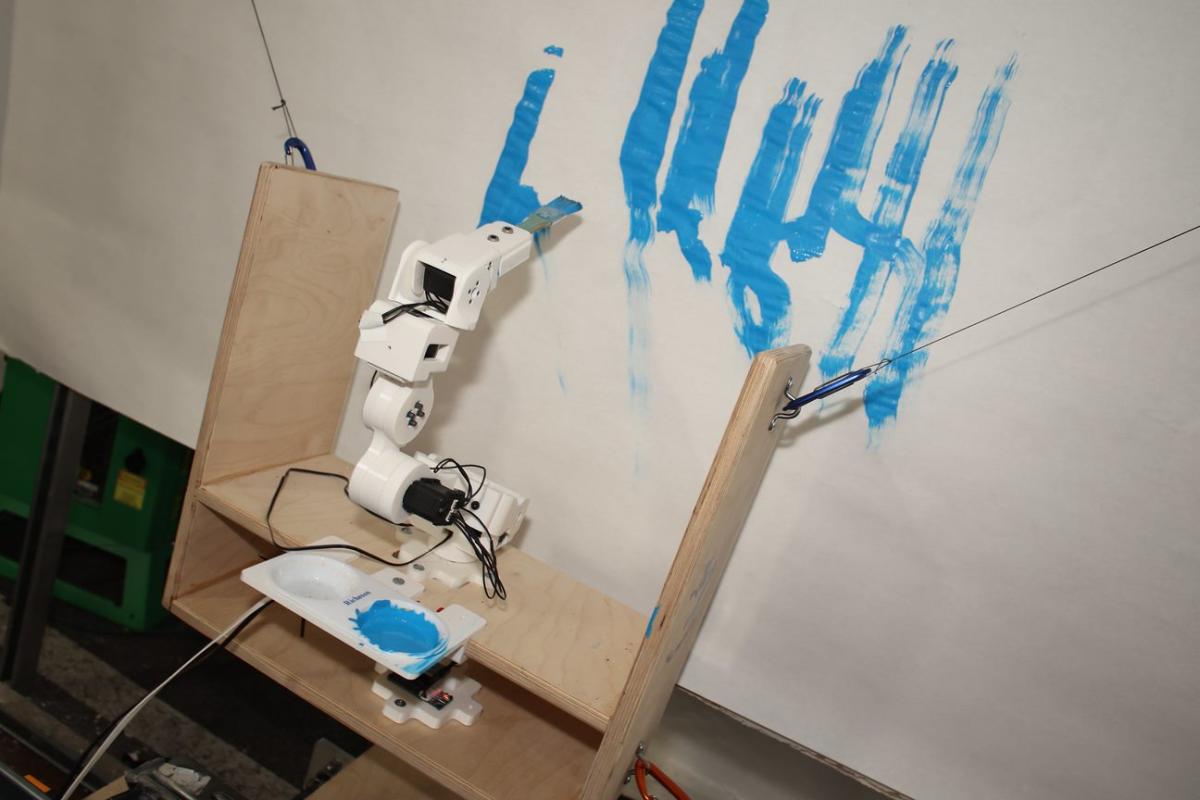 Robo Graffiti mimics painting strokes and assists in painting building murals.
Image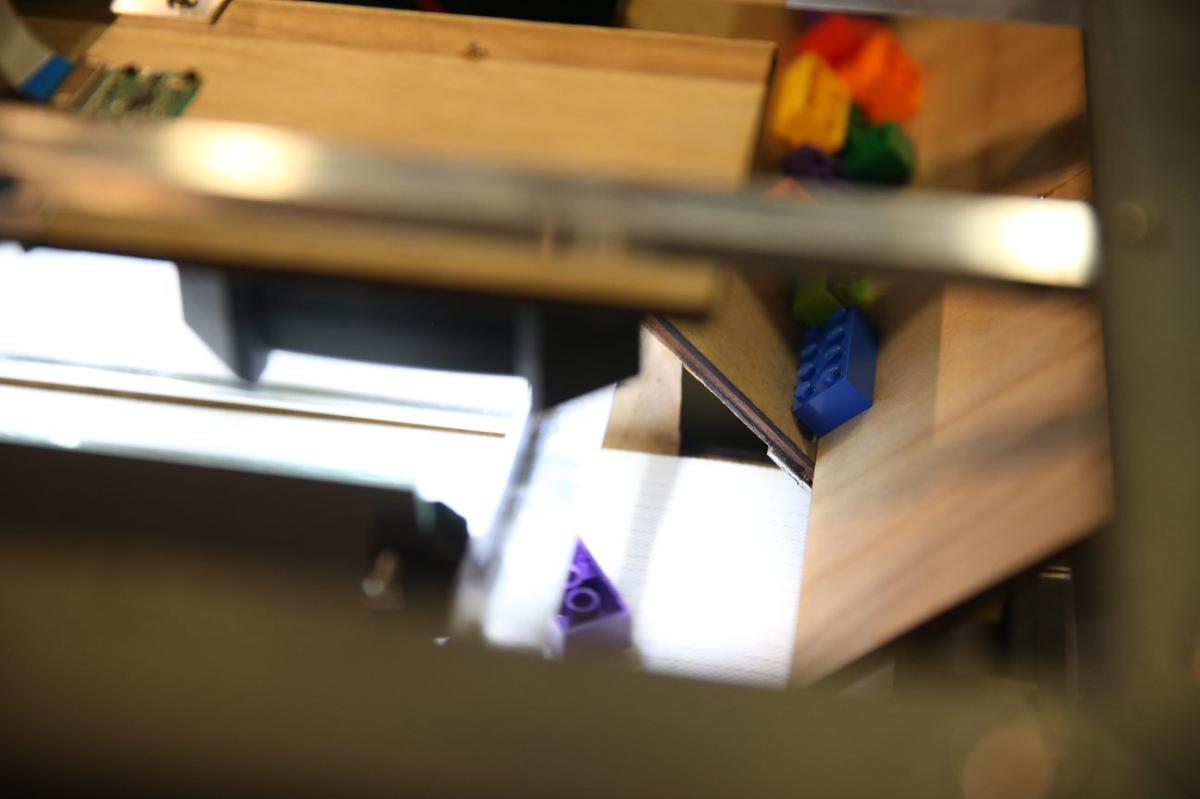 A close-up of a Lego brick falling onto the BrickBox conveyor belt. 
Image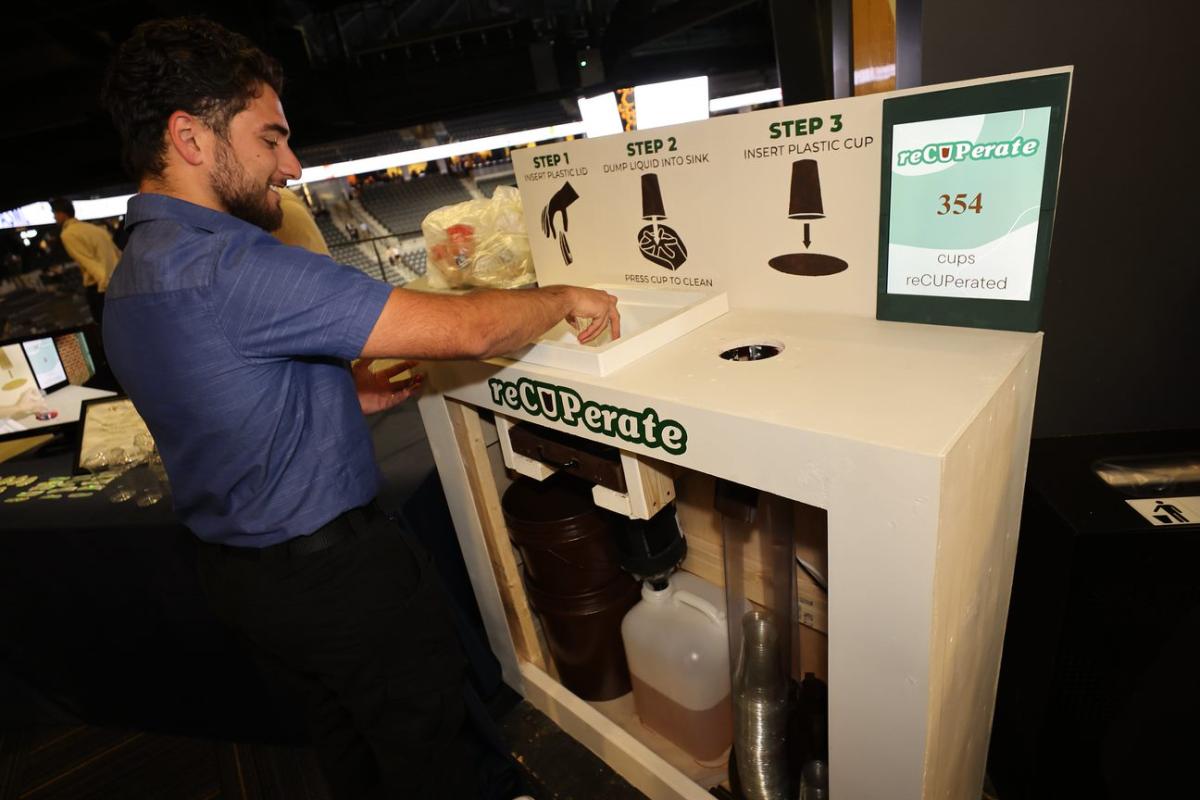 Team reCUPerate allows people to decontaminate their plastic cups before they are recycled.
Image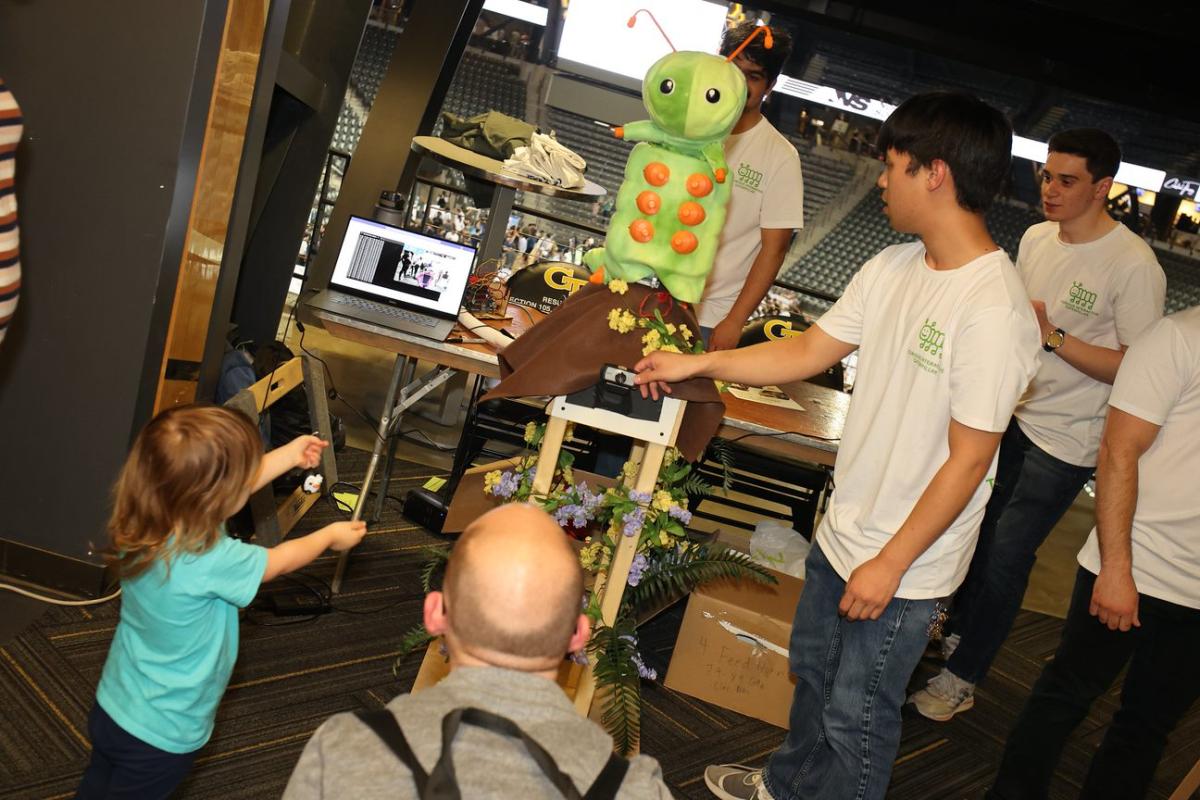 The Curious Interactive Caterpillar emotes and communicates with children about STEAM concepts.
Image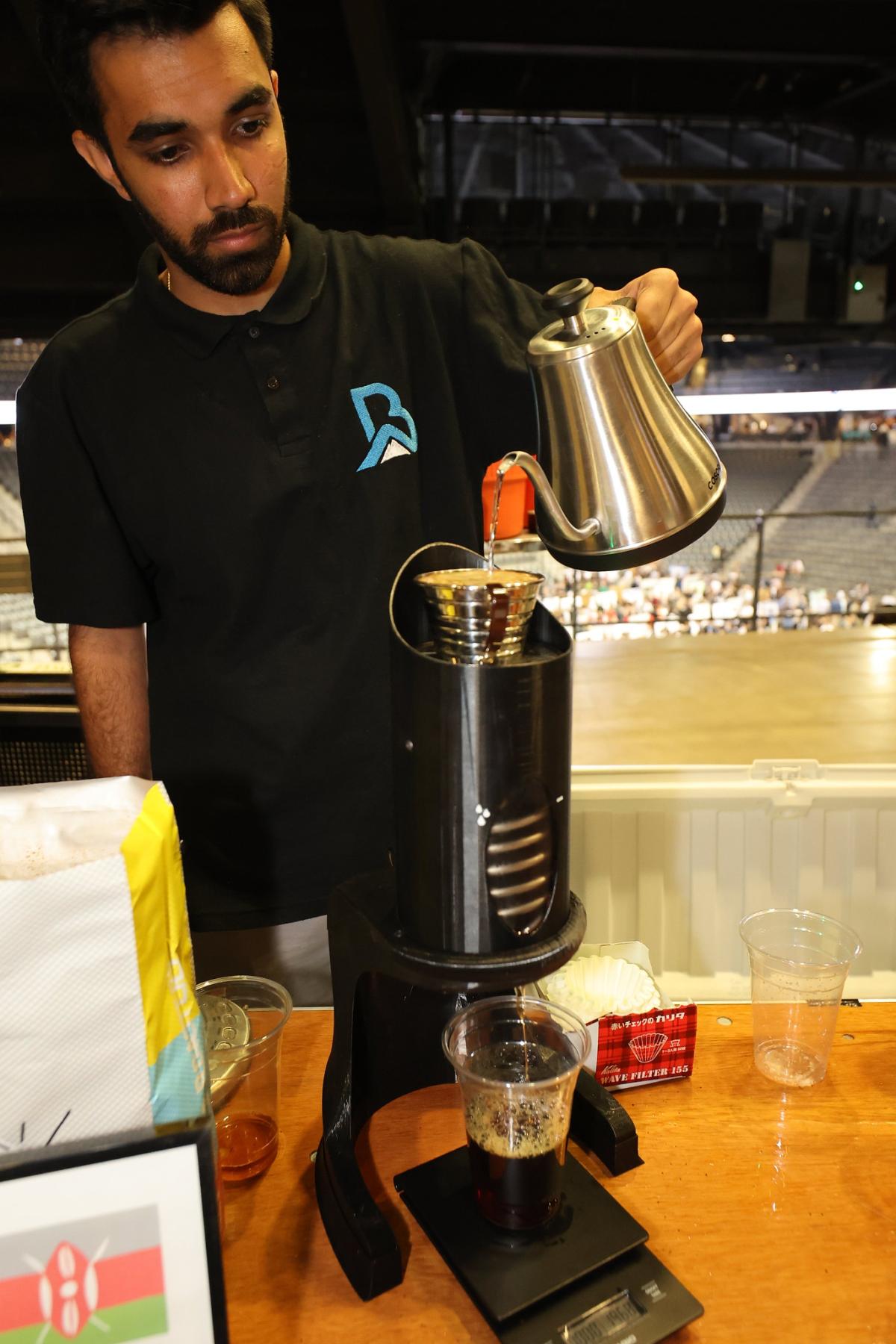 The Burrrista Pour Over Chiller uses a heat exchanger to cool coffee from 210 degrees to 50-55 degrees without significant brew time.
Blank Space (small)
(text and background only visible when logged in)
Blank Space (small)
(text and background only visible when logged in)
OVERALL BEST PROJECT
Optimized space cargo logistics
Abraham​ Angel, IE (Panama City, Panama)

Albania Bruckner, IE (Santa Cruz, Bolivia)

Alec Russin, IE (Princeton, NJ)

Andrea Acosta, IE (Panama City, Panama)

Andrew Jarcik, IE (Barrington, IL)

Nicholas​ Revelos, IE (Dallas, GA)

Samy Amer, IE (Cairo, Egypt)
INTERDISCIPLINARY
Baseball training device
Brittan Pero, ME (Tampa, FL)

Christopher Chase, CmpE (Greenville, SC)

Harrison Ford, ME (Dunwoody, GA)

Maxwell Ray, ME (Bolton, MA)

Wilson Poole, ME (Lilburn, GA)
GUGGENHEIM SCHOOL OF AEROSPACE ENGINEERING
Dual lander Mars ascent vehicle
Aaron Hammond (Brodheadsville)

Eleanor Smith (Akron)

George Blackwell (Fairfax)

James Farmer (Augusta, GA)

Jurist Chan (Houston)

Lonnie Webb (Birmingham, AL)

Pessi Laensirinne (Atlanta, GA)

Reid Fly (Augusta, GA)

Sparsh Desai (Avenel, NJ)
WALLACE H. COULTER DEPARTMENT OF BIOMEDICAL ENGINEERING (TIE)
Brain cancer treatment device
Isabella Varea (Bethesda, MD)

Juan Martinez (Dunwoody, GA)

Mateo Golloshi (Dahlonega, GA)

Victoria Kabat (Lawrenceville, GA)
WALLACE H. COULTER DEPARTMENT OF BIOMEDICAL ENGINEERING (TIE)
Mandibular fixation device
Qingyu Chen (Beijing, China)

Ruiyang Zhao (Alpharetta, GA)

Xinyu Chen (Ningbo, China)

Yunha Ham (Lawrenceville, GA)

Yunseo Ham (Lawrenceville, GA)
SCHOOL OF ELECTRICAL AND COMPUTER ENGINEERING
Drone-based inventory system
Adrian Candocia (Bradenton, FL)

Ashley Goodnight (Clarksville, MD)

Bradley Sisk (Debary, FL)

Madelyn Johnson (Marietta, GA)

Patrick Long (Calhoun, GA)

William Diamond (Douglas, GA)
H. MILTON STEWART SCHOOL OF INDUSTRIAL AND SYSTEMS ENGINEERING
Optimized processing system
Chloe Saleh (Lebanon)

Chloe Sun (Nashville)

Claudia Boulos Al-Makari (Lebanon)

Elie Pierre Christian Hachem (Beirut)

Serena Abi Younes (Lebanon)

Zaide Isabelle Jea (Haiti)
SCHOOL OF MATERIALS SCIENCE AND ENGINEERING
Novel graphene-based supercapacitors
Josephine Deronja (Raleigh NC)

Matthew Reingold (Roswell, GA)

Oliver Hvidsten (Needham, MA)

Ori Nofsinger (Louisville, KY)

Philothei Sahinidis (Pittsburgh, PA)

Ralph Kindler (Escanaba, MI)
GEORGE W. WOODRUFF SCHOOL OF MECHANICAL ENGINEERING
Optimizing sheet metal part fabrication
Eemil Harkonen (Roswell, GA)
John Travnik (Oak Lawn, IL)
Nicholas Schierle (Marietta, GA)
Peter Macron (Brick, NJ)
Shawn McKelvey (Williamstown, NJ)
Thomas Bruner (Atlanta, GA)
SCHOOL OF MUSIC
Addressing accessibility in live music settings
Kai White (Stone Mountain, GA)
NUCLEAR AND RADIOLOGICAL ENGINEERING
Liquid Salt Reactor
Alex Collier (Pendergrass, GA)

Caleb Corliss (Mableton, GA)

Nathan Grund (Bloomington, MN)

Tim Shuster (Tel Aviv)
SCHOOL OF PUBLIC POLICY
Recommendations for sustainable energy organizations
Adam Bartnicki (Marietta, GA)

Amber Fischer (Dalton, GA)

Arnav Rao (Cumming, GA)

Granger West (Marietta, GA)

Katie Marchese (Rincon, GA)

Lydia Wiederholt (Atlanta, GA)
Blank Space (medium)
(text and background only visible when logged in)