Natalia Barrera Villamizar's winding path through research labs, Covid disruptions, and industry experiences puts her right where she wants to be.
Blank Space (small)
(text and background only visible when logged in)
Natalia Barrera Villamizar started planning for college in the ninth grade. She wasn't sure what she wanted to study but was already thinking about how to set the stage for her future.
Then she did a science fair project on devices that could alert her family when her grandmother with Alzheimer's disease tried to leave the house. In the process, she learned about biomedical engineering (BME) and realized her career path.
"When I found out that Georgia Tech was one of the best programs in the U.S. for BME, I knew this was the place for me," said Barrera Villamizar, whose family moved from Colombia to the Lawrenceville, Georgia, area just before she started high school. "I could stay in state and be close to my family. I just had to get in here."
Image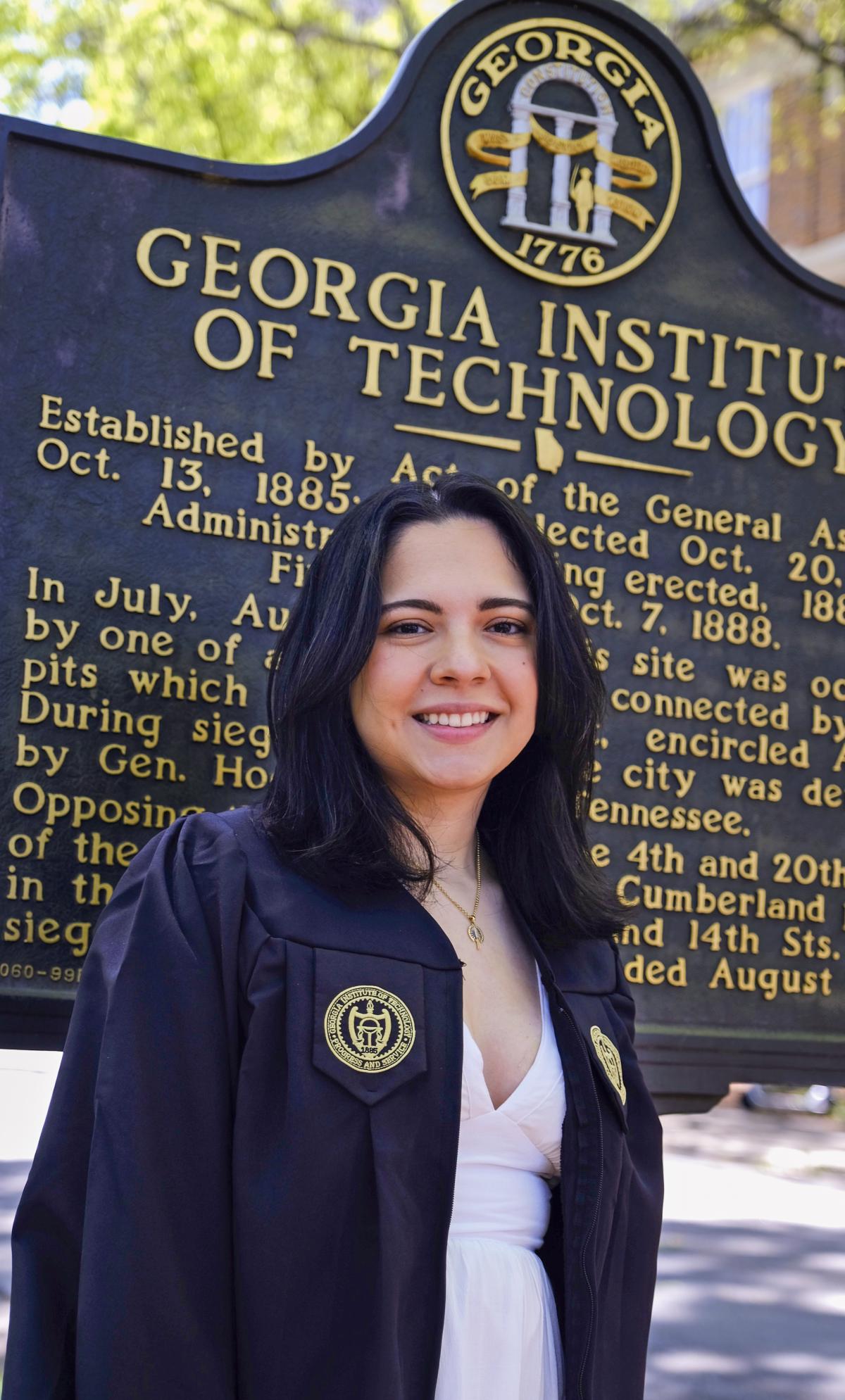 Just in case, Barrera Villamizar applied to other schools, including the University of Georgia. She loved the campus in Athens and thought it might be the place for her. Then she came to Tech and quickly forgot about red and black. She remembers sitting in the Student Center with her mom thinking about the decision ahead.
"My mom asked me, 'Do you want to go here or UGA?' And I said, 'Georgia Tech for sure,'" Barrera Villamizar said. "She went right over and bought me a sweatshirt. And she told me, 'You have to visualize it. You're coming here.'"
Before long, Barrera Villamizar got her early action admission decision: She was in. And now, she's on her way out with that BME bachelor's degree. She also has research and industry experience under her belt, along with a job lined up in Thermo Fisher Scientific's Operations Leadership Development Program.
Barrera Villamizar has spent the last two years working on protein engineering with Felipe Quiroz, an assistant professor in the Wallace H. Coulter Department of Biomedical Engineering at Georgia Tech and Emory University. Quiroz's lab is at Emory, which gave Barrera Villamizar the chance to experience another campus environment. She also completed an internship at Merck last summer, which showed her how rewarding a career in industry could be.
Early on, Barrera Villamizar got involved in the Peer 2 Peer Mentoring program in the College of Engineering's Center for Engineering Education and Diversity (CEED). She valued the support system and ultimately became a mentor herself for the last two years. She also valued the support she received from CEED's Valentina De La Fe, whom she said always had opportunities to share — like connecting her with the National Action Council for Minorities in Engineering Scholars Program or inviting her to represent Georgia Tech at the Society for Hispanic Professional Engineers conference.
"Valentina definitely has shaped my Georgia Tech career. My parents know about her, because I talk about her all the time: 'Valentina sent me this' or 'Valentina talked to me about this,'" Barrera Villamizar said. "I called her way too many times during Covid to talk about classes and a study abroad program that was canceled. She was there for me. She has been an amazing resource."
Once Barrera Villamizar crosses the stage at Bobby Dodd Stadium, she'll have a short break before she finds out where she'll be placed at Thermo Fisher. She's been thinking about that day in the Student Center a few years ago that started her Georgia Tech journey — and that sweatshirt from her mom.
She still has it, and she'd like to take it with her when she moves. But her younger sister has taken a liking to it — she's hoping to follow Barrera Villamizar to Georgia Tech in a couple of years and study aerospace engineering.
"It's a nice feeling seeing her with it, and it does take me back to that day," she said. "I am thinking about buying her one so I can take mine with me. My mom also loves having her own, so last year I got her one as a thank you for that first Georgia Tech memory."
Blank Space (medium)
(text and background only visible when logged in)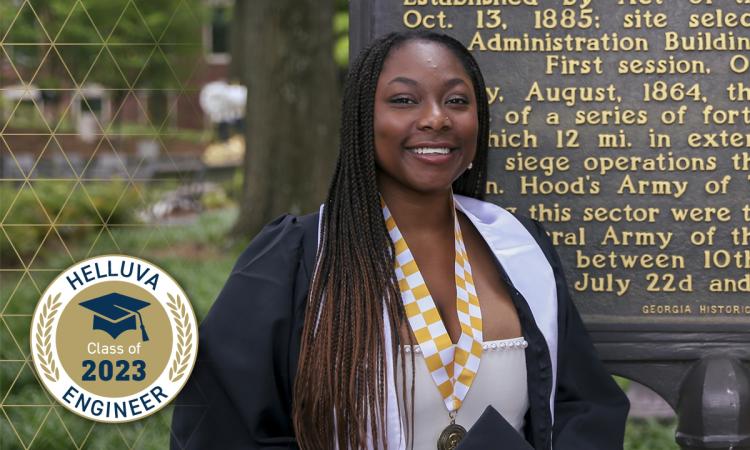 Fatima Sheriff heads to Microsoft with technical know-how and business skills thanks to the people who guided her along the way.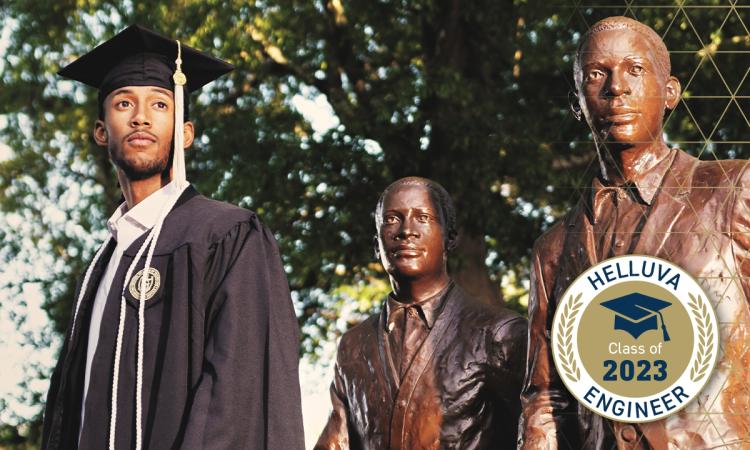 Tyree Edwards sees power in using his music and his civil engineering skills to make an impact on people's lives.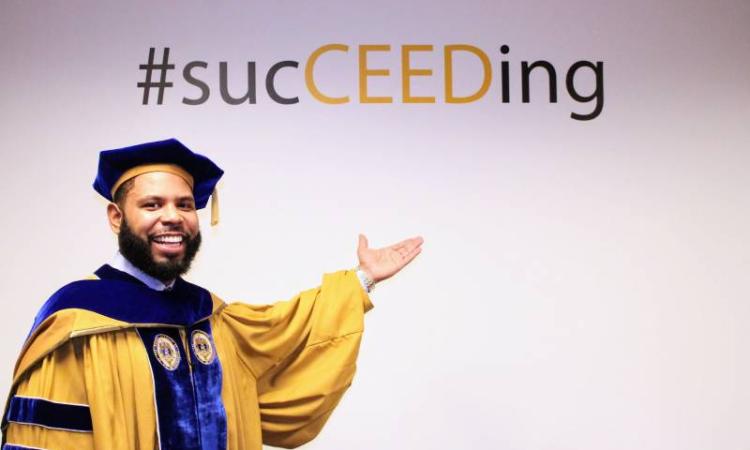 CEED collaborates with Georgia Tech offices and student organizations, alumni, national organizations, corporations, the K-12 community, and other universities to create and support a diversified engineering workforce.