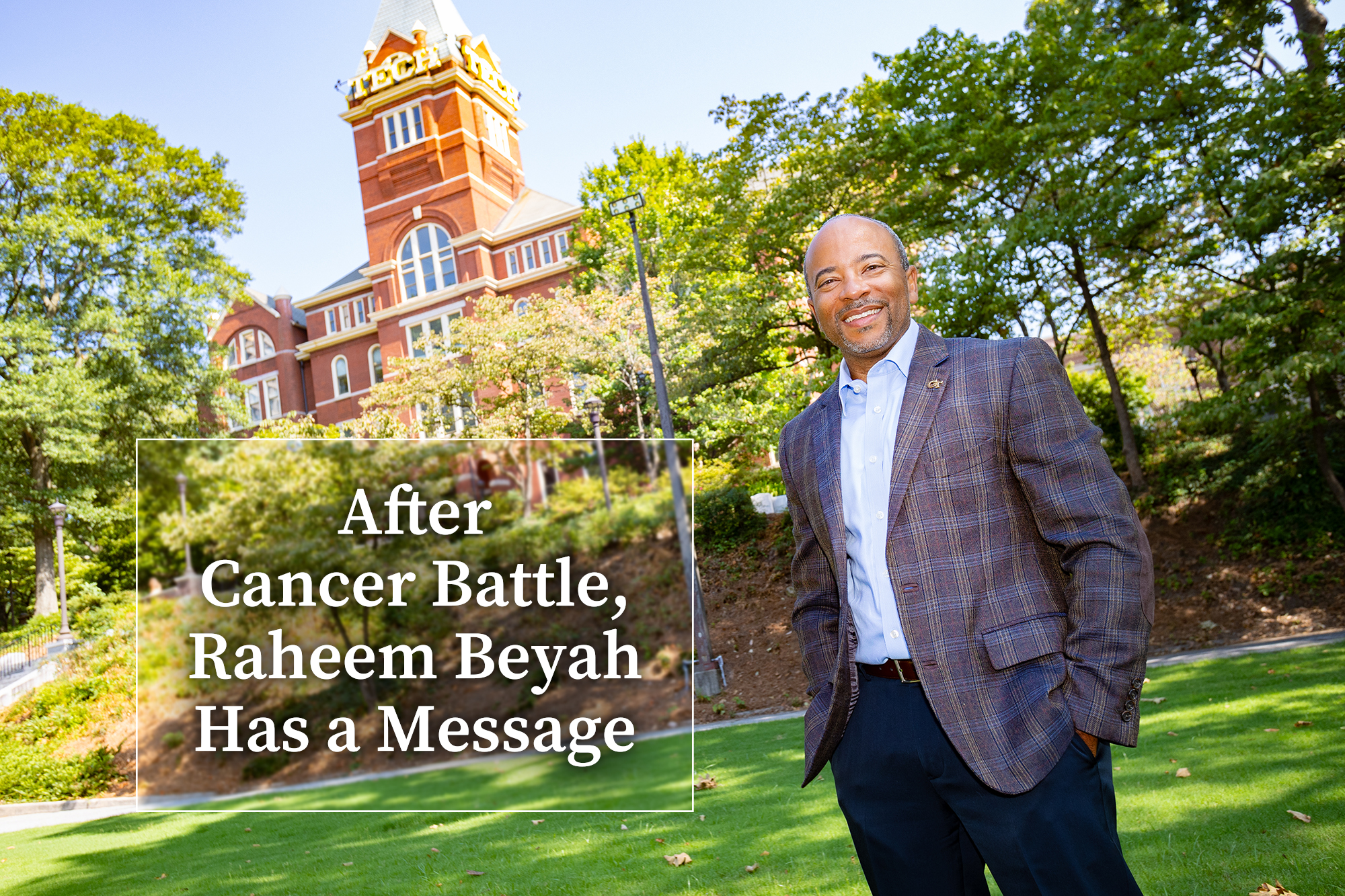 Blank Space (small)
(text and background only visible when logged in)
Black men are twice as likely to die from prostate cancer. Georgia Tech's engineering dean beat it a year ago and wants more men paying attention.
Blank Space (small)
(text and background only visible when logged in)
Raheem Beyah flew in and out of Hartsfield-Jackson Atlanta International Airport 52 times during a 10-month stretch in 2022. He's become an airport regular through the years.
He's learned the easiest places to park. The familiar faces of TSA. How to pack and move through security. The fastest way to walk from terminal to terminal.
He knows Hartsfield's walkways like his home's hallways, and every visit is as effortless and mindless as his commute to Georgia Tech. 
Except for a return trip last August.
Instead of walking off the plane and along those familiar corridors, he was in a wheelchair. And in pain. 
"It was humbling," said Beyah, dean of Georgia Tech's College of Engineering and Southern Company Chair. "I'm normally walking through the airport like I run the place. That day I saw elevators and hallways I didn't know existed. It definitely changed my perspective."
It was one minor change of perspective among many larger ones for Beyah in the last two years, when he discovered his own — and his family's — resilience and courage, while also gaining a new outlook on life.

On that August afternoon, Beyah was returning from Houston's MD Anderson Cancer Center. He'd had his prostate removed to excise cancer growing there, and he wasn't yet sure if the surgery was a success.
A year later, Beyah is cancer free. And he wants to tell a story very few know in hopes of helping others who find themselves where he was. It's a story of discovery, recovery, and lessons learned.

"You can beat prostate cancer," he said, "but only if men drop their macho attitudes."

A Hunter and Killer
The prostate gland is about the size of a walnut and sits between the bladder and the rectum. Its primary role is producing the fluid that nourishes and transports sperm.
Prostate cancer is the second most common cancer in men, trailing only lung cancer. It affects 1 in 8 men. The number is 1 in 6 for Black men, who are twice as likely to die from the disease.
"Prostate cancer seems like something that hunts and kills Black men," Beyah said.
Yet, with early detection, it's an eminently treatable cancer. According to the Prostate Cancer Foundation, the five-year survival rate in the U.S. for those diagnosed with early-stage prostate cancer is greater than 99%.
"It's difficult getting men to address what can be an embarrassing topic and to talk with their doctors about one of the screening tools for prostate cancer: the digital rectal examination," said Reggie Tucker-Seeley, vice president of health equity at ZERO Prostate Cancer.
The national nonprofit organization is focused on ending prostate cancer and supporting those who are affected. Tucker-Seeley says his group is noticing that, on average, Black men are being diagnosed much earlier than white men.
Prostate cancer is the second most common cancer in men, trailing only lung cancer. It affects 1 in 8 men. The number is 1 in 6 for Black men, who are twice as likely to die from the disease.
"Clinical guidelines suggest that most men should begin to talk to their doctors about their prostate and family history at age 50," Tucker-Seeley said. "However, high-risk men, including Black men and men with a first-degree relative who has been diagnosed with prostate cancer, need to start those conversations earlier: in their late 30s or early 40s."

Beyah is 46 years old. He and his doctors have kept an eye on his prostate specific antigen (PSA) level for years. The blood test has become a staple of annual physicals for men in their 40s.
He has weathered a few close calls along the way. Sometimes his PSA was higher than his doctor preferred, but it always returned to normal during a follow-up.
It was a different story in September 2021.
A PSA level under 4.0 is considered healthy. Beyah was on the wrong side of the threshold during his 2021 physical. The results were sent to his urologist, who recommend an MRI.

"He told me MRIs aren't an exact science. A score of 1 means you probably don't have cancer. A 5 means you definitely do," Beyah said. "Of course, I scored a 3."
That middle-of-the-road MRI evaluation was enough to prompt more testing. That December, Beyah got a biopsy and a Gleason score, which rates the likely presence of cancer on a scale from 2 to 10. The lower the number, the less likely you have the disease. Like an MRI, it's also subjective.
Doctors gave Beyah a 6 just before his 45th birthday. He was diagnosed with prostate cancer.
"I was numb knowing I had this thing inside of me that could kill me," Beyah said. "However, if you're going to get prostate cancer, this is the one to get. A 6 isn't aggressive. Cell growth is slow and there's not much to do except keep an eye on it."

A Second Opinion and Spoiled Anniversary
Almost immediately, the cancer diagnosis deepened Beyah's gratitude for his family and life. He shared the news only with his wife, Kali, and a couple of close friends. In May 2022, the Beyahs and two of the friends made plans to travel to Scottsdale, Arizona, to celebrate each couple's wedding anniversary. The city is among Raheem and Kali's favorites. It's also one of the homes of Mayo Clinic.

With the support of his urologist, Beyah sent his biopsy results to Mayo for a second opinion. As the plane prepared to land, he logged into his account to make sure everything was set for the appointment a few hours later. An update was already posted: Mayo had elevated his Gleason score from a 6 to a 7.
Image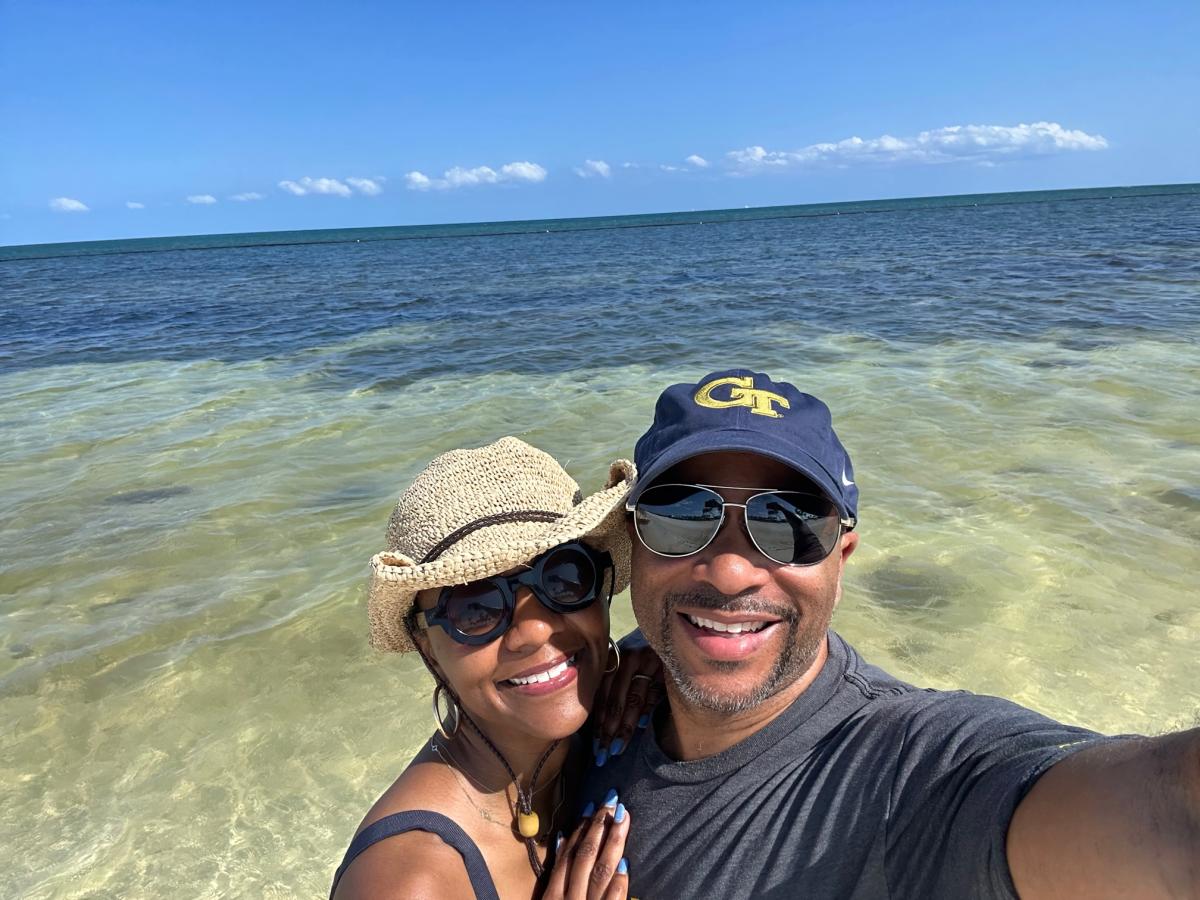 Raheem and his wife, Kali, in Mexico in 2023. 
Waiting was no longer an option. Within a week, Beyah's urologist had him in touch with one of MD Anderson's top surgeons, who agreed that Beyah's score was a 7.

Surgery was set for Aug. 4.

"I felt shaken. Jolted," Kali Beyah said. "At the same time, I also felt grateful — grateful for more, critical information, and grateful that we had access to second and third game-changing opinions. They set us on a path to beating cancer."

Race as a Factor
The American Cancer Society estimates 288,300 men will be diagnosed with prostate cancer this year. Black men are 1.7 times more likely than white men to be in that group and 2.1 times more likely to die.

The reasons for the large differences between the races aren't clearly understood. However, experts agree it's likely not exclusively biological.

"It's definitely multifaceted, and rooted in systemic inequities, socio-economic factors, and historical mistrust," said Ed Botchwey, a professor in the Wallace H. Coulter Department of Biomedical Engineering at Georgia Tech and Emory who has been involved in initiatives to address healthcare disparities.
Botchwey said the Syphilis Study at Tuskegee and other cases of mistreatment of Black people by medical researchers have led to mistrust of the medical profession. And the disparities aren't limited to prostate cancer: Botchwey noted that Black women are three to four times more likely to die from pregnancy-related causes than white women. Studies also show Black patients are often under-treated for pain.

"Black individuals often encounter barriers to healthcare access and may face bias within the healthcare system," Botchwey said. "This can lead to hesitancy in seeking care. Moreover, social determinants of health, such as living conditions and access to nutritious food, can contribute to higher risk levels for certain diseases, including cancer."
Image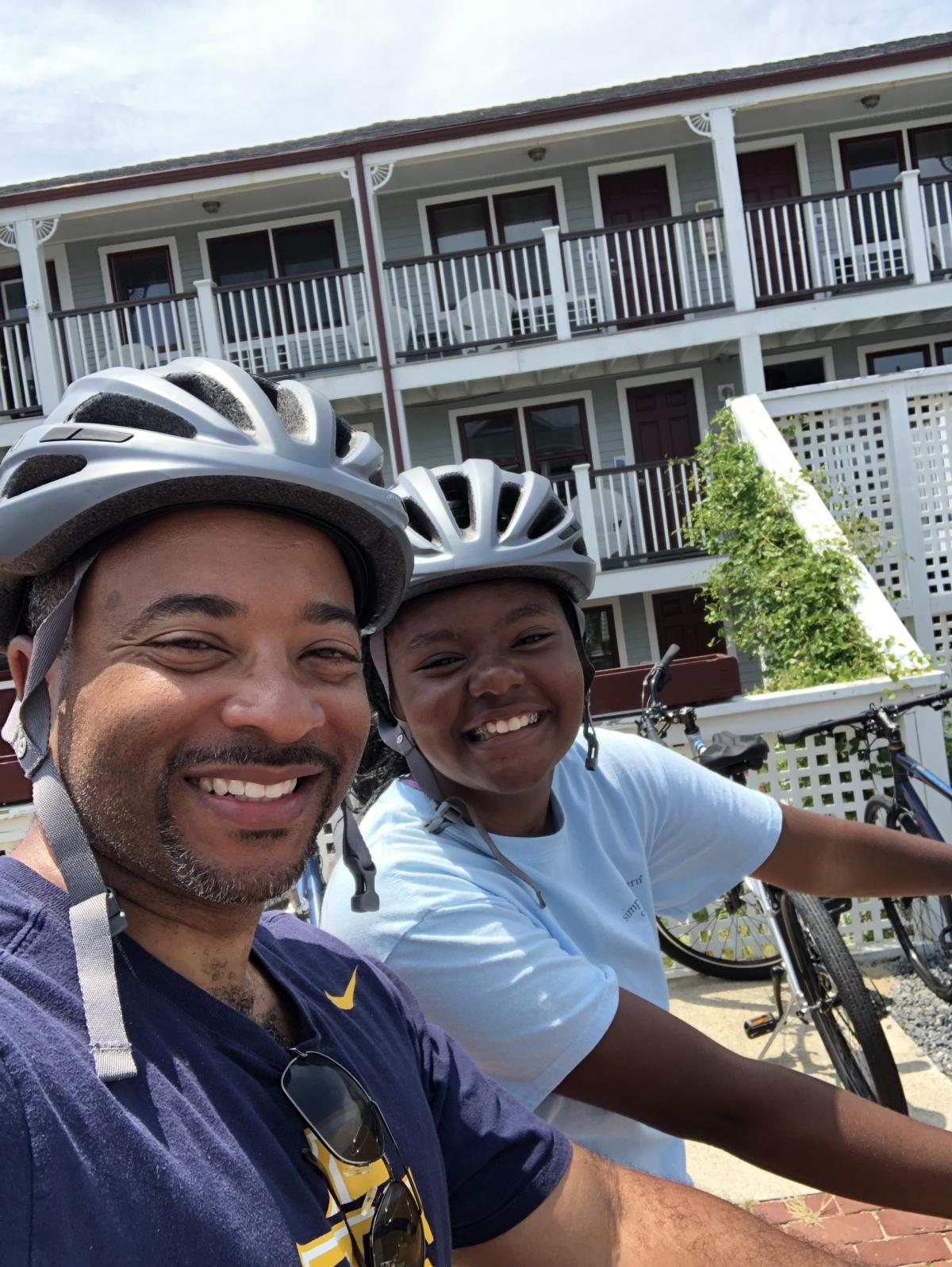 Beyah and his daughter, Brie, in 2023.
Image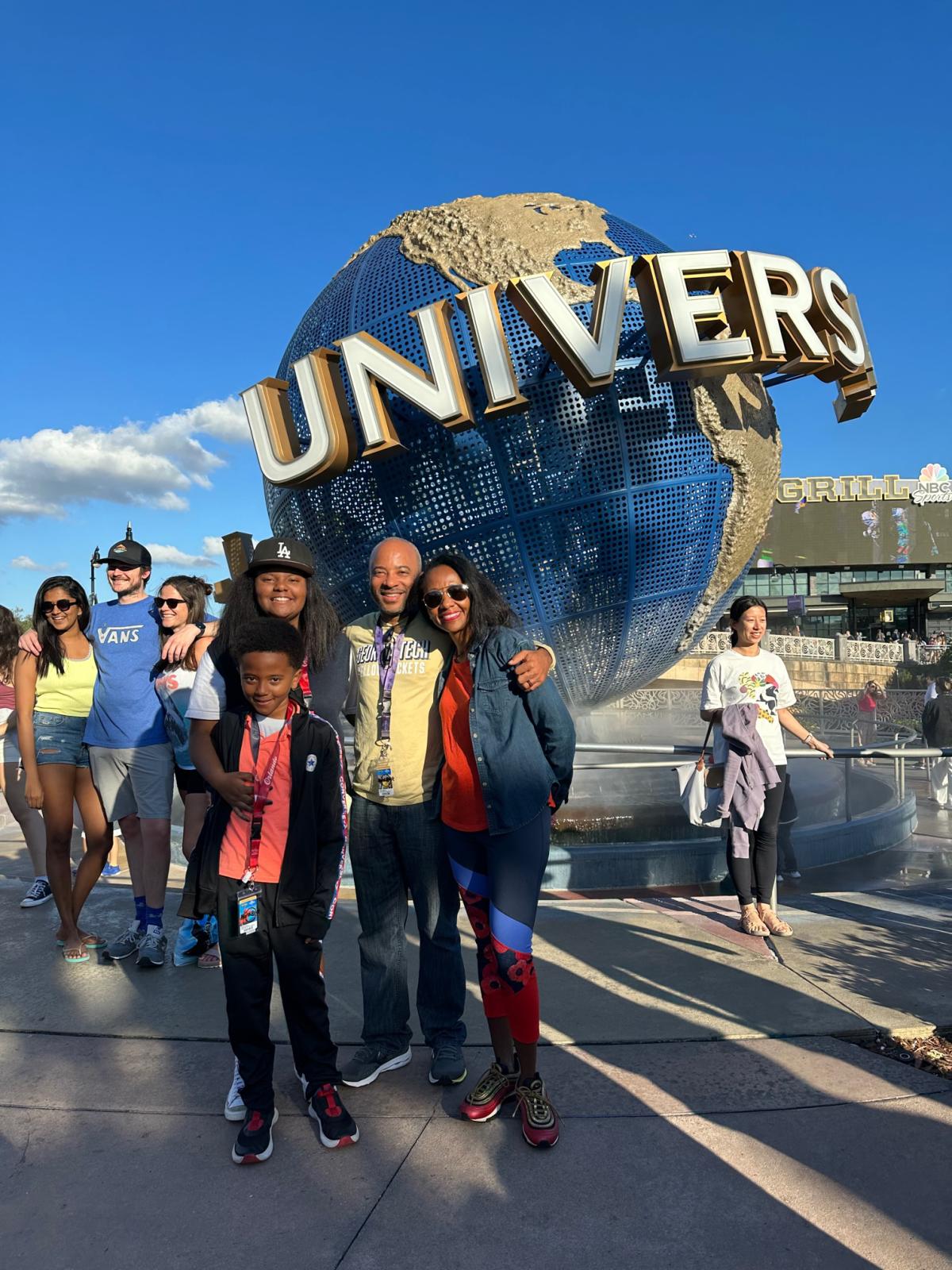 The Beyah family in Orlando in 2023.
Image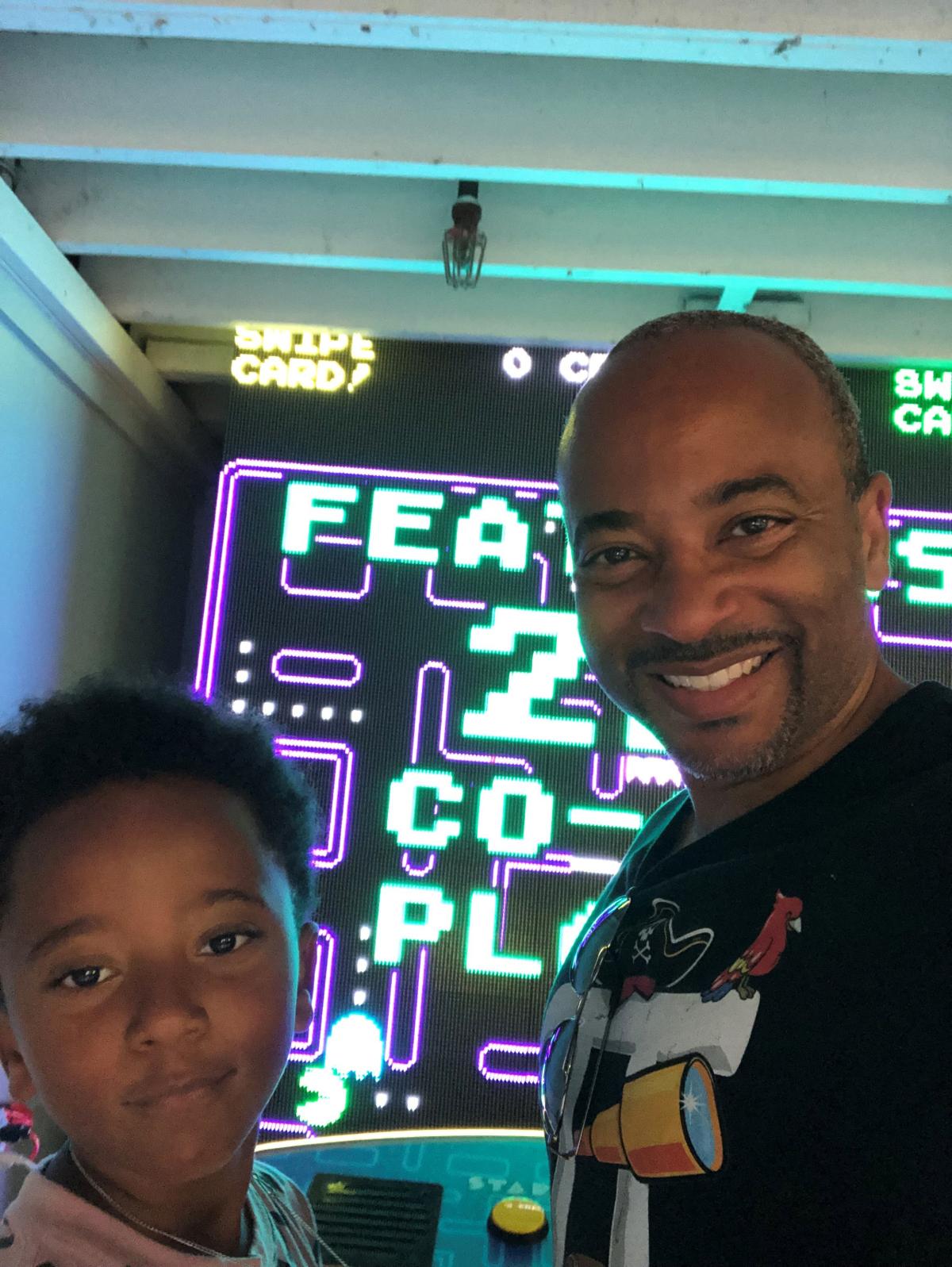 Beyah and his son, Devin. 

Surgery, Recovery, and Support
When Beyah broke the news of his diagnosis to his 15-year-old daughter, Brie, he pointed to his father-in-law as an example of survival. Kali's dad had his prostate removed in 2003. He's been cancer-free for 20 years.

That was the outcome Beyah hoped for as he prepared for surgery. He remembers leaving the house for Houston at 5:30 a.m. on Aug. 2, 2022.

"Brie woke up as I was kissing her and my son bye," he recalled. "She said, 'Promise me you'll do your best, Dad.'"

Two days later, with Kali at his side, Beyah was wheeled into surgery prep. Rather than surgeons cutting from navel to pubic bone, a da Vinci surgical robot would do the procedure by making six small incisions in Beyah's abdomen.

He was surprisingly relaxed, even joking with the medical team when signing a waiver that would allow doctors to take over if the robot stopped working during surgery: "I told them, 'I'm a computer engineer. If da Vinci breaks down, wake me up and I can look at the machine to tell you how to fix it.'"

Four hours later, doctors reported the procedure couldn't have gone better. Beyah's prostate was gone, and they found no need to take any lymph nodes. There was no sign of metastasis.
Image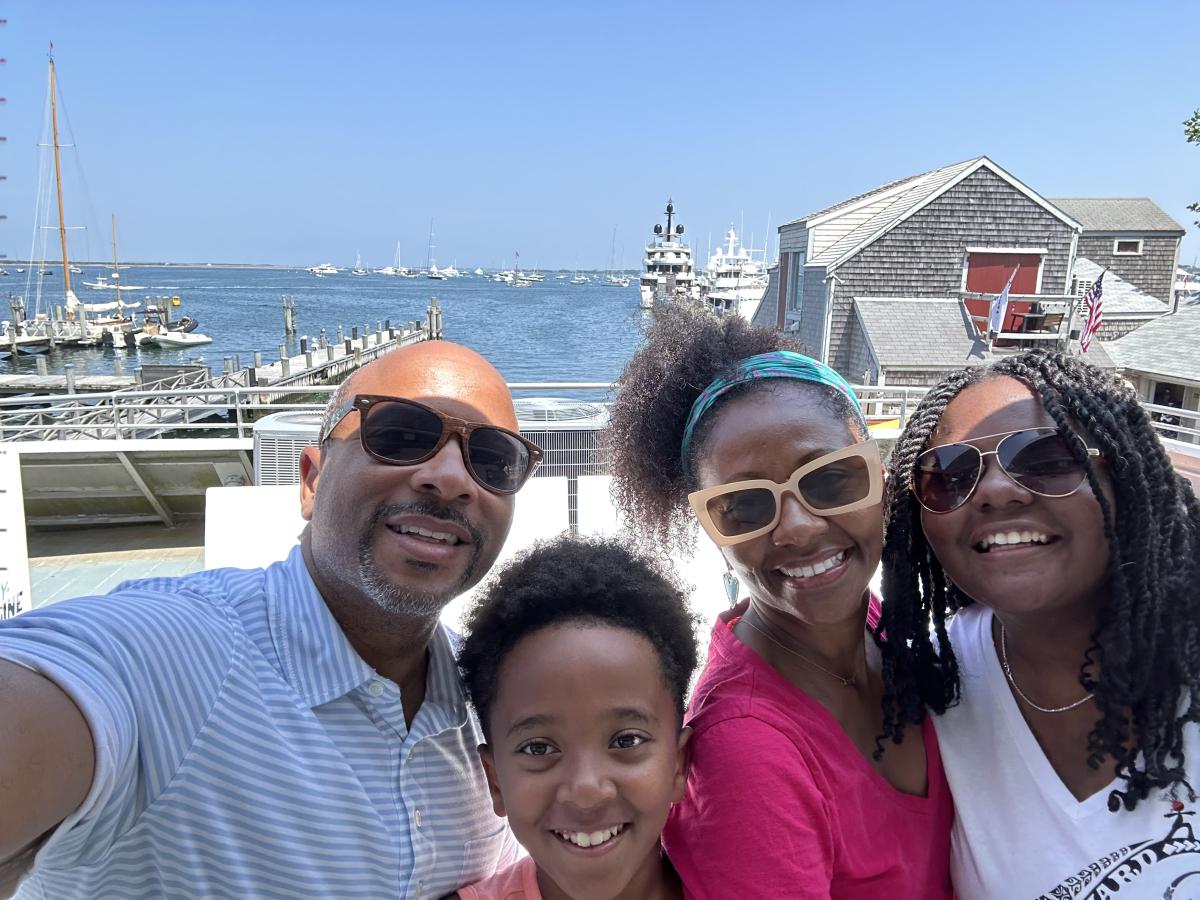 The Beyah family on Martha's Vineyard in 2023. 
Beyah remained in Houston for a week for follow-ups and recovery then flew home to Atlanta for that wheelchair roll through unfamiliar parts of the airport terminal.

He gradually regained the strength to walk outside the house. Then down the driveway. Then back. Kali was there for it all, which included lifting her husband out of bed and changing catheter bags.

A few weeks later, a biopsy concluded the cancer was gone. Three months after surgery, Beyah's PSA level was undetectable. Officially, he was cancer free as of Aug. 4, the day of the procedure.
"Kali and I were on the phone when we got the news. It was emotional," Beyah said. "I'm not sure how I would have made it through the process without her emotional and physical support."

A Message to Men
A year later, Beyah says the side effects from surgery are basically gone. A self-described "veggie-forward pescatarian," he's increased his intake of vegetables and avoids all meat except seafood. He's reduced alcohol consumption and regularly exercises.
Until now, he's shared his cancer experience with only a handful of people. The anniversary is pushing him to be more open in hopes of helping others.
"It's important to use the platform I have to encourage men to be comfortable with prostate exams," said Beyah, who is in his third year as dean. "No one wants to join this club, but at least 1 in 8 men will. That's scary. I'm hoping my message will prompt more men to get tested."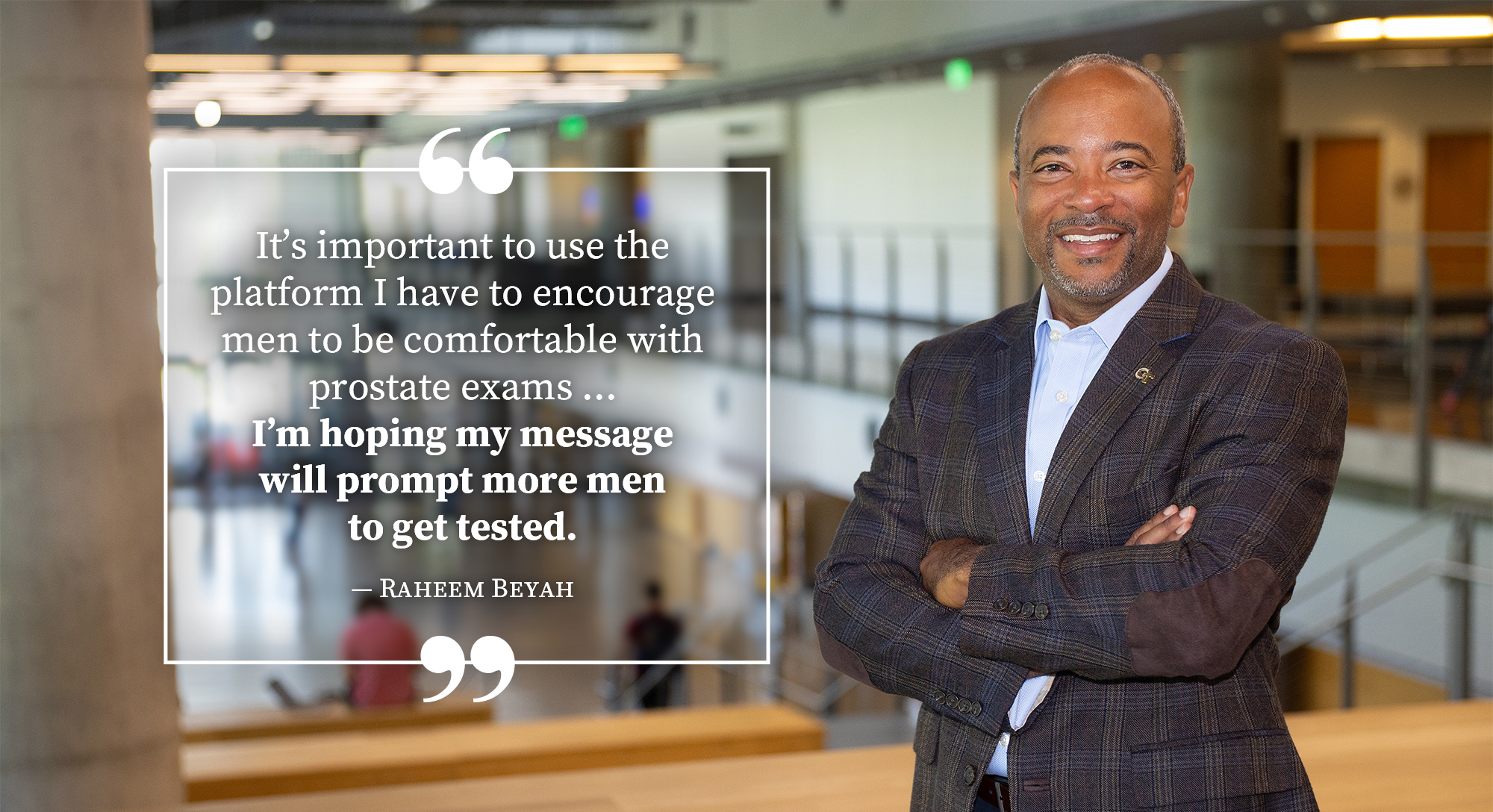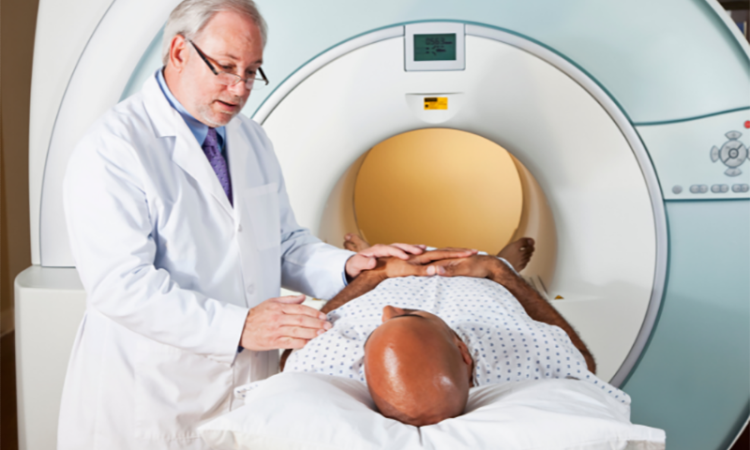 Black, Hispanic, and Asian men are less likely than their white counterparts to receive MRI exams as a follow-up test for prostate cancer screening, according to a recent Georgia Tech School of Economics study.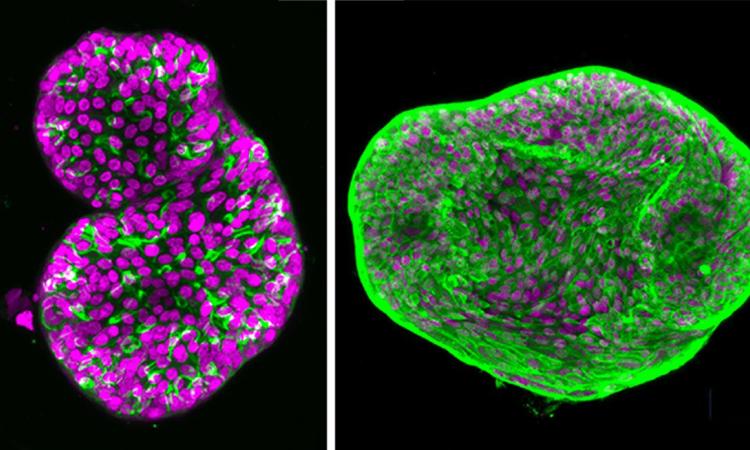 The patient-specific models allow for exploration of more effective, personalized treatment possibilities.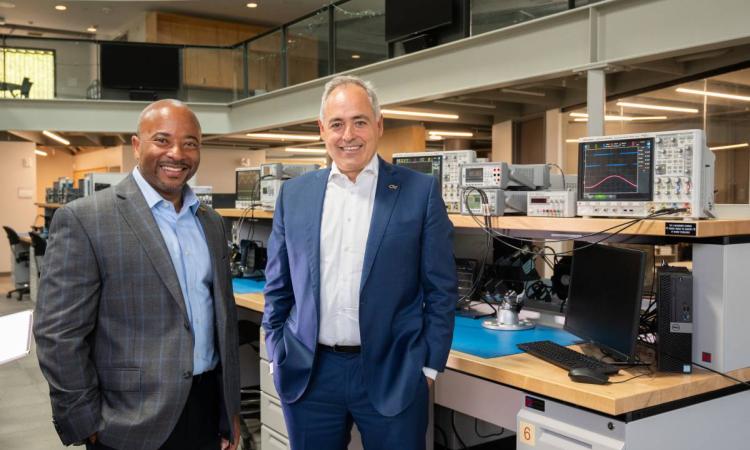 Dean Raheem Beyah talks about accessibility, video games, and the future with President Ángel Cabrera.
Blank Space (small)
(text and background only visible when logged in)