CEED cohosts special engagement day for high schoolers with the National Action Council for Minorities in Engineering
Shenica Bridges-Mathieu believes exposure is key for her engineering and technology students at Arabia Mountain High School in DeKalb County. That includes exposure to a variety of colleges, scholarships, co-op programs, and pathways into careers in science and engineering.
That's why she brought 23 of her students to the Atlanta Marriott in Buckhead Oct. 13 to an event co-hosted by the Georgia Tech College of Engineering and the Center for Engineering Education and Diversity (CEED). The conference provided a taste of all the ways high schoolers could pursue a college degree in engineering and science as well as the impact a career in engineering could have on their lives and communities.
It was one more way for her to accomplish what she called her mission as an engineering educator.
"We teach design process and science and math applications, but we also expose our students to a lot of careers, we help them with their resumes, cover letters, how to interview," said Bridges-Mathieu, who also serves on the boards for several technology and engineering for Georgia teachers and students. "We do just as much as we can so that they can make a good decision about going to school for engineering."
Image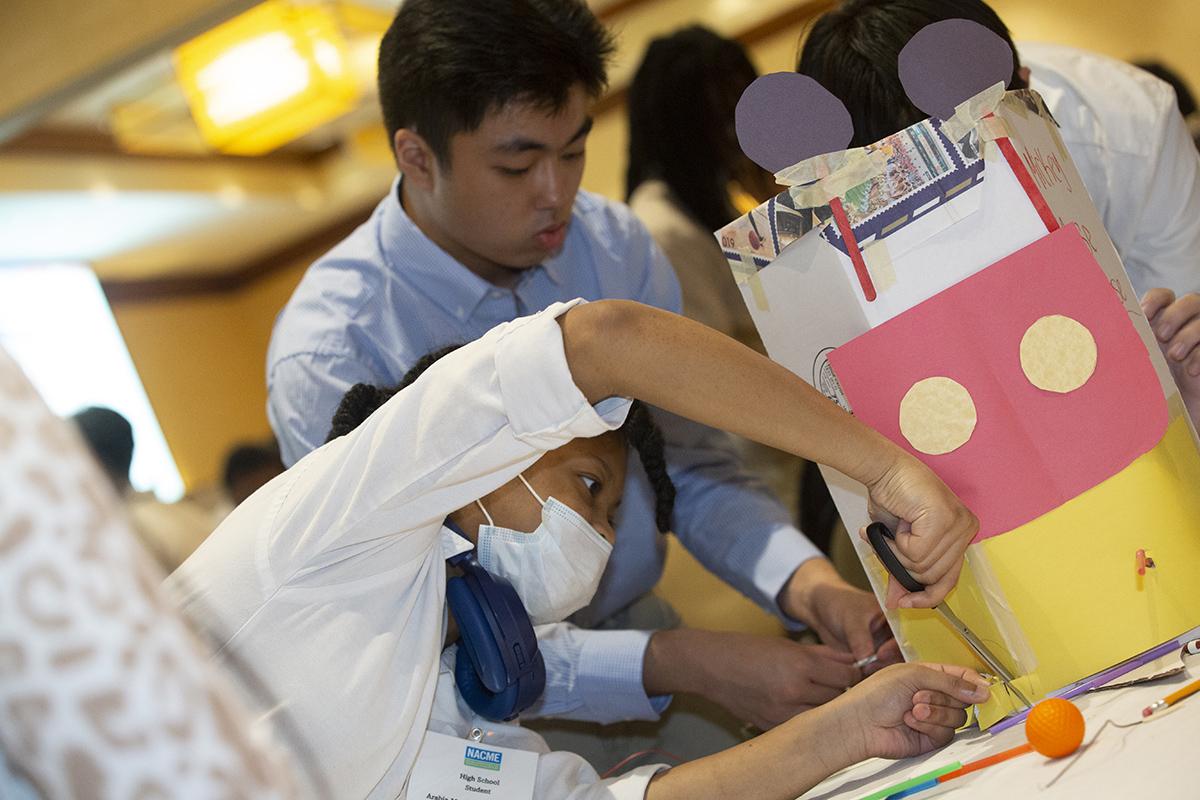 Image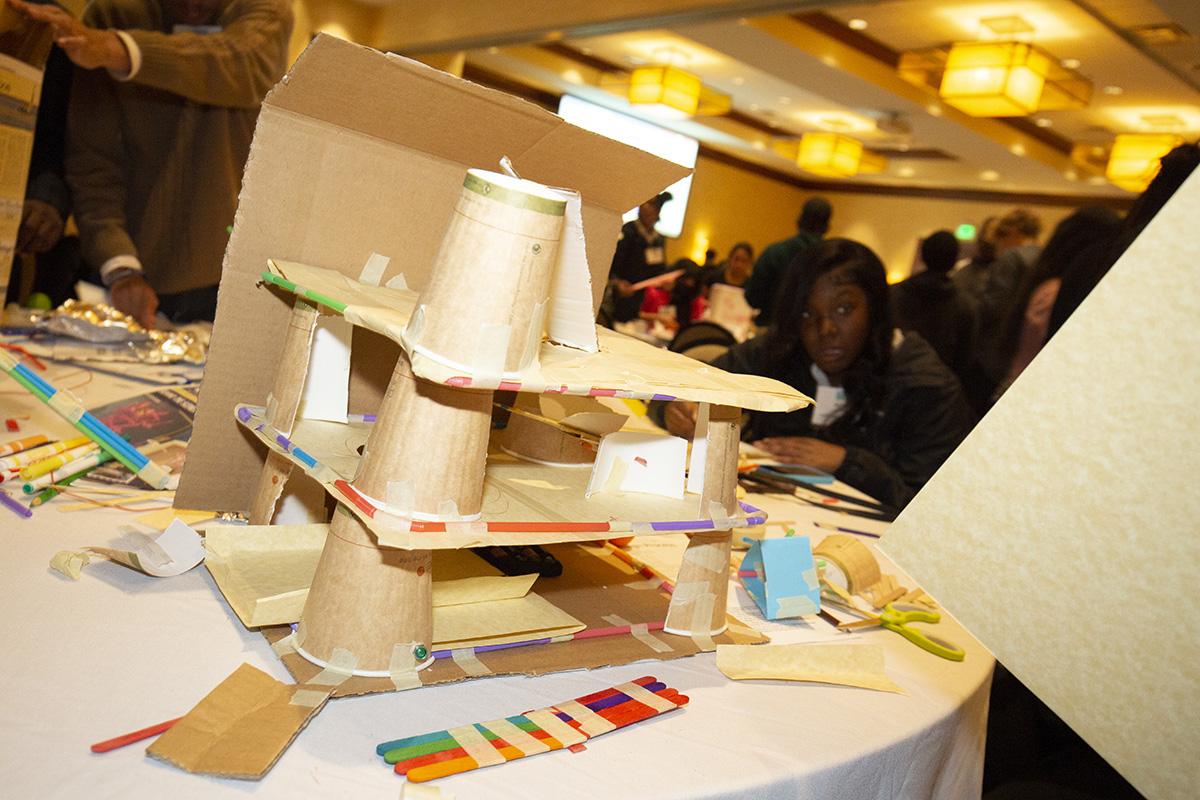 Image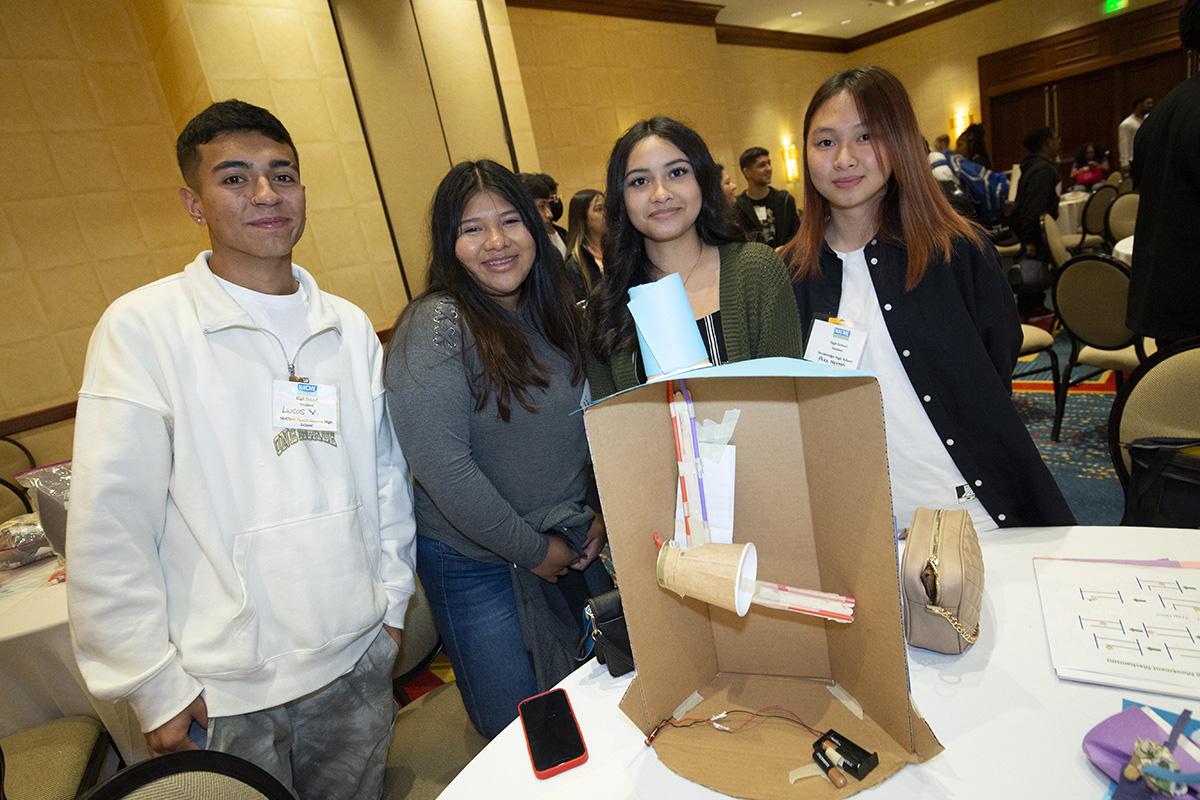 Bridges-Mathieu's students were among hundreds of Atlanta-area high schoolers who took advantage of the opportunity to network with college recruiters and learn about pathways to engineering degrees at the National Action Council for Minorities in Engineering (NACME) conference in Buckhead.
It was the first time the organization's national meeting included a targeted engagement event for high schools alongside technical workshops and events for undergraduate students at partner universities.
"Georgia Tech has a history of broadening participation in engineering and computing as well as expanding access via a variety of pathway partnerships, so cohosting the conference and welcoming local high school students was a natural fit," said Valentina De La Fé, assistant director for undergraduate initiatives in CEED.
Georgia Tech is one of 36 universities that partner with NACME in its mission to diversify the engineering workforce "to look like America," as NACME puts it. Partner colleges offer scholarships to underrepresented minority students pursuing engineering bachelor's degrees. They also create programs to support minority students across their campuses.
The same support extended to prospective students at the conference, which featured presentations and conversations designed to help students begin to chart their path to and through college.
"NACME partners with universities across the country to ensure talent that is traditionally underserved has meaningful access to a path to become an engineer or computer scientist. We were honored to partner with Georgia Tech's Center for Engineering Education and Diversity to provide their stellar programmatic contact to students in the greater Atlanta metro," said Michele Lezama, NACME president and CEO. "Dr. Benton-Johnson and her team provided a best-in-class program that allowed students to exercise intellectual curiosity while opening up their minds to the potential of pursuing a career in STEM."
Diana Ayala is a senior at McClure Health Science High School in Gwinnett County who is planning to apply to Georgia Tech to pursue a biomedical engineering degree. Diana learned at the conference that, even if she isn't admitted as a first-year student, she still could realize that dream through one of several transfer pathways, including one for first-generation college students.
"I always focused on getting in [to Georgia Tech] as soon as I applied," Diana said. "Now that I know [about transfer options], it's a relief, because now I know I still have another way to get in."
That was exactly the point, said De La Fé: "We want these students to leave interested in pursuing a degree in STEM and, most importantly, knowing that there are several pathways for them to pursue STEM degrees."
Diana and the other students spent a chunk of the day working on a timed engineering design challenge that required them to work in teams to build a three-level cardboard funhouse. They had to design the house to allow a golf ball to travel from the top to the bottom. Students were assigned randomly, so most had never met any of their teammates before.
"It was a really nice experience working with different people from other schools, learning more about why they're here and where they want to go," Diana said.
Bridges-Mathieu, the engineering teacher from Arabia Mountain High, said the challenge was a perfect example of the technology problem-solving she works on with her students.
"They have to work with a group of people that they don't know. They have to learn how to work as a team in order to solve a task or problem. And that's what engineering is about," she said. "We're always using the resources that we have in order to create sustainable solutions."
Image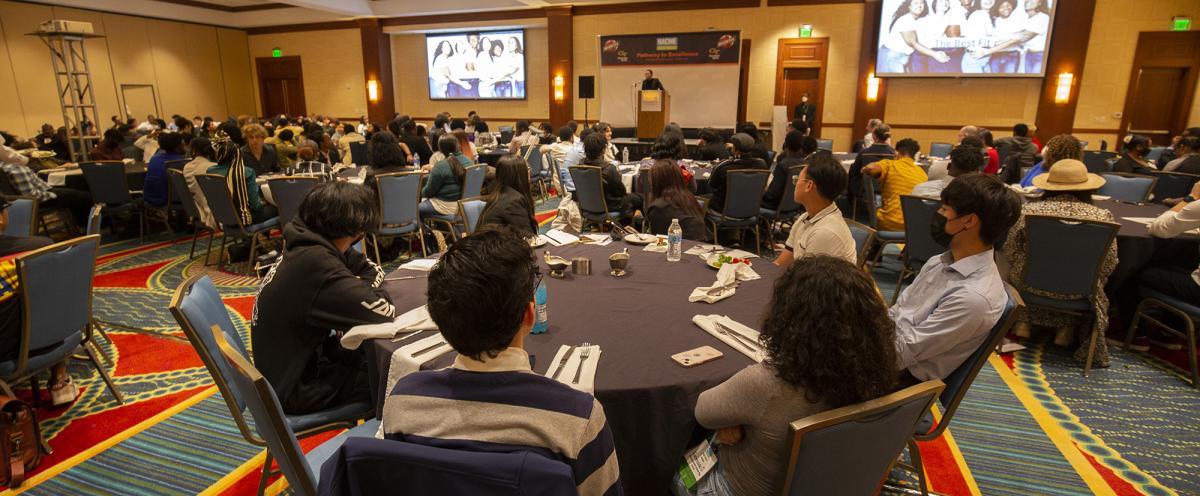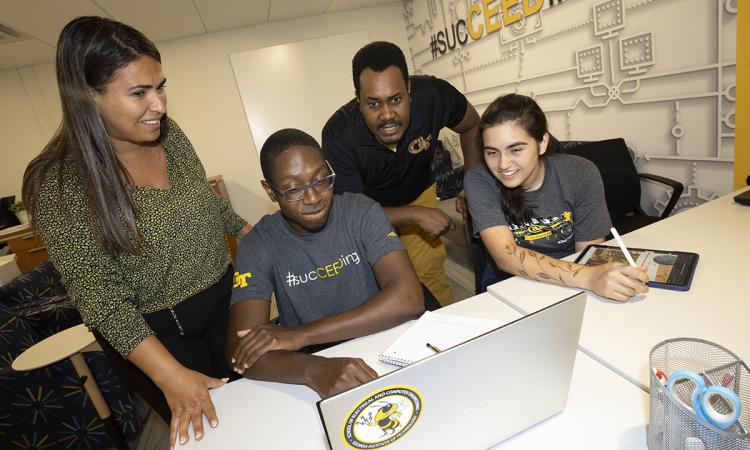 CEED collaborates with Georgia Tech offices and student organizations, alumni, national organizations, corporations, the K-12 community, and other universities to create and support a diversified engineering workforce. CEED's eight programs reach 40 percent of Yellow Jackets every year, while also working with 3,000 K-12 students annually as part of its commitment to increasing engineering awareness.