Given the continuing civil unrest and the national conversation about race and white privilege, ISyE recently reached out to engineering student Jore Oni to get his thoughts on these topics.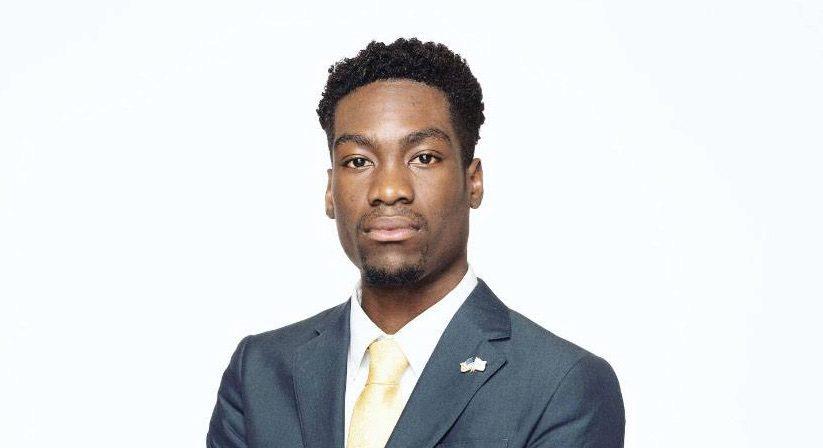 Jore Oni, who will be an undergraduate senior in the H. Milton Stewart School of Industrial and Systems Engineering (ISyE) when the fall semester begins in a few weeks, has been a standout student at the Institute. He has served in the Student Government Association for several years in various capacities, has been on the executive board for both Theta Xi fraternity and ISyE Student Ambassadors, and has completed a co-op with Coca-Cola. He has been recognized for his achievements and leadership by being selected as a Mr. Georgia Tech finalist and as a Forbes 30 Under 30 Scholar. Oni's academic accomplishments have included Dean's List, Faculty Honors, and a Provost Scholarship.
Given the continuing civil unrest and the national conversation about race and white privilege, ISyE recently reached out to him to ask if he would like to comment on these events. Oni is currently finishing an internship with Amazon Web Services as a demand generation intern, and he provided his response to our questions by email. The interview has been lightly edited for clarity and length.
What have your thoughts and feelings been over the past few weeks as the U.S. has witnessed the deaths of young Black men like you at the hands of police? What would you like the ISyE and larger Georgia Tech community to know?
To say these past few weeks have been hard would be an understatement. Simply put, it hurts. It hurts a lot. It pains me to see people who look like me be discriminated against and treated so unfairly just because of the color of our skin. I acknowledge that in some cases individuals may have committed an offense, resisted arrest, etc., but the root cause of these initial altercations and hostility is always because of our skin color. And that mentality at its very core is racism.
These few weeks seem all too familiar to years past – Trayvon Martin (2012), Eric Garner (2014), Alton Sterling (2016), and on and on. I still remember one night when my twin brother came home in tears. He was stopped by a policeman that night and shared how the fear for his life in that very moment became real. Similarly, my biggest fear is that one day my kids will have to endure these same hardships.
This is not to say all cops are bad, but the few are enough. They're enough to validate the Black community's fear, to motivate us to advocate for conversation, dialogue, and reform for real change to happen. And collectively we want the ISyE and whole Georgia Tech community to hear and resonate with our concerns – to really dig deep to try and understand the pain Black people have for so long endured. In that way, we can stand together, as one, and truly be the change for our next generation.
More specifically, as a young Black man in a STEM field, is there anything you want to share about your experiences in this arena?
As a young Black man in engineering, I feel as if I am always trying to prove myself. Throughout my four years, I have constantly had my achievements belittled and brought down because I am Black. "You got into Tech because you are Black." "You got your co-op and internship at great IE companies because you are Black." "You were selected a Georgia Tech ambassador because you are Black." "You were named a Mr. Georgia Tech finalist because you are Black."
Over and over again, I feel that no matter how hard I work both academically and professionally, my accomplishments will always be diminished. I understand my skin color may bring some advantages through diversity metrics as I pursue my career, but the truth is it brings more obstacles, as I have to first navigate through stereotypes and implicit racial biases. We – the members of the Black community – want to succeed and make a name for ourselves, just like our white peers and classmates. But it hurts when we work twice as hard to be then only given half the value of its merit. We use this to fuel our motivation, but we long for the day where our accomplishments can be validated by our work ethic, rather than the color of our skin.
Why is diversity and representation important in STEM?
Diversity, representation, and inclusion in STEM are of the utmost importance. The National Science Foundation reports that 84% of working professionals currently in science and engineering jobs in the U.S. are white or Asian males. STEM jobs are growing faster than any other industry and are expected to increase by 17% in the next five years. But less than a quarter of this pool consists of minorities. The Pew Research Center reports that the median salary men in STEM fields earn is $84,000; women, in contrast, earn a median salary of $60,828 – a difference of over $23,000. The median salary for Black people working in STEM is $58,000, compared with the median white salary of $71,897 – a difference of nearly $14,000. As we progress as a nation, we need to do more to close such disparities.
As I grew up, I struggled to find role models in STEM who looked like me. Often, Black people are told that to be successful, we must pursue an athletic career as our only option. It is so important to promote diversity and representation so that future generations can pursue whatever their dreams may be. It is paramount that we give them the belief that they too can be problem-solvers, world-changers, and leaders.
You have been recognized for your leadership in various roles at the Institute. Have recent events changed or shaped your plans to continue leading, and if so, how?
I am thankful to have been seen as a leader on campus, even as a Black student. I have always tried to use my platform and sphere of influence to inspire my peers and underclassmen. But upon reflection regarding these recent events, I need to be doing more for my community, right here in Atlanta. Despite Georgia Tech's location in one of the most diverse cities in the world, Black students comprise less than 7% of the student body. That's a staggering statistic.
I want to push for more equal representation by reaching out to Black high school students and encouraging them that they too can be just as successful as their white peers. My first year at Tech, I mentored a student named Alpha at a predominantly Black high school. This experience showed me firsthand the obstacles he faced and the struggle it takes to escape one's socioeconomic class. We need to be doing more to meet such students halfway, to provide not only more equal opportunities, but more equitable ones. My sister said it best: "Equality is giving everyone the same opportunity, while equity considers the background, needs, and circumstances of each individual. It effectively provides the necessary resources in order for them to be successful and achieve an equal outcome."
Due to the systematic racism that began with our ancestors, Black people have always been at a disadvantage. Unfortunately, the effects of it are still present today in our criminal justice system, income inequality, and even education. As an Institute that prides itself on progress and service, we need to be doing more to level the playing field for all.
Mentorship has always been a passion of mine. This past year I have been able to serve middle school students at my church, where I help lead discipleship and small group discussions on a spiritual level. This experience has shown me the true impact of giving back to those younger than me. I want to continue to serve not only them, but now because of these events, more people like Alpha: Students who need others to know that there are people who look just like them, speaking up and fighting for their chance to pursue their dreams and chance at a brighter future.
Image