Williams has been appointed the College of Engineering's first associate dean for inclusive excellence and chief diversity officer.
Wednesday, 31 August 2022
Image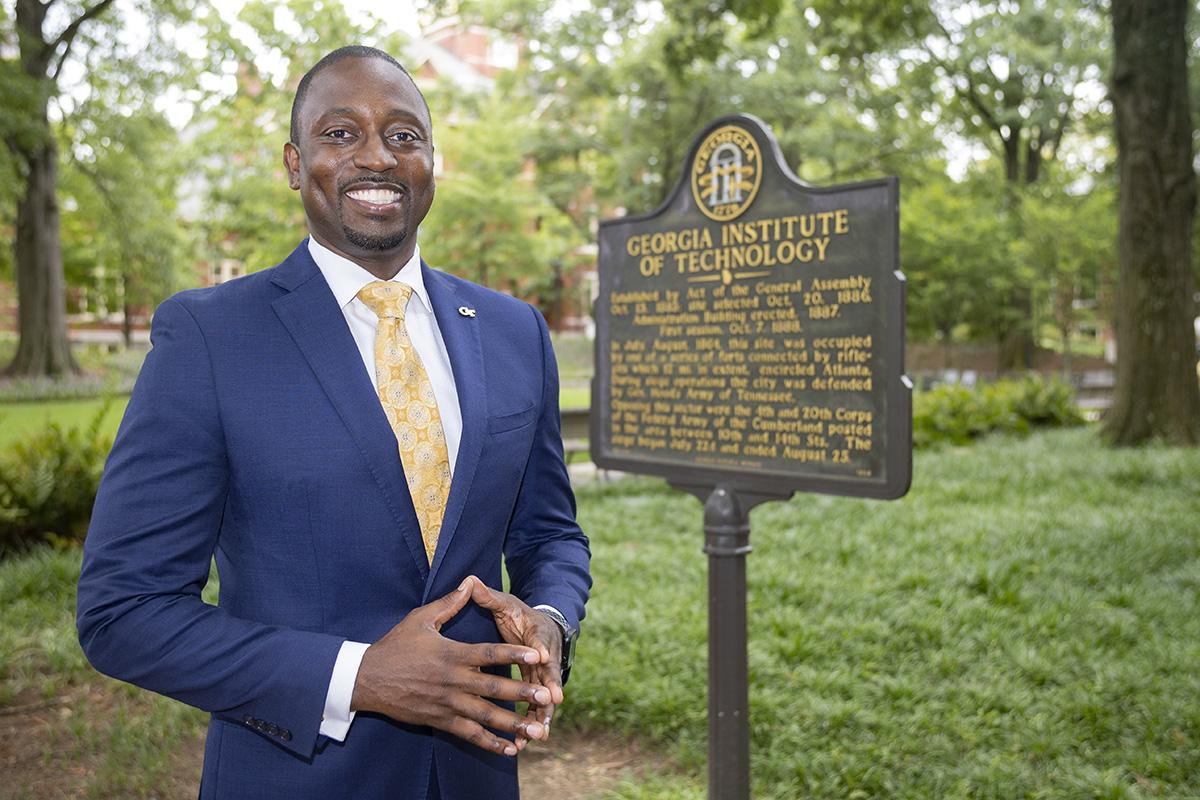 Damon P. Williams is an engineer, a teacher, a man of faith, and a church leader. But really, he says, he's in the people business.
That's true as a senior lecturer and director of the Center for Academics, Success, and Equity (CASE) in the H. Milton Stewart School of Industrial and Systems Engineering (ISyE). It's also true as senior pastor of Providence Missionary Baptist Church in southwest Atlanta.
"They end up being two sides of the same coin. Both jobs require a lot of teaching, sharing, and relationship building," Williams said. "It's my job to get to know people, to identify where their point of need is, and to see how I can support help them. I do that in both places."
Starting Sept. 1, Williams will expand the scope of where and how he helps students, faculty, and staff at Georgia Tech as the College of Engineering's first associate dean for inclusive excellence and chief diversity officer. The position was created this year to advance diversity and inclusion initiatives and support an inclusive climate of belonging across the College community.
"Diversity, equity, inclusion, and belonging (DEIB) are pillars of our College. They define what we are and will shape what we become," said Raheem Beyah, dean of the College of Engineering and Southern Company Chair. "Damon has exemplified these traits and inspired others to follow them throughout his career. As the College's first chief diversity officer and a member of our leadership team, Damon will lead and energize our students, faculty, and staff to ensure an inclusive climate and lead the DEIB discussion on a national stage."
Williams earned his bachelor's degree in industrial engineering at Georgia Tech in 2002 before pursuing a master's and Ph.D. in industrial and operations engineering at the University of Michigan. He returned to the Stewart School as a part-time lecturer in 2010 and worked at the Center for Teaching and Learning as a postdoctoral fellow. Since 2015, he has been an ISyE lecturer, advisor, and now founding director of CASE.
Along the way, he went to seminary and became senior pastor of Providence Missionary Baptist Church. It's a full plate, but Williams said that's just how he likes it.
"I'm an engineer, so I see opportunities to improve everywhere. I see things to work on everywhere. I see need in people everywhere," Williams said. "It's hard for me to see need, know that I can help, and do nothing about it."
Blank Space (small)
(text and background only visible when logged in)
Making Connections
The desire to help is why Williams started a program to improve the teaching skills of Ph.D. students in the Stewart School, built a mentoring program for alumni to work directly with ISyE students, and created a tutoring center to help undergraduates in upper-level courses. When he heard frustrations from staff members about a lack of career growth, he launched a program to help the School's staff think through their trajectories at Georgia Tech and find opportunities for advancement. Within a few years, Williams found he was leading 18 different programs. That's when he proposed uniting them into a single center — CASE.
"He works so hard to educate staff on best practices and supports us in our career planning," said Development Associate Donald Phan. "Damon has helped me find my place and grow my career here at Georgia Tech, and for that I am forever grateful."
Phan has served on the Stewart School's Diversity, Equity and Inclusion Committee with Williams and credited him for inspiring Phan to take over as committee chair for the coming year.
Master's student Maggie May worked with Williams throughout her undergraduate studies, first when she was struggling with an early ISyE course, then as part of a small team of four students that Williams guided through a semester of learning and studying together and called Team 4.0.
"Damon has this magical gift to be able to connect with others and make them feel like they belong exactly where they are," said May, who emulated his approach when she was a teaching assistant, a peer tutor, and now as a graduate student. "It has stuck with me, because I am able to look back on my college years and remember the wonderful community that I was blessed to be a part of. I look at where I am now and am able to pinpoint Damon's investment in me and Team 4.0 as the catalyst for my success."
Blank Space (small)
(text and background only visible when logged in)
Image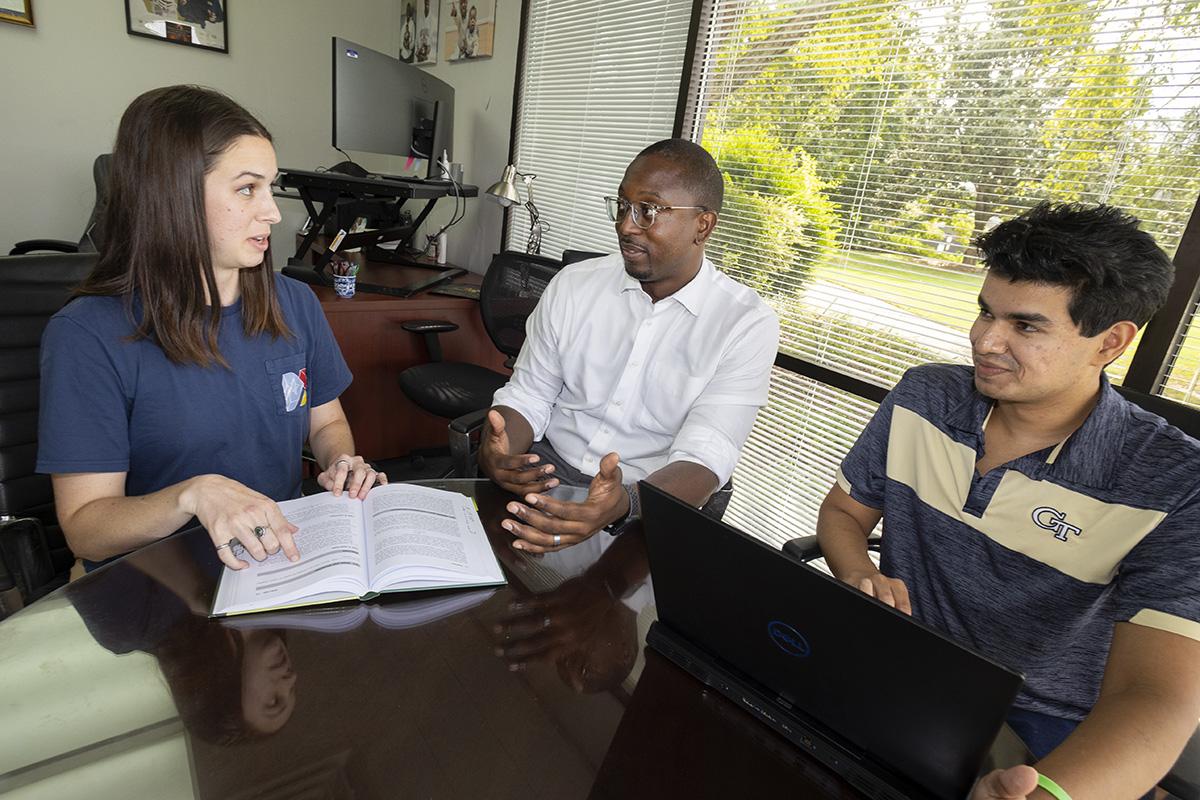 Lisa DeWitt, left, a mechanical engineering Ph.D. student, and ISyE Ph.D. student Dipayan Banerjee with Damon P. Williams, center, in his office. Williams works with students, staff, and faculty in ISyE on academic, professional development, and inclusion programs as part of the Center for Academics, Success, and Equity that he founded. (Photo: Candler Hobbs)
Image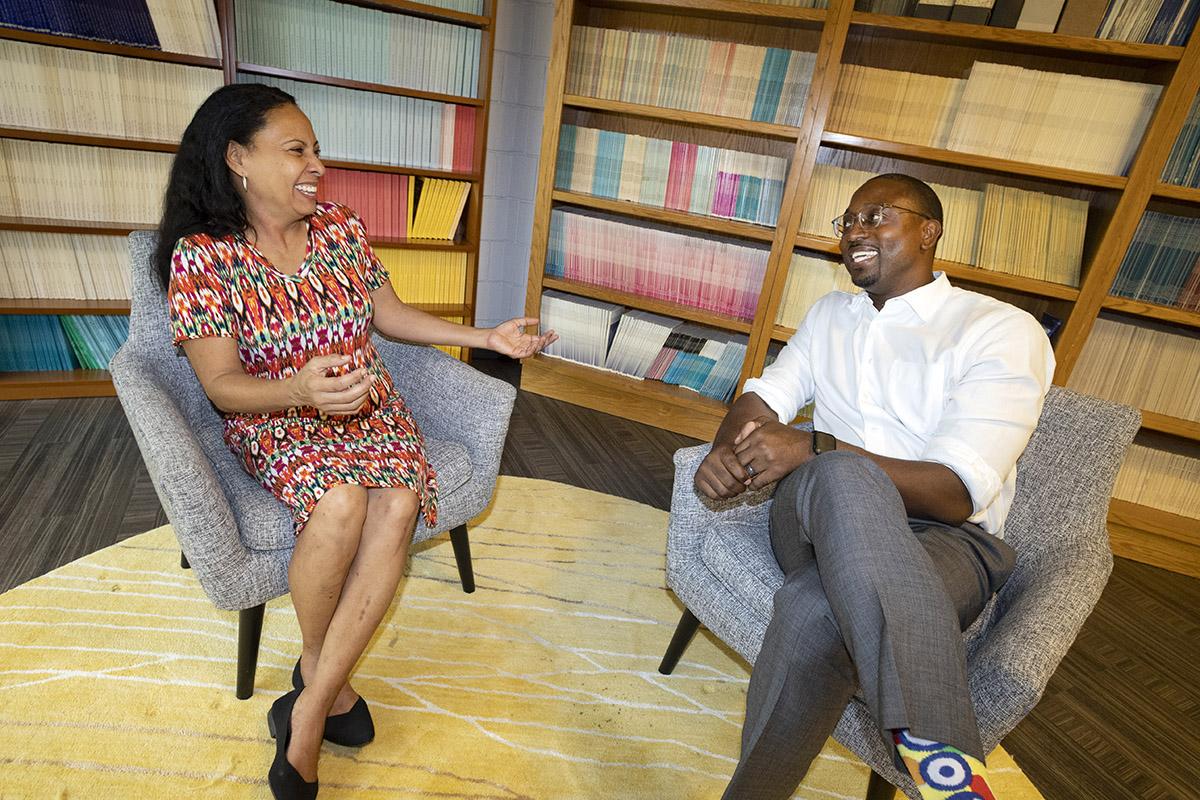 Yuklin Harding, left, is one of the Stewart School staff members who participates in Damon P. Williams' Staff Opportunities in Academic Roles program, or SOAR. (Photo: Candler Hobbs)
Plenty of programs and opportunities exist across Georgia Tech, Williams said, but students and employees often just don't know about them. His job is making those connections — solving what he called "an information asymmetry problem."
Williams said he'll be doing that same kind of connecting in his new role as associate dean, along with leading the College's DEIB efforts.
"Tech is doing a lot; we're just doing it in a very decentralized fashion," he said. "It's creating these connections, creating synergies of things that we are already doing at Tech — I think, very quickly, we're going to see that we're all doing a lot of great work, and we could identify what other people are doing for their staff and for their students, and implement it universally to benefit our entire community."
Blank Space (small)
(text and background only visible when logged in)
Image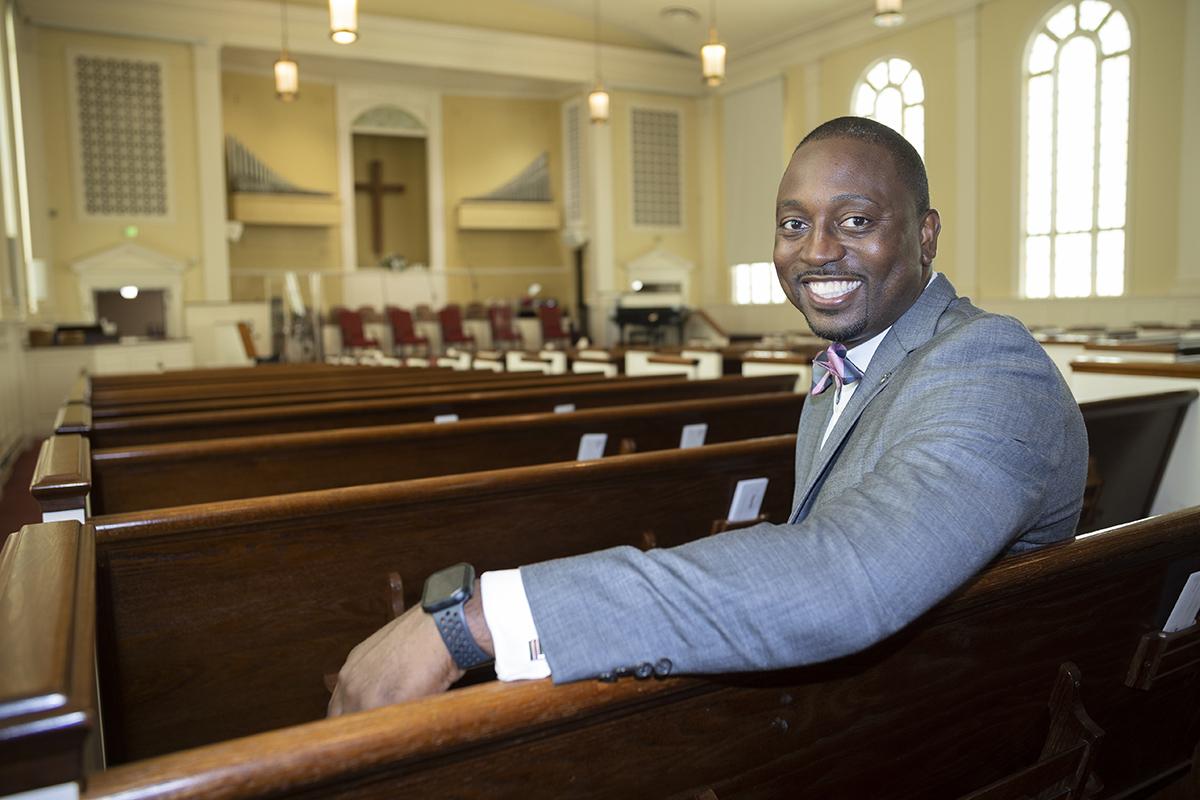 A Call to Ministry
Williams' plan always was to teach at Georgia Tech, and his undergrad mentors told him he'd benefit from experience in another academic environment. That's how he ended up at Michigan. And it was there, during his Ph.D. studies, that things began to shift — thanks, in part, to a roommate who also was working on his engineering doctorate and actively involved in a church. The roommate decided to become a minister, and Williams went to his church to hear his very first sermon.
"I felt something in my heart. I really was moved," Williams said. "I started going to church, and before you know it, I joined the church."
He soon was dreaming, literally, about leading a congregation and preaching from the pulpit. Which he thought was crazy. Meantime, other church members were telling him he was destined to lead a church. His pastor encouraged him to start thinking about ministry and to finish his engineering studies — and then steered him toward seminary. After four degrees and nine years of college, that wasn't exactly what Williams wanted to hear.
"This position as associate dean gives me an opportunity to make a greater impact across the entire College of Engineering."
Damon Williams, associate dean for inclusive excellence
"I was like, 'not interested,'" he said. "But I'm a good minister, and I did what my pastor told me to do. My only requirement — and prayer to God — was that I wanted to go back to Atlanta, because ultimately, I wanted to work at Georgia Tech."
That's how he ended up at Columbia Theological Seminary in Decatur, where he earned a master's in divinity in 2012. A year in, Williams found himself craving math and science to complement the reading and writing at seminary: "I need engineering" he recalled thinking. "This is not how my brain is wired." And, once again, things lined up perfectly: The chair of ISyE at the time had been one of Williams' professors at Michigan. He made a call, hoping the School might need extra instructors. By the fall, Williams was teaching his first courses.
A decade later, as he steps into a new role as associate dean, Williams said he remains grounded by faith and his family. He's also guided by the example of his parents, who pushed him to pursue his strengths in math and science and planted seeds throughout his childhood about serving and helping other people.
"I've been in every position at Georgia Tech: I've been a student, I've been staff, faculty, alumni. I've had an amazing experience," Williams said. "But since I've been in every position, I know people who haven't had an amazing experience. Part of it had to do with inclusivity and belonging — there was not an environment being created where they could excel and thrive. This position as associate dean gives me an opportunity to make a greater impact across the entire College of Engineering."