Students build automatic feeding machine to help Zoo Atlanta gorillas with natural feeding behaviors
Blank Space (small)
(text and background only visible when logged in)
Image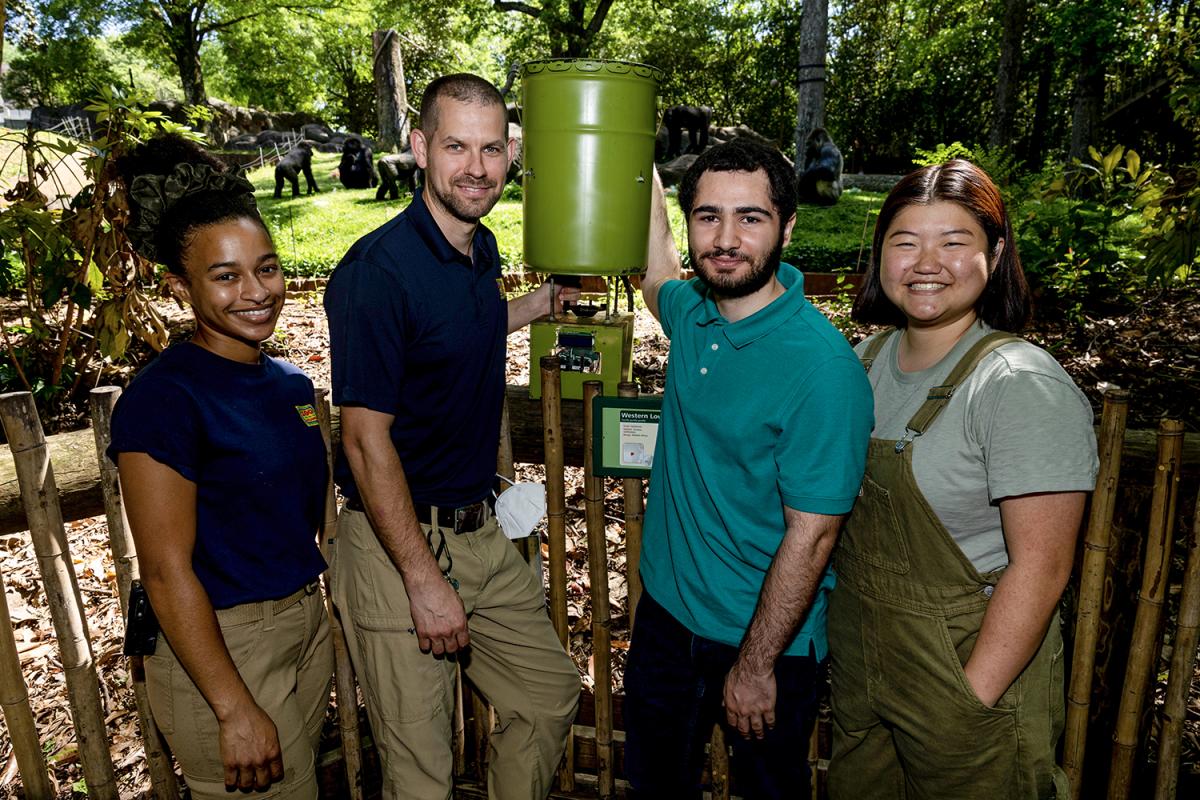 Left to right: Zoo Atlanta gorilla keepers Celyn Forde and Josh Meyerchick with Georgia Tech's Nima Jadali and Maggie Zhang. (Photo credit: Adam Thompson, Zoo ATL)
Blank Space (small)
(text and background only visible when logged in)
A team of Georgia Tech researchers has built an automatic feeding machine for gorillas at Zoo Atlanta that allows the primates to more naturally forage for food. Their ForageFeeder replaces the zoo's previous feeding protocols, which had staff deliver food to the habitat at set times and locations.
With the new machine, feeding times can be set for different intervals every day. This encourages the gorillas' natural feeding behavior, giving them additional random foraging opportunities throughout the day.
"Feeding behavior in wild primates is an important part of their daily lives. Gorillas typically eat and continuously move during daylight hours," said Josh Meyerchick, senior keeper of primates at Zoo Atlanta and one of the paper's co-authors. "We needed an additional tool to help increase their natural feeding behavior, which can provide a source of development and more natural social interactions than human-based feeding."
The ForageFeeder was built by two Georgia Tech students — an engineer and a computer scientist — in collaboration with zoo staff. The undergraduates constructed it with affordability in mind: The $400 machine is open source and easy to manufacture and modify, which allows zoos around the nation to replicate the device.
The invention and a how-to-build-it guide is published in the journal HardwareX.
Image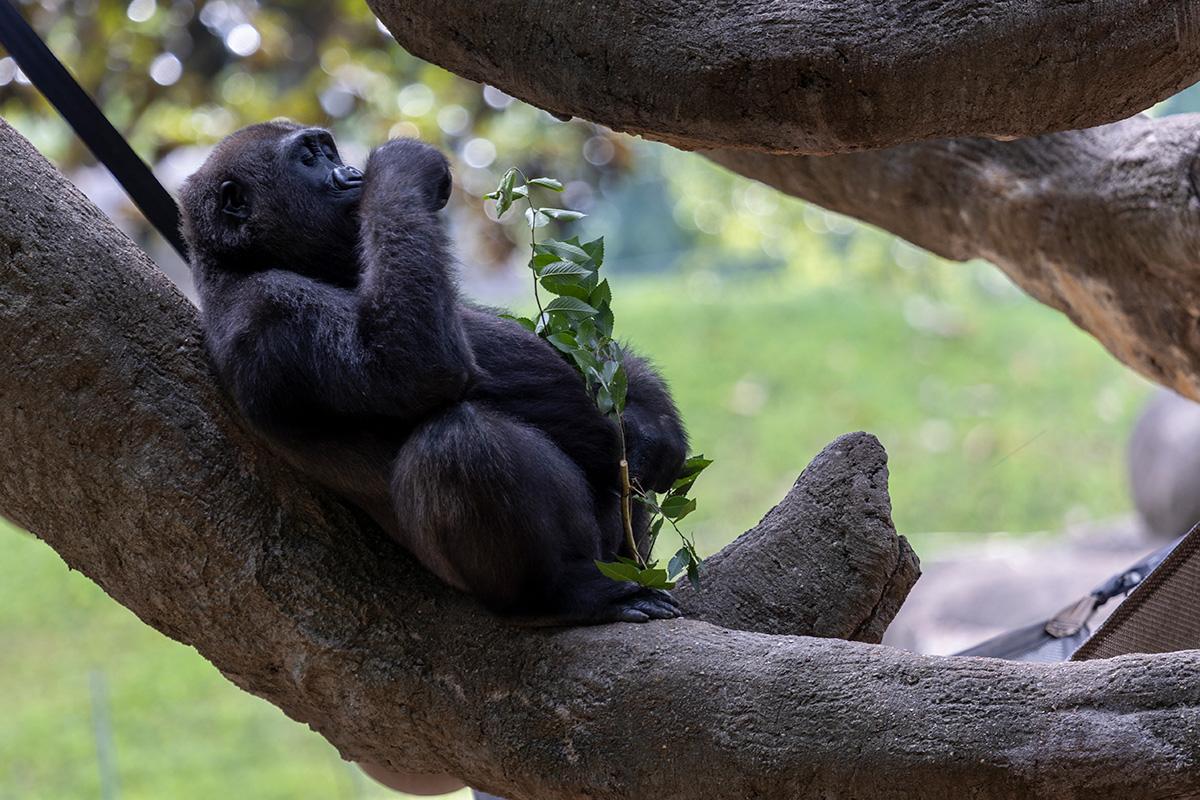 Photo credit: Adam Thompson, Zoo ATL
A New Idea Without a Good Solution
Andrew Schulz was a familiar face at Zoo Atlanta before earning his Georgia Tech mechanical engineering Ph.D. in 2022. He would sit with the elephants most days, studying how the animals stretch their trunks and use them to inhale food and liquids.
In January 2020, Meyerchick made the short walk from the gorilla habitat to see Schulz.
Image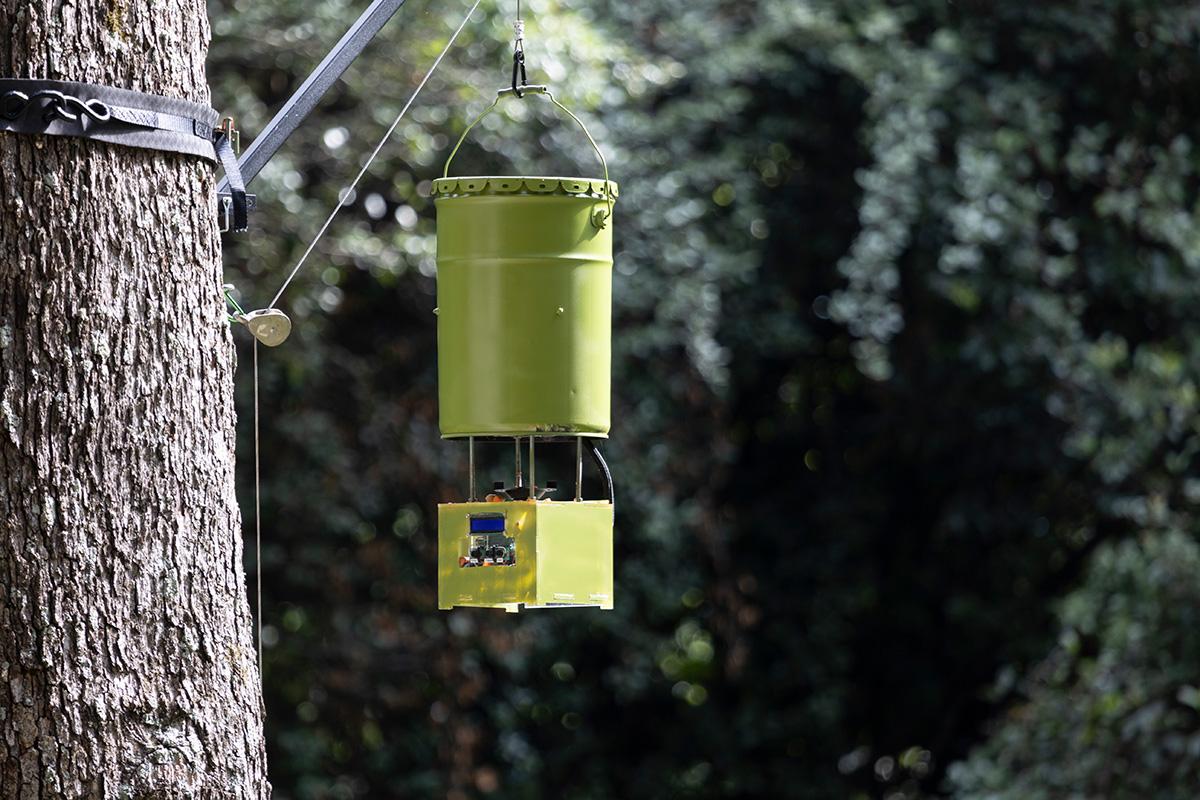 The automatic feeder is available to nine gorillas (Photo credit: Adam Thompson, Zoo ATL). 
"They wanted me to look at a new project that wasn't working correctly," remembered Schulz, now a researcher at Germany's Max Planck Institute for Intelligent Systems. "They had built their own automatic feeder for the gorillas using a deer feeder powered by a motorbike battery. A good idea, but it wasn't ideal."
Deer eat smaller food than gorillas, who typically consume turnips, sweet potatoes, carrots, and other items. When the deer feeder couldn't handle the chunky shapes, the zoo asked Schulz for help.
He took the idea back to campus and brainstormed with his Vertically Integrated Project (VIP) team of fellow mechanical engineering students. The VIP program, which includes more than 1,500 students every semester, allows students and faculty advisors to partner on long-term projects that bridge the gap between research labs and classroom curricula.
The team tinkered with concepts but then had to pause because of the pandemic. By the summer of 2021, everyone on the team had graduated, so Schulz turned to Maggie Zhang and Nima Jadali. The duo would make the project a reality.
Experience Beyond the Classroom
For the next year, Zhang and Jadali went back and forth with the zoo, testing various methods and parts.
Zhang, the engineer, kept the deer feeder bucket, added some acrylic materials, and printed the remaining parts with 3D and laser printers on campus. It was a trying process.
Blank Space (small)
(text and background only visible when logged in)
The Zoo Atlanta gorillas were surprised when the automatic feeder turned on for the first time this past fall (Video courtesy: Zoo Atlanta). 
Blank Space (small)
(text and background only visible when logged in)
"I thought I had the skills to pull it off as a third-year student. But then everything kept breaking," said Zhang, who graduated this month from the George W. Woodruff School of Mechanical Engineering. "I had already taken ME 2110, which taught me how to implement designs. Struggling on a project outside the classroom gave me new insight into engineering: when you fail, you have to find a passion to fix it that extends beyond getting a bad grade."
Jadali, the computer scientist, built the electronics, software, and a remote trigger to activate the feeder. He purposely used simple circuits, batteries, and wires to make the machine easy to replicate.
"This project was deceptively difficult," said Jadali, who also graduated this month. "Often times with my research, I'm the only person who sees and tests much of the code I write. Then it goes into a blackhole after the project ends. This was different; it had to work long after I created it. That's something I've never faced in a research setting."
Fall Feedings
The ForageFeeder has been in place at the zoo intermittently since August. At first, the gorillas didn't know what to make of it. During the first feeding, the primates ran away and looked confused when the food suddenly sprayed around their habitat.
Now it's a regular, but random, part of the day. The primates don't know when it will activate or what kinds of foods it may deliver.
The feeder is suspended in a tree about 15 feet off the ground. When it's time to eat, food falls out of the bucket into a tray, where a rotor spreads the treats in a circular pattern, much like a fertilizer dispenser. The food can be distributed as far as 30 feet from the feeder.
The device hasn't been up long enough for researchers to deeply dive into behavioral data and determine how much the gorillas are moving, nor how much more of the habitat they're exploring.
"But I'm confident we're going to see statistical data that confirms what we're already seeing: more foraging behavior," Meyerchick said.
If they like what they see in the data, the gorilla care team plans to add as many as three more feeders to the current habitat, which houses nine gorillas.
As the team continues to explore modifications to make the process and equipment more durable, other Zoo Atlanta keepers have asked Zhang if a modified version could be used in habitats for other animals. Since installing the gorilla feeder, she and her Capstone Design Expo team created a device to feed the Zoo's tree-dwelling Angolan colobus monkeys.
This is a great example of how technology can positively influence animal welfare. Zoo Atlanta is a local, nonprofit institution, and it was great to see Georgia Tech students learning by doing. Technology has been improving human lives for years, and now it's the gorillas' turn.
DAVID HU, Faculty Advisor of Project
"Engineers must always respect the projects we work on, even if they're for animals," Zhang said. "I find the zoo projects very interesting because your intended audience can't provide any feedback. If the device stops working, the animal doesn't tell you. If they rip it apart, you can't tell them to stop. It's good to anticipate the problems of a design and figure out its solutions before it's sent into the real world."
Blank Space (small)
(text and background only visible when logged in)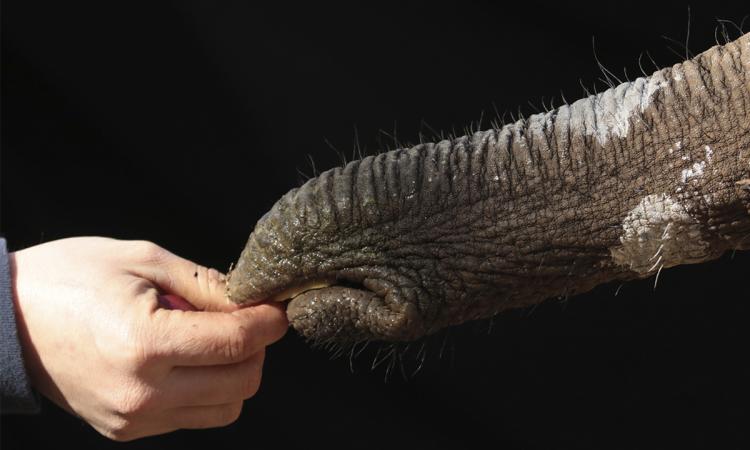 New research suggests that an elephant's muscles aren't the only way it stretches its trunk — its folded skin also plays an important role.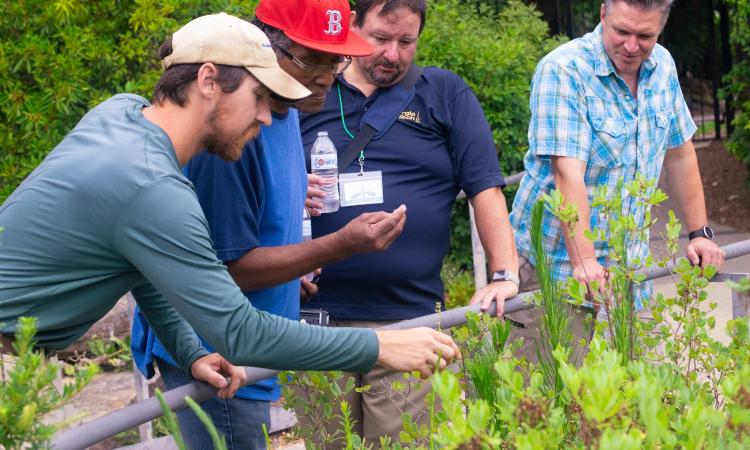 Georgia Tech's BIRDEE program is helping metro Atlanta public school teachers develop new engineering curriculum to inspire high school students.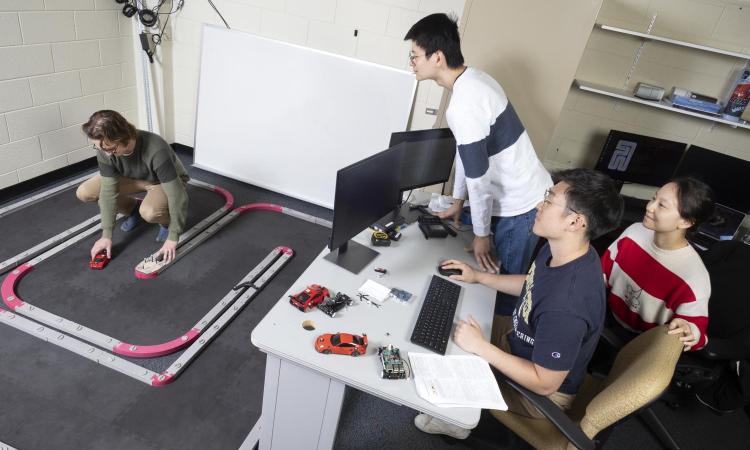 Vertically Integrated Projects involve students from first year to Ph.D. in startup-like environments that also support faculty research.
Blank Space (small)
(text and background only visible when logged in)